We spent two fantastic days in Litchfield National Park and, frankly speaking, we wish we could spend some more time there. Anyway, it was time to move further to our next destination - Nitmiluk National Park. The park is located about a 4 hour drive south of Darwin (3.5h south of Litchfield NP). It is mostly famous by the gorgeous Katherine Gorge (sorry, but it is what it is), the place named Leliyn (Edith Falls) and the Jatbula Trail - seasonal 60km walk from Katherine Gorge to Leliyn.
We made a stop in town named Katherine to take a photo of me (Katerina) standing next to 'Welcome to Katherine' sign. I wished to do so since we've arrived to Australia.
We arrived to Nitmiluk Gorge Caravan Park after the sunset. The swimming pool was open, so one of us was busy by watching as our son was swimming in the pool, while the other one (me) was preparing meals. Wallabies were jumping around, flying foxes were, emm, flying somewhere in the sky.... That was a perfect ending of a perfect day. Moreover, later at night I heard dingoes! That was amazing, but scary for a little bit. 
Where to stay: Darwin, Litchfield, Nitmiluk and Kakadu National Parks Campsites Review
Next morning we went to the Ranger talk. Ranger talks occur at many Northern Territory Parks on set days during the tourist season as part of the Territory Parks Alive programme. This talk was about park management and wildlife.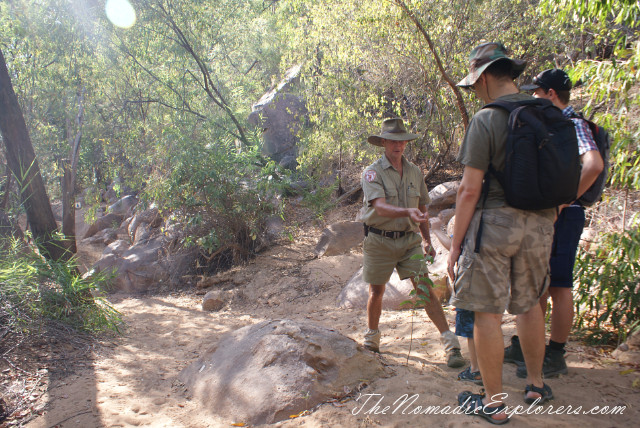 Flying foxes live there, near the Katherine River. These amazing creatures were sitting on the branches pretending to be fruits, like grapes or apples.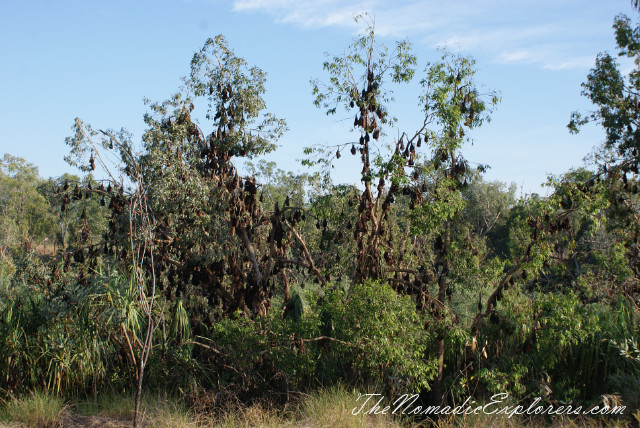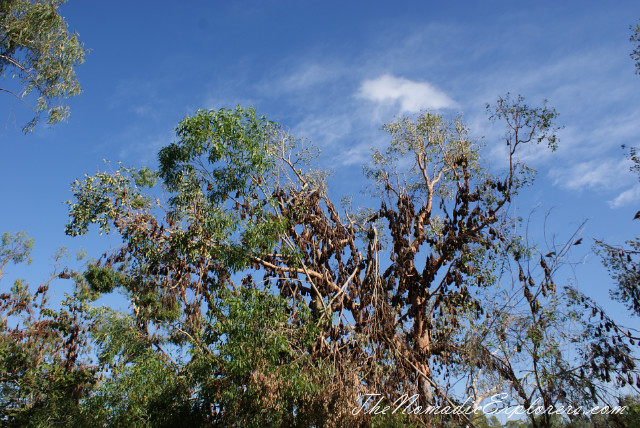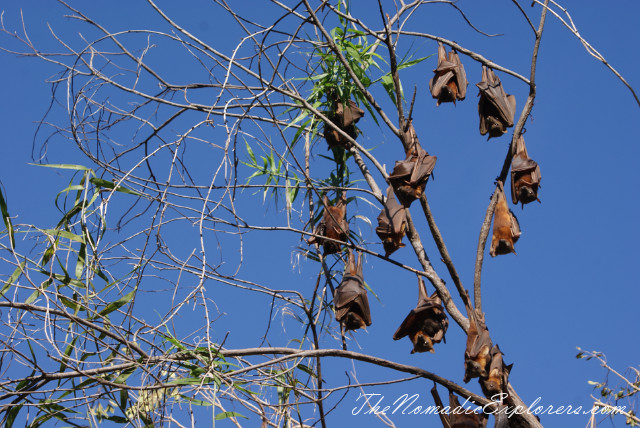 We went to Baruwei lookout with the ranger and then back to the Nitmiluk Visitor Centre. I advise you to spend at least half an hour to look at the centre's expositions - there is interesting information how the gorge was formed. You can also to book a boat tour or have a lunch there (and don't forget that the centre has a working air-conditioner, so it is always COOL inside!). The view from Baruwei lookout. It is said that this lookout is the best place to observe the sunset.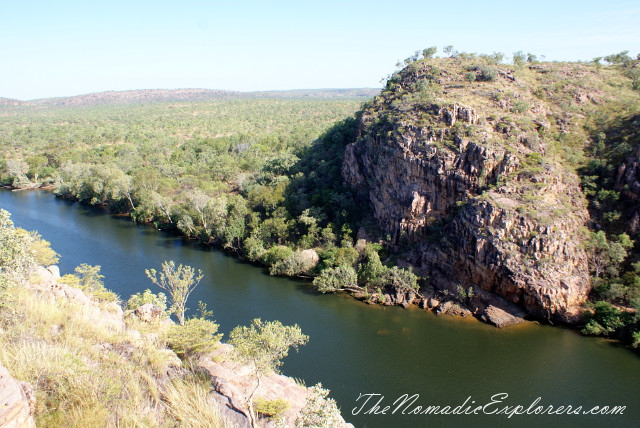 The ranger told us a lot of interesting facts about wildlife and ways to survive in a bush. As an example, this one can be used as repellent: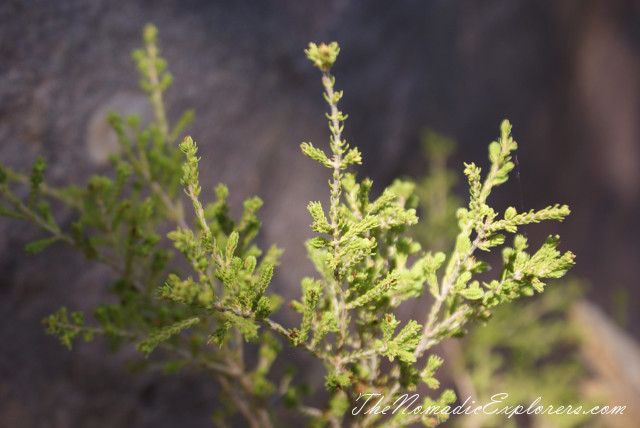 And this one is poisonous: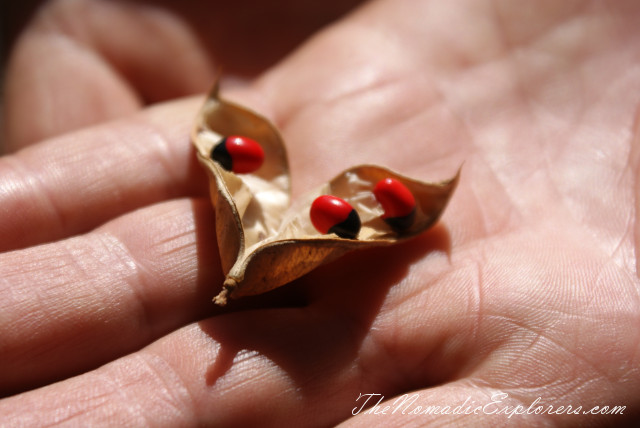 I highly recommend you to find more about these talks before going to the trip and adjust your schedule accordingly. Did I mention that it is free?
We planned to go for Baruwei walk after the talk, but, as in the previous days, it became hot, so we decided to move further, to our next stop.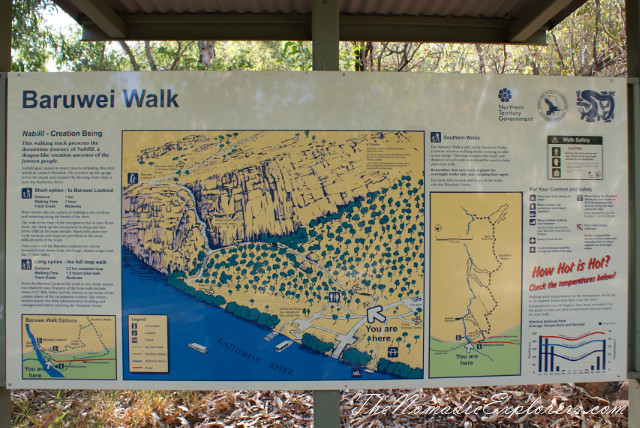 Next time we will definitely spend at least 2 nights in Nitmiluk (Katherine Gorge) to explore the area, as there is a lot of things to see and todo - from canoeing to bushwalking. For those, who might be interested in bushwalking near Katherine Gorge, please note that the Butterfly Gorge walk (12km) is known as one of the best in that area.
We went back to Katherine and then further, to Cuta Cuta caves. We had hoped that we will be able to visit the caves during 11pm tour, but, unfortunately, we arrived when it was 11.20am and the next tour to the caves was scheduled at 1pm. So sad! If we haven't booked the tour in Kakadu NP for the next morning, we could probably stay and wait until the tour, but as we hadn't any idea how long will it take for us to get to Kakadu NP, we decided to leave the caves for the next time.