The locals talk about "Litchfield-do" and "Kaka-don't", which means: "Kakadu National Park is not worth going. Overrated. Go to Litchfield. That's much better". Is it? That's the wrong question to ask. The Kakadu and Litchfield national parks are very different, but the difference is not in the quality, it's in the size. Neither is "better". Kakadu is simply a lot bigger. Keeping that in mind, we decided to spent at least 3 nights in Kakadu National Park to look at aboriginal paintings, walk some trails and, of course, watch the sunrise at Yellow Water Billabong.
Today it is easy for me to share with you information about places that we have visited in Kakadu National Park, but, trust me, it was not so easy to find out a good travel guide explaining what 'Yellow Water Billabong' means or where Nourlangie Rock is located. Finally, I found this file - this is the best visitor guide I've ever read! I could not find it as a booklet in the Information Centre in Darwin, so if you'd like to follow our route - please, feel free to download  and use it.
The visitor guide helped us to plan our Kakadu journey and it saved a lot of our time! As we knew how far some of the points of interest are located from each other, we created a list of items that we'd like to look at on the day one/two/three in Kakadu NP. Moreover, a week before the trip to Darwin, we booked ahead a sunrise tour at Yellow Water Billabong and accommodation nearby, at Cooinda, as the sunrise and sunset cruises are incredibly popular.
A billabong is a temporary lake that fills up during the Wet season and dries out during the Dry season. Billabongs are essential for Australian tropical ecosystems - they provide water and help many flora & fauna species survive during the Dry. Early in the morning you can spot there an enormous number of water birds and, if you are lucky, saltwater crocodiles!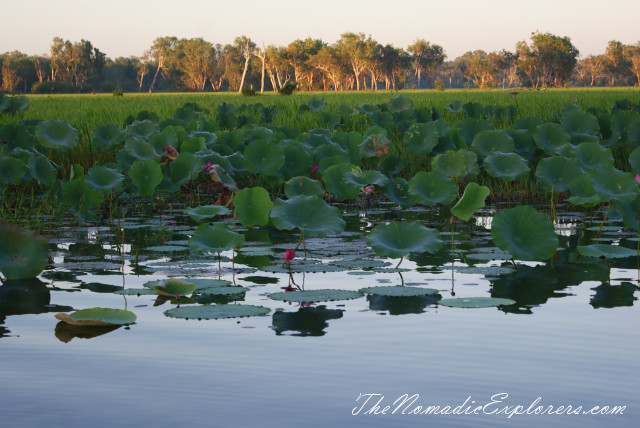 We arrived to Cooinda when right after the sunset. We set up our tent, charged all our electronic devices and went to sleep early, as the tour started at 6-45am.
Where to stay: Darwin, Litchfield, Nitmiluk and Kakadu National Parks Campsites Review
The good thing in staying at Cooinda is that the tour guides will pick you up and then, after the tour, will bring you back on a bus. Actually, Yellow Water Tour start point is only 1-1.5km from Cooinda, but as I am not an early-bird person, I simply love the idea of using a bus at 6.25am )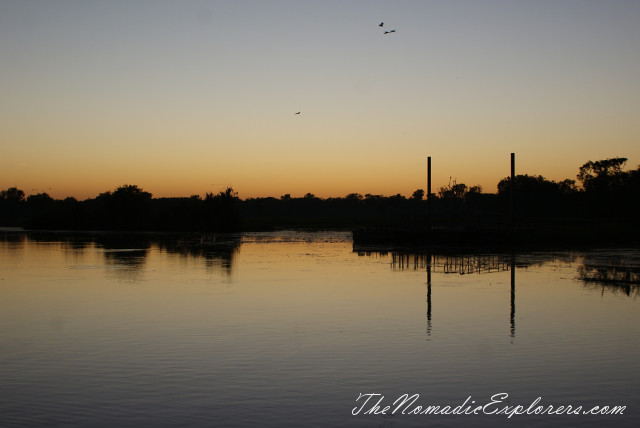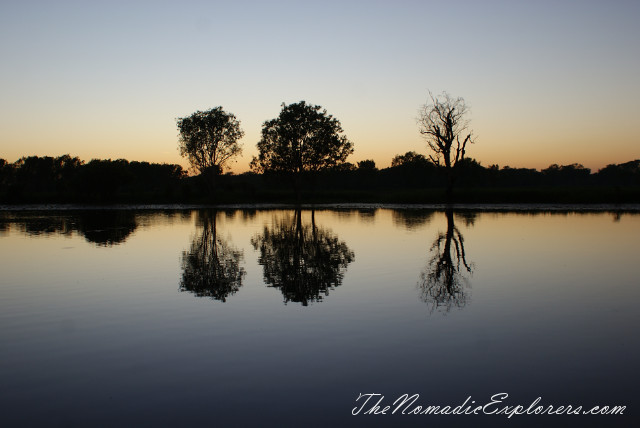 Yellow Waters Billabong is part of the wetlands area in Kakadu National Park that comes from a tributary of the South Alligator River, one of the areas large river systems. The wetlands includes river channels, floodplains and swamps. Our boat meandered up and down channels that varied in width, past swamplands and around outcrops of water lilies in flower.
The scenery is stunning…..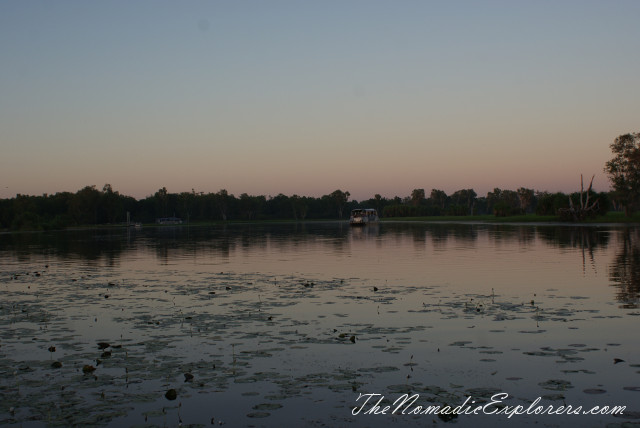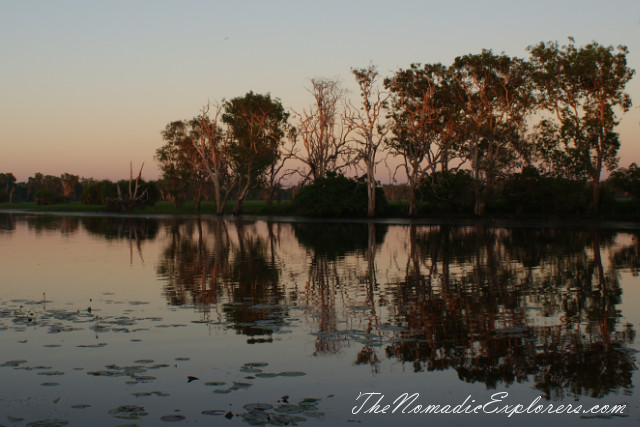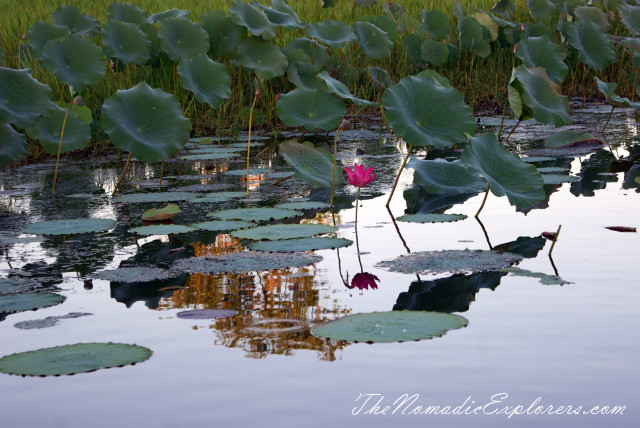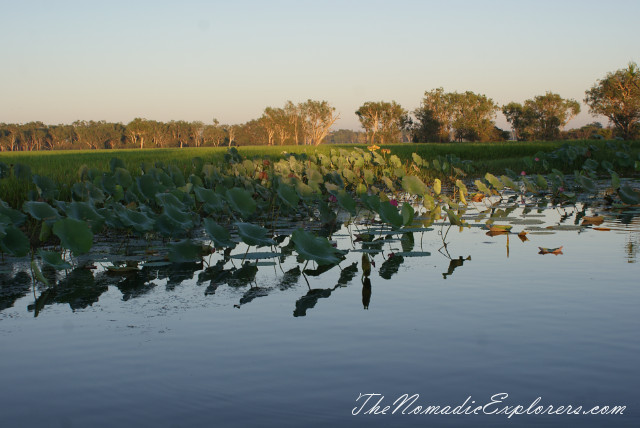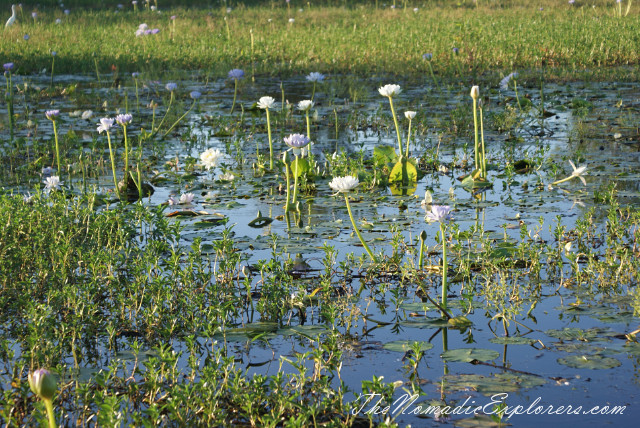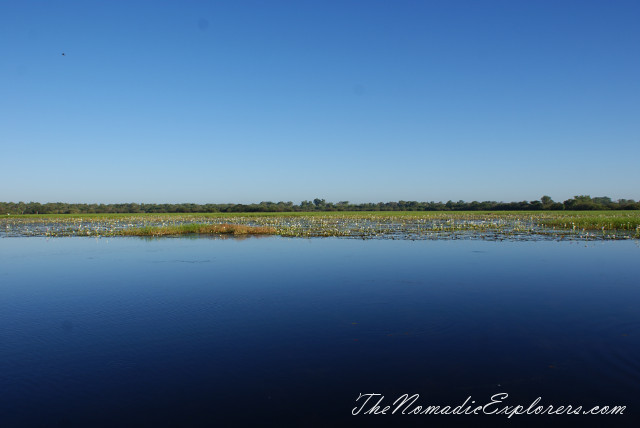 As dawn broke it was a beautiful sight we awoke to as we looked across to the billabong. The sun catching the water as birds wadded in the shallows. A truly serene moment.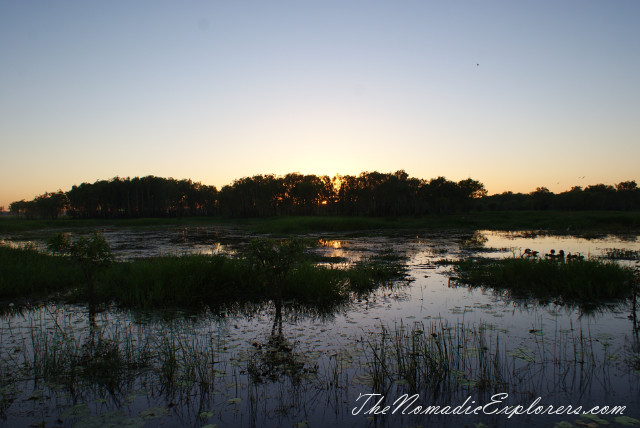 About one third of Australia's bird species are represented in Kakadu National Park, with at least 60 species found in the wetlands. Whistling Ducks and Magpie Geese are the most abundant, but you can also see Azure Kingfishers, White Bellied Sea Eagle, Jabiru, Egrets, Night Herons, Ibis, Brolgas and more that I have forgotten the names of.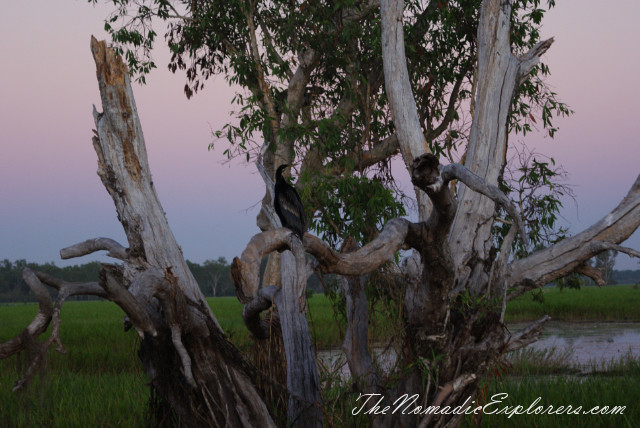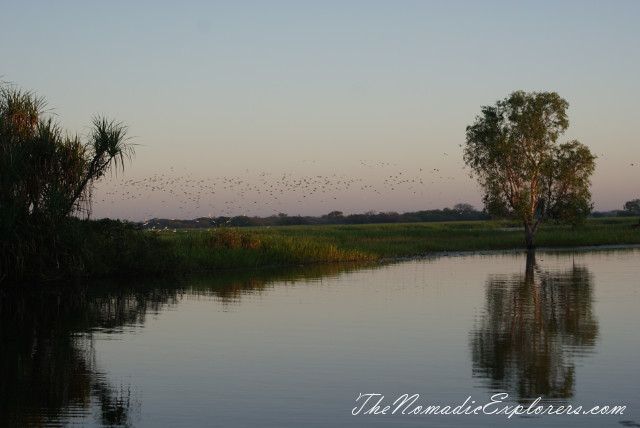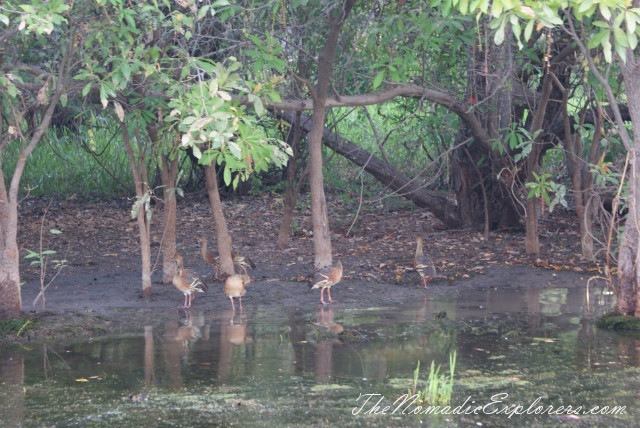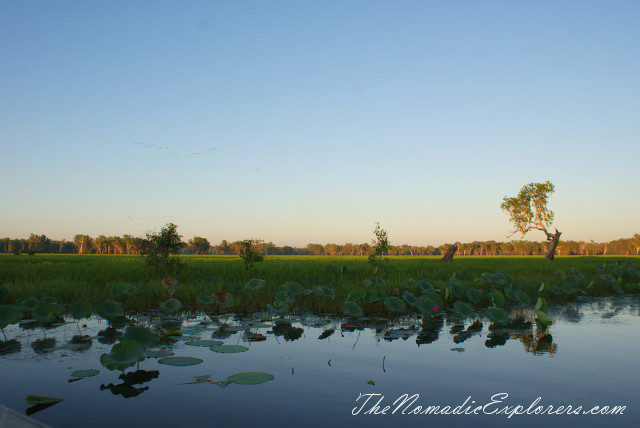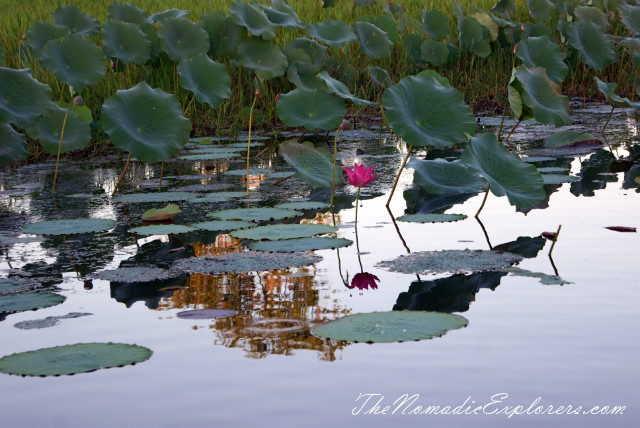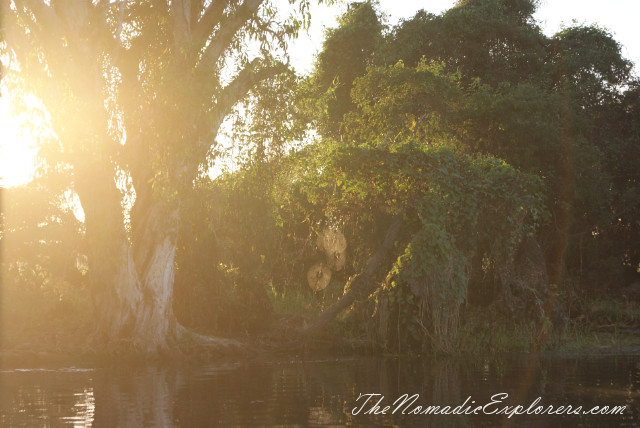 Great Eastern egrets stand on the lake's edge:
We saw the comb crested Jacana or "Jesusbird" - a little bird that can walk on water and the Jabiru, but they were far away for my camera to catch a good picture of them.

Whistling Kite: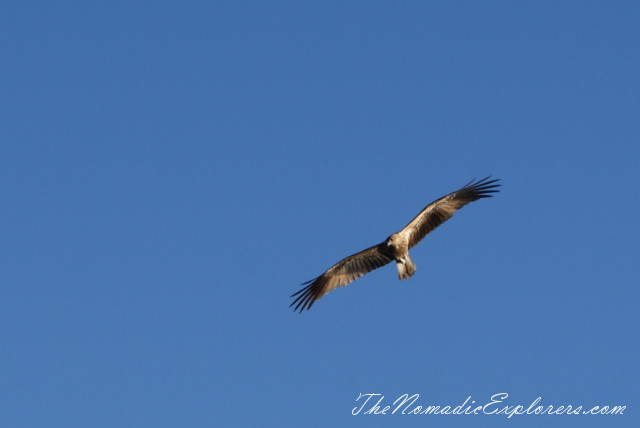 Kingfisher: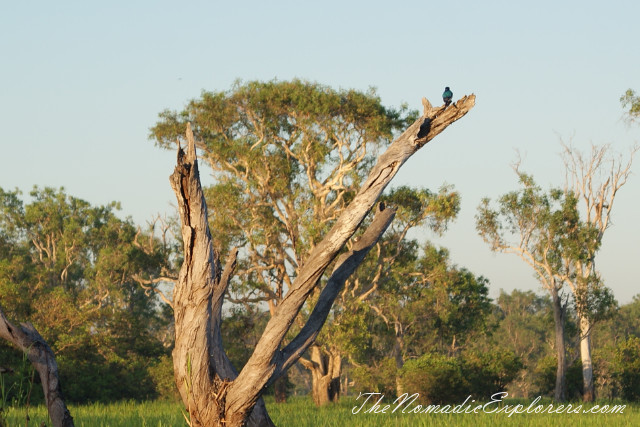 One of eagles: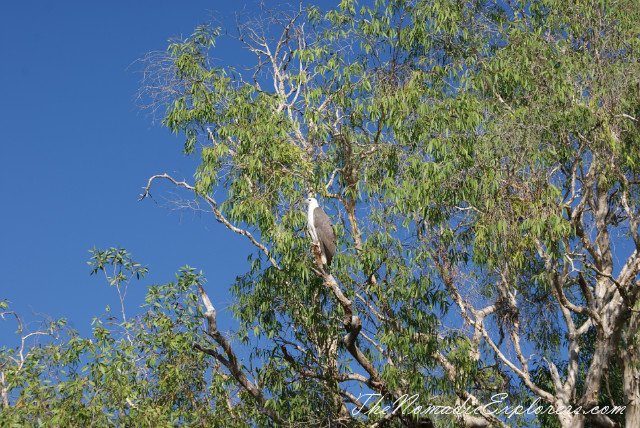 There are plenty of crocodiles in their natural habitat, and buffalo on the floodplains. Crocodiles lurk beneath the waters surface. Sometimes the only clue that they are here are their eyes appearing out over the  water….watching…waiting!
Look, how close we are!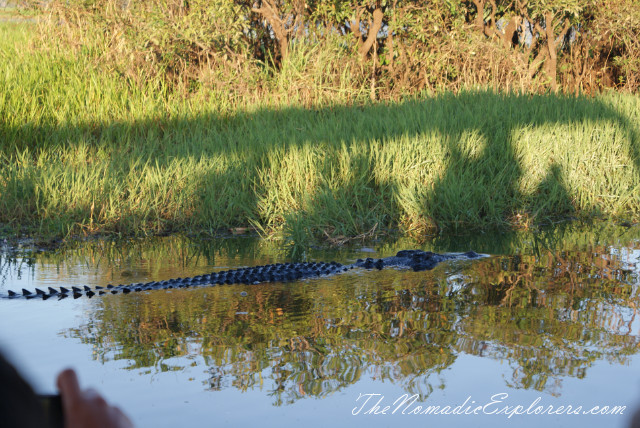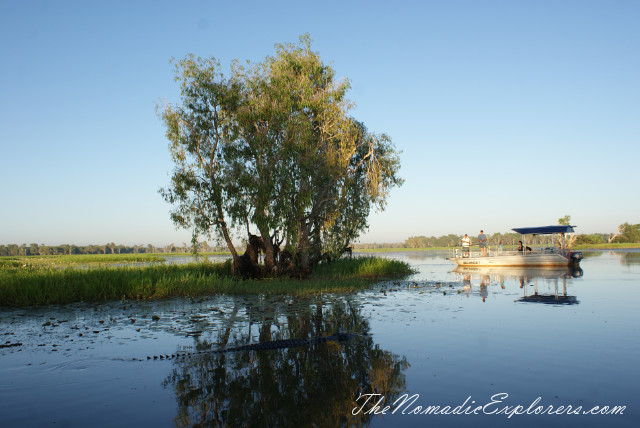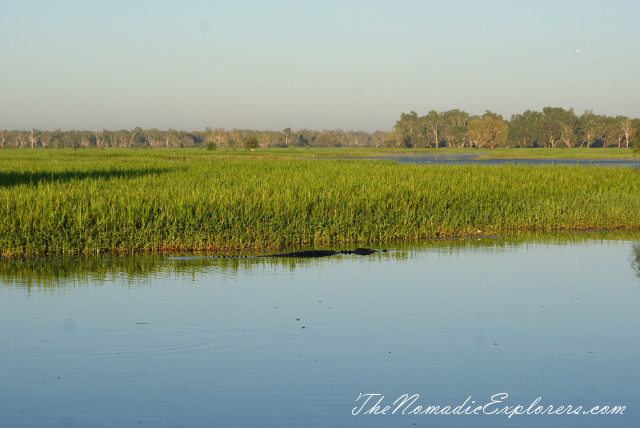 Another croc: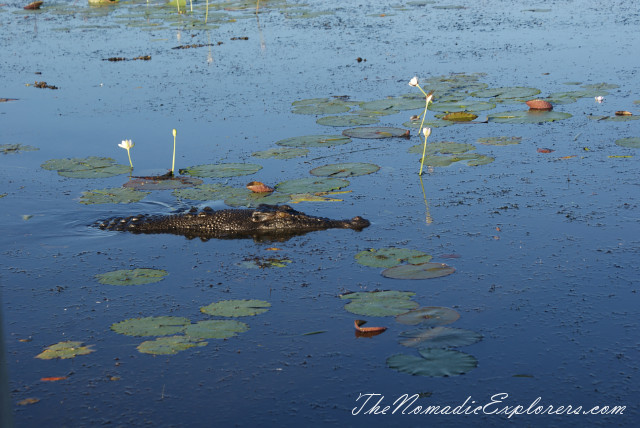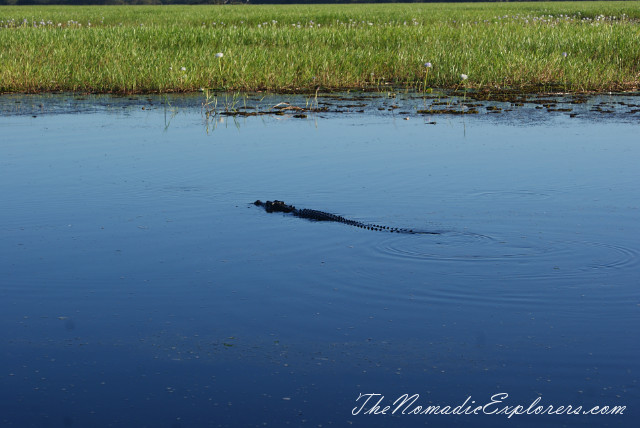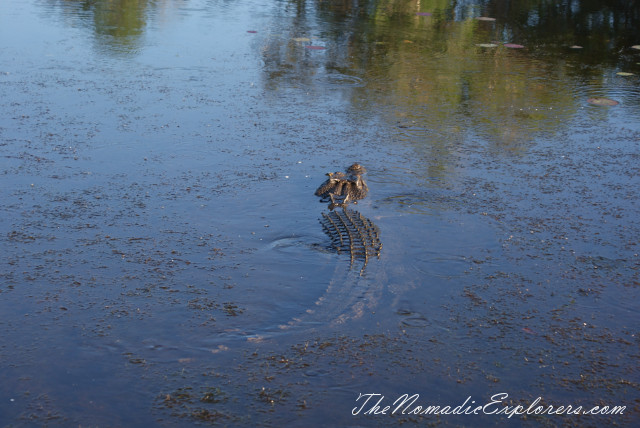 By the end of our tour the sun was shining in the sky and birds flew away to the wetlands. We were very happy that we had this early morning tour, not the 9am or later one, as I think that you will not be able to see as many birds as we have seen during the trip.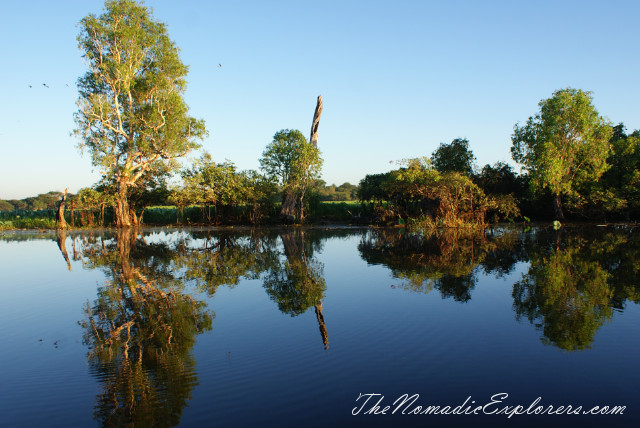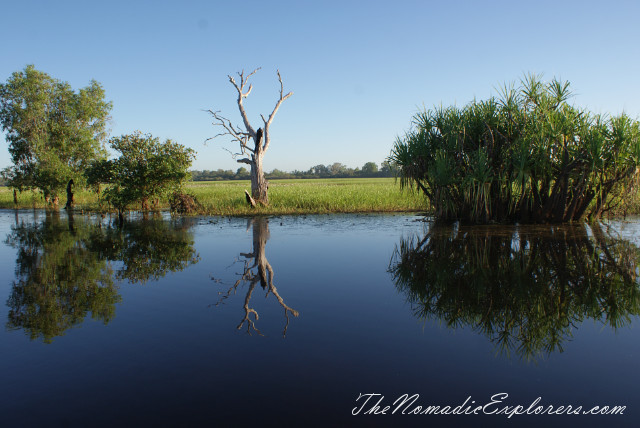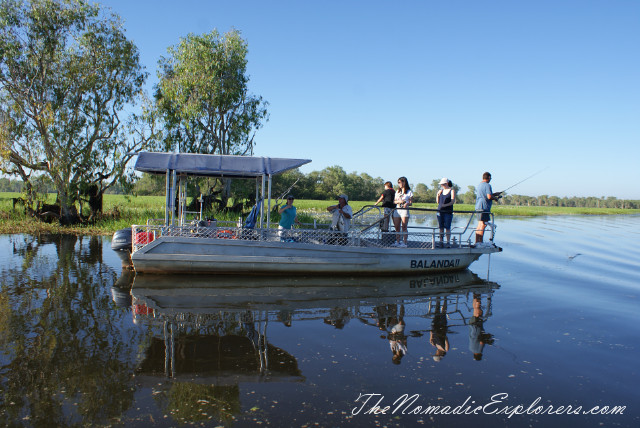 We had a breakfast back in Cooinda, then we packed our stuff and went further to explore other parts of Kakadu National Park.
So, Kakado or Kakadont? All I can say is I really feel sorry for the people that take notice of that saying and don't go to Kakadu as the place is really a magical place!

Stay tuned!