Here are our brief travel notes from the trip to Western Australia, day by day:
Day 1: Arrived to Perth. Way to Hyden. Wildflowers, Dogs Cemetery
Arrived to Perth at 10am. By 13pm got our luggage, a small Toyota Corolla from Hertz, bought some food, water and gas, some maps from the Visitor Centre and, then, finally, hit the road.
Southern Western Australia, here we came!
The first stop was near Corrigin, at the Dog Cemetery. Established in 1974, the Dog Cemetery is a tribute to Mans Best Friend. With over 80 loved ones now buried, the cemetery is unique to Corrigin and worth a visit. Take time to read some of the headstones, which are all made and maintained by a local residents.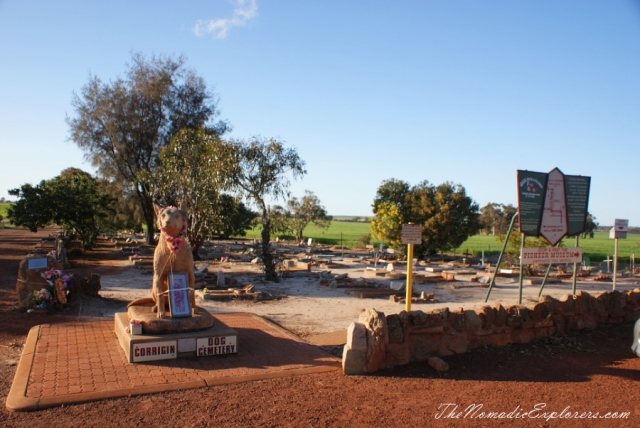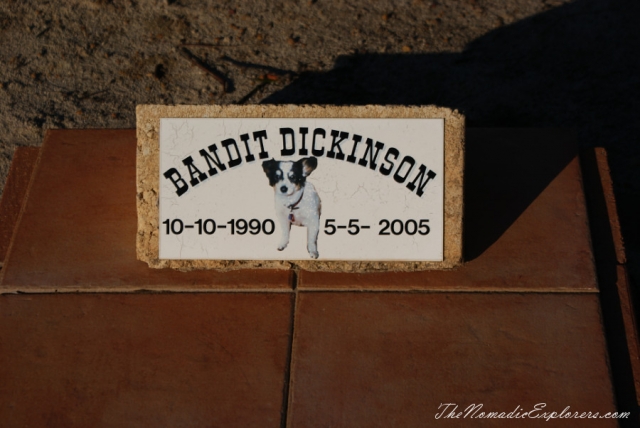 The Wildflower Walk (link to be provided) and Lookout are located near the cemetery. We went there as well.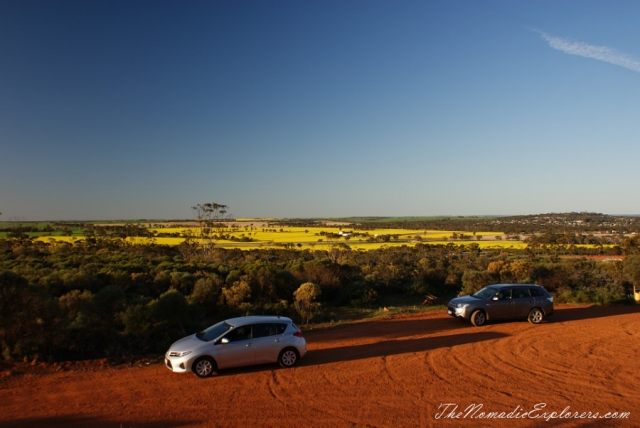 The town itself is quite small, but has a lovely Rotary Park with tables, bbqs and the miniature Railway track for kids. It is a good place to stretch legs and spend some time there.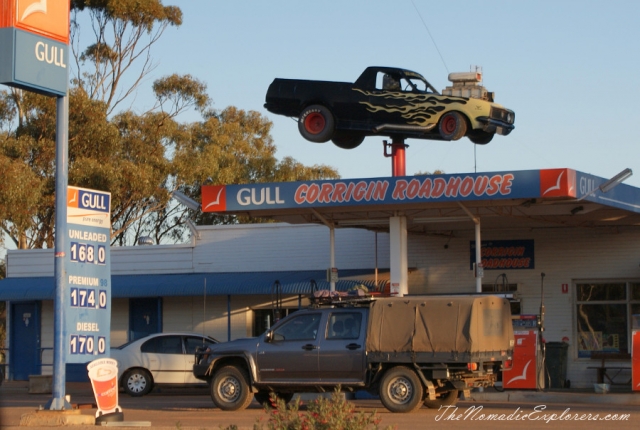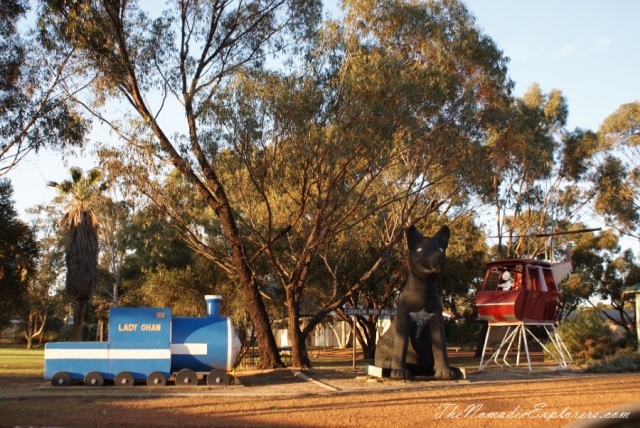 We arrived to Hyden after the sunset and spent a night in a tent in the Wave Rock Caravan Park. The park is located within walking distance of Wave Rock and has all facilities, including a swimming pool, barbecue area, clean amenities, satellite TV transmission, and an onsite Kiosk. We paid $35 for unpowered site for one night.
Day 2: Hyden - Esperance. Wave Rock in the morning, then way to Esperance with some adventures.
It was quite cold at night (~+5C). Next morning we left our tent to dry under the sun light and went to the Wave Rock. 
WA Trip. Day 2. Hyden, Wave Rock
To give you an idea how BIG the Wave Rock: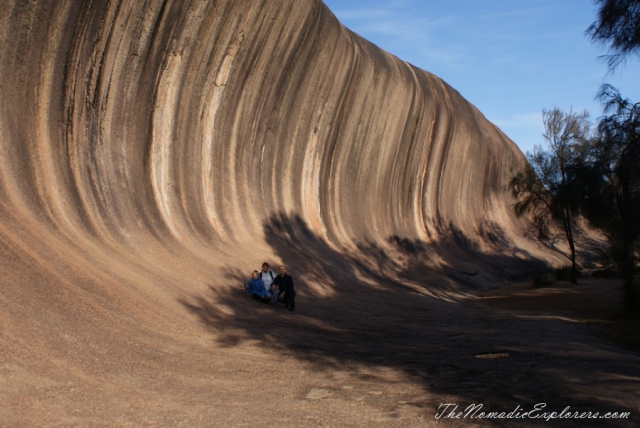 We did a Wave Rock Walk Circuit to look at tafoni (BIG boulders like this)...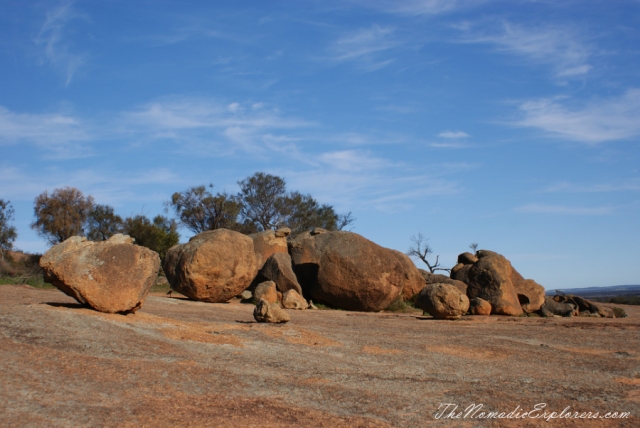 …and the Hippo Yawn: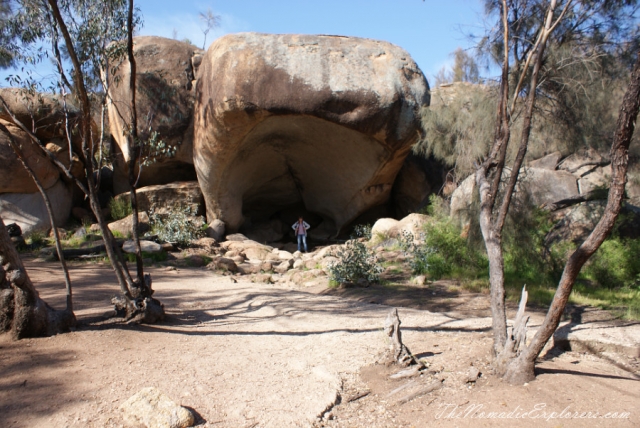 There is a Mulka Cave near the Wave Rock with some Aborigines pictures, but we hadn't had enough time to visit the cave, so we just went directly to Esperance. Well, actually, our way to Esperance included an adventure - we turned to the opposite from Kings Lake town (and Esperance) direction and realised that we took a wrong way only when we saw a rabbit fence, which is located 30km to the east from Hyden. On our way back to Hyden we saw a lizard: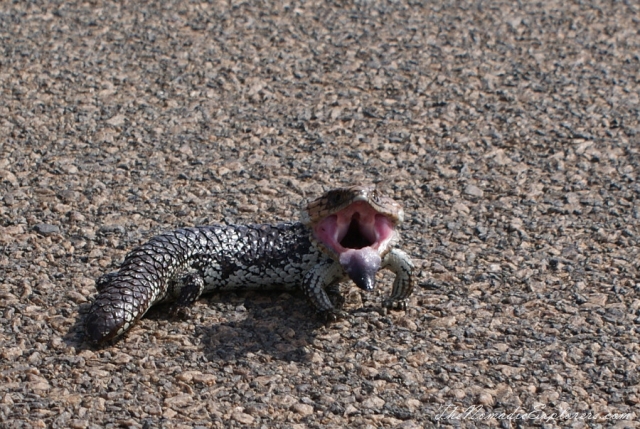 ...and some salt lakes with and without water: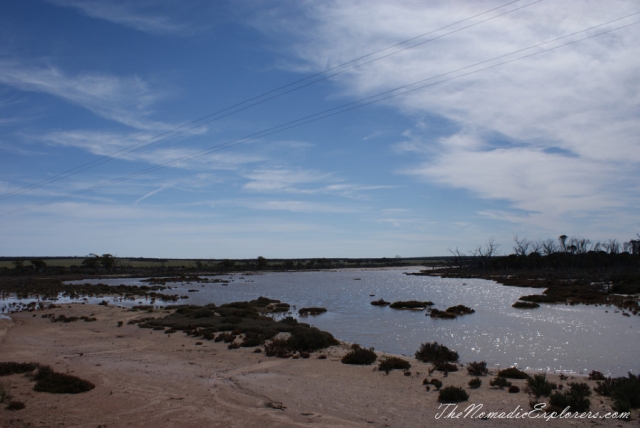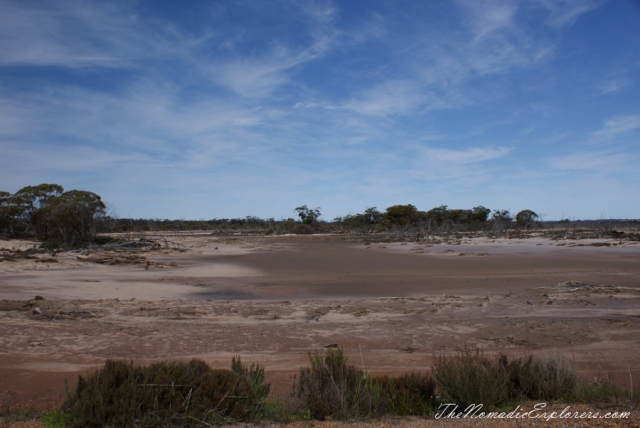 The road from Hyden to Esperance went through a number of small rural towns, each of them has something unique, like, as an example, a Rabbit Cemetery:
...a truck: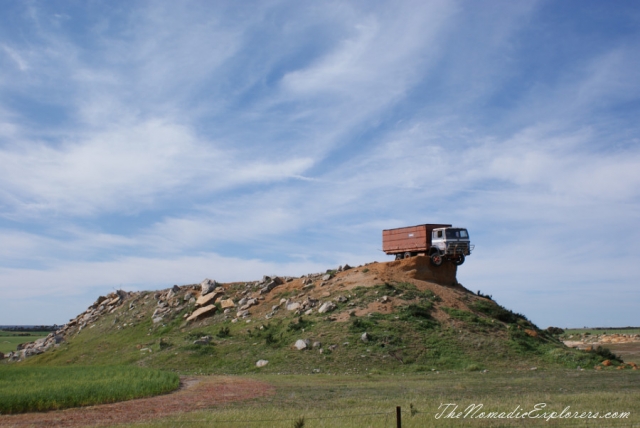 ..and a Western Australian Time Meridian plague near Ravensthorpe. The plate says that 'You are in the right place and the right time, exactly 8 hours from Greenwich mean time (120° E).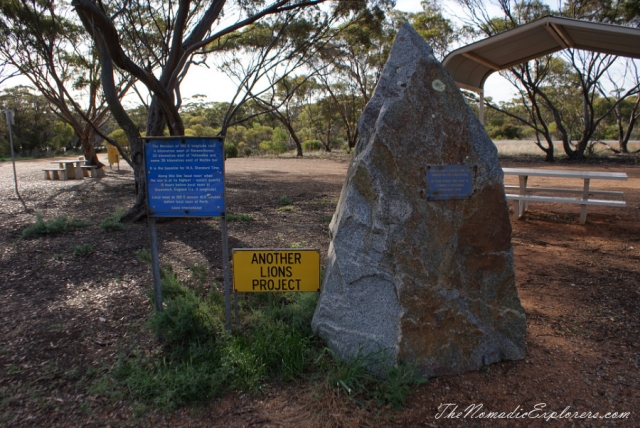 We arrived in Esperance after the sunset (again) and spent a night at Esperance Bay Holiday Park. Nice quiet caravan park with all facilities included. Paid $38 for one night for the powered site.
Day 3: Esperance - Cape Le Grand National Park. Great Ocean Drive + Pink Lake, white-sand beaches, Frenchman Peak
Great Ocean Drive:
More information here:
Western Australia Trip. Day 3. The Great Ocean Drive near Esperance
Esperance Park (can you spy a real tank?):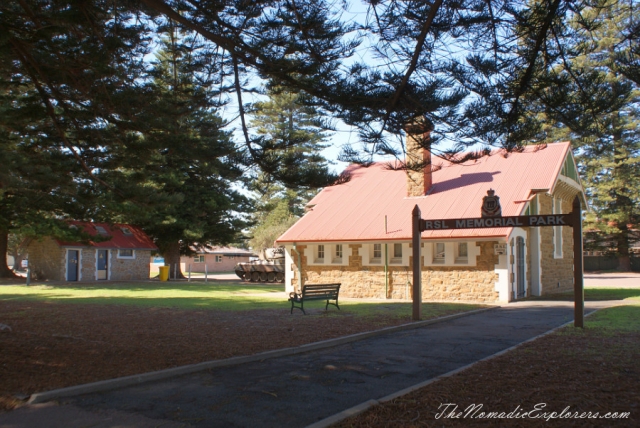 Cape Le Grand National Park: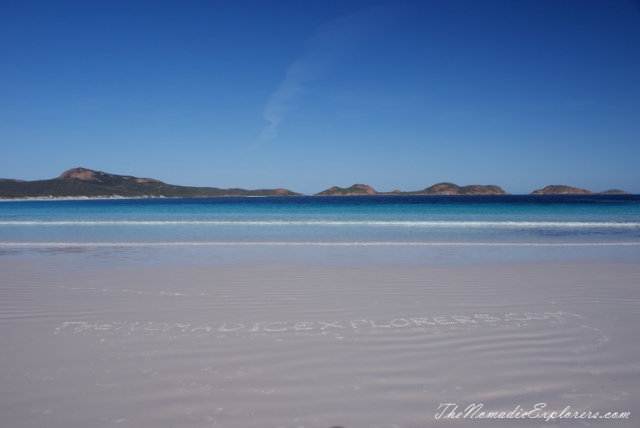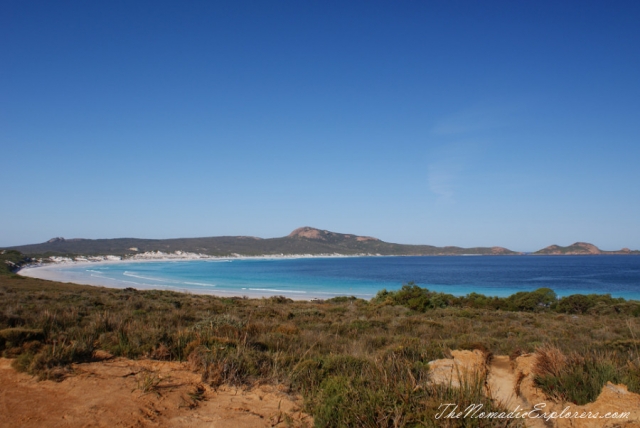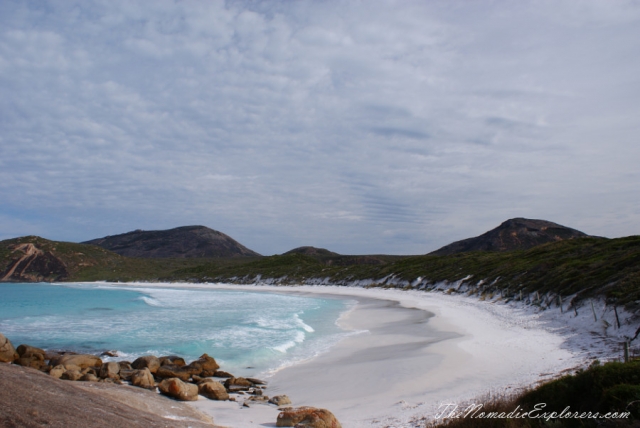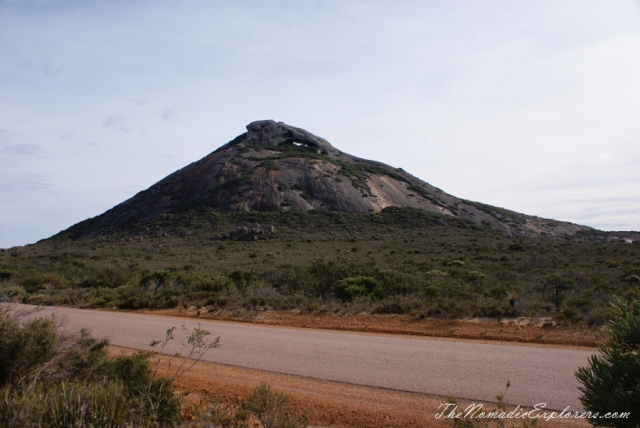 More information here:
Western Australia Trip. Day 3-4. Cape Le Grand National Park
We camped at Le Grand Beach Campsite. This was one of the best campsites we've ever been - it had a kitchen with gas, a hot water showers, toilets and a great beach within a minute walk. The campsite is managed by Department of Parks and Wildlife of Western Australia and no booking is available. Not sure is it easy to find a camping spot there in summer in high season, but in low-season this place is definitely worth to stay a night or two. We paid $22.20 for one night.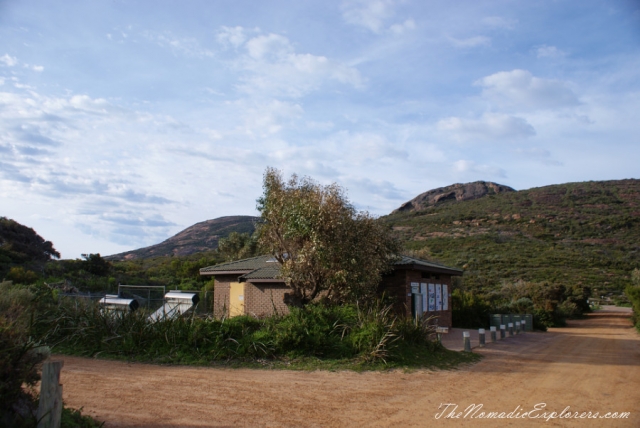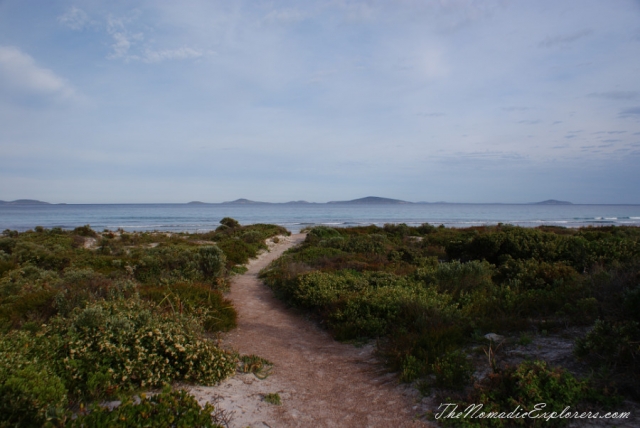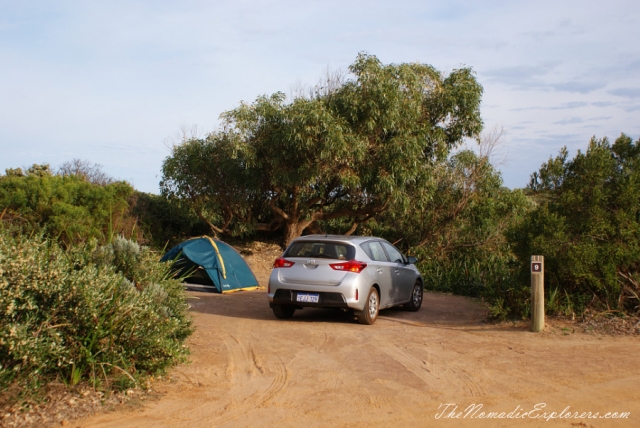 Day 4: Cape Le Grand National Park - Esperance - Fitzgerald River National Park - Albany. Stonehenge model, wildflowers.
There is a full size replica of the original "Stonehenge" in the UK, as it would have looked around 1950BC, near Esperance: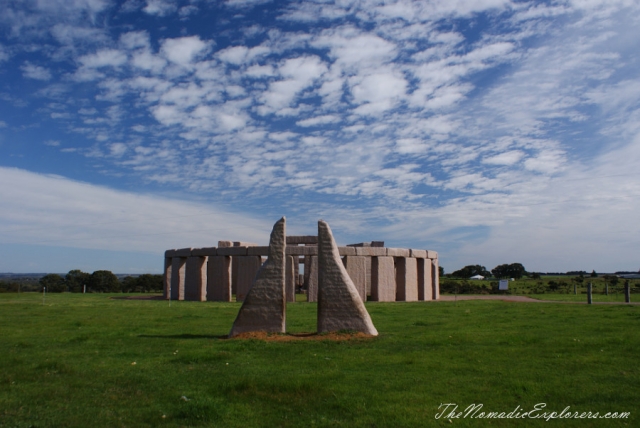 More information here:
Western Australia Trip. Day 4. Esperance Stonehenge
On our way from Esperance to Albany we went to the Fitzgerald River National Park - one the largest and most botanically significant national parks in Australia - to see wildflowers in bloom.
Western Australia Trip. Day 4. Wildflowers in Fitzgerald River National Park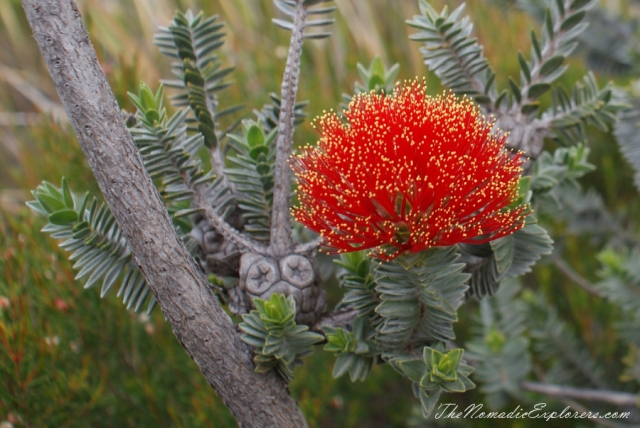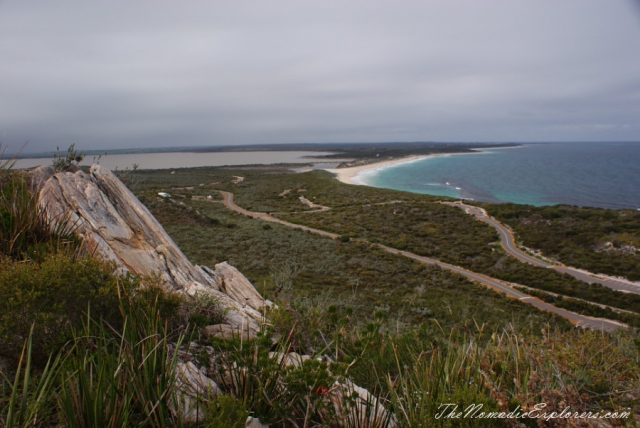 It was raining all day, so we didn't stop very often. However, we saw a beautiful sunset over Stirling Ranges near Albany: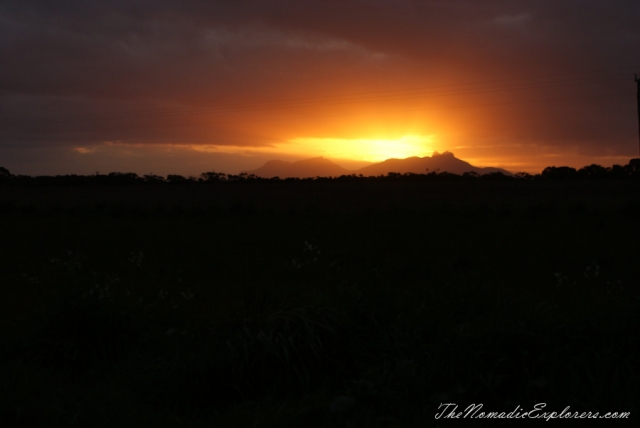 As the weather forecast for the rest part of our journey wasn't good (there was a 80% chance of storms and rains in the area from Pemberton to Margaret River), we booked an apartment for two nights and decided explore Stirling Ranges National Park and Porongurup National Park on the next day.
Day 5: Albany - Stirling Ranges National Park - Porongurup National Park - Albany. Bluff Knoll, Skywalk
Next day we climbed Bluff Knoll - the highest peak of Stirling Ranges:
Western Australia Trip. Day 5. Stirling Ranges National Park. Misty Bluff Knoll Walk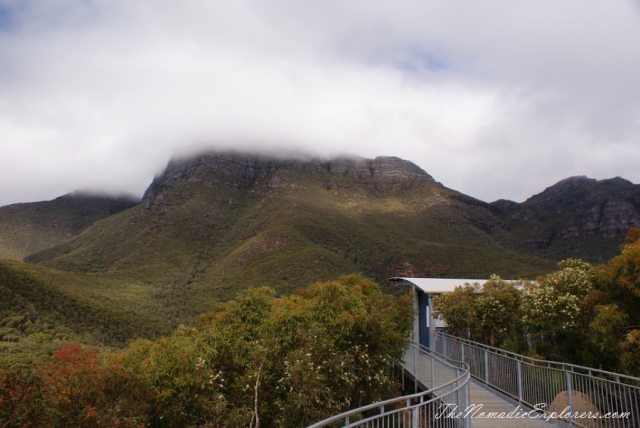 …..and went to the Balancing Rock (180 tonnes) and Skywalk in Porongurup National Park:
Western Australia Trip. Day 5. Porongurup National Park - Granite Skywalk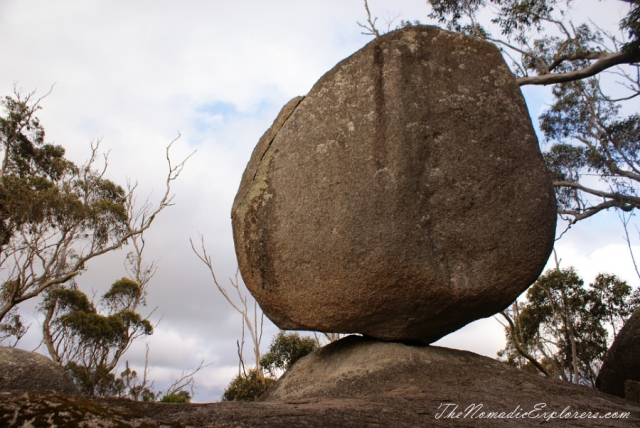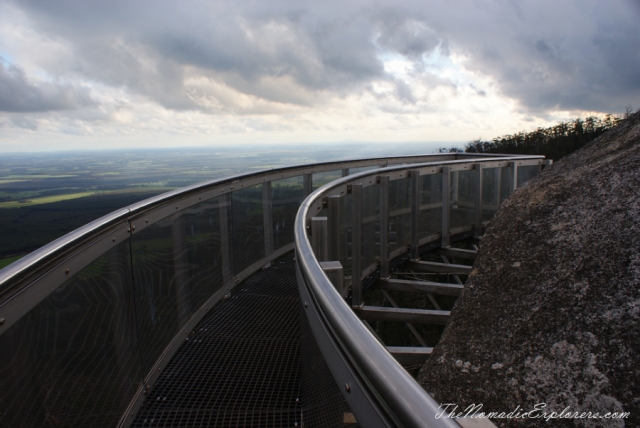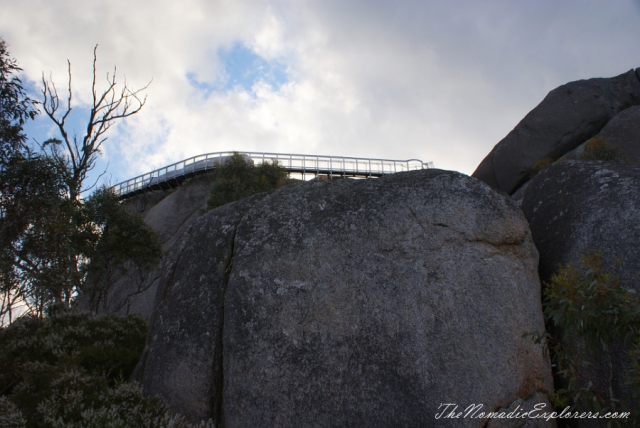 Day 6: Albany - Denmark - Pemberton. Mount Clarence lookout, Torndirrup National Park + The Gap and Natural Bridge, Elephant Rocks near Denmark, Bicentennial Tree
We went to Mount Clarence lookout in Albany in the morning. It was cloudy and windy.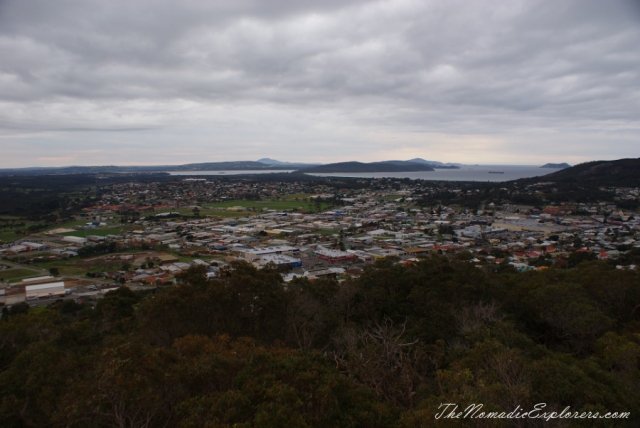 We had a look at 'Dog Rock' - local 'must see' point of interest…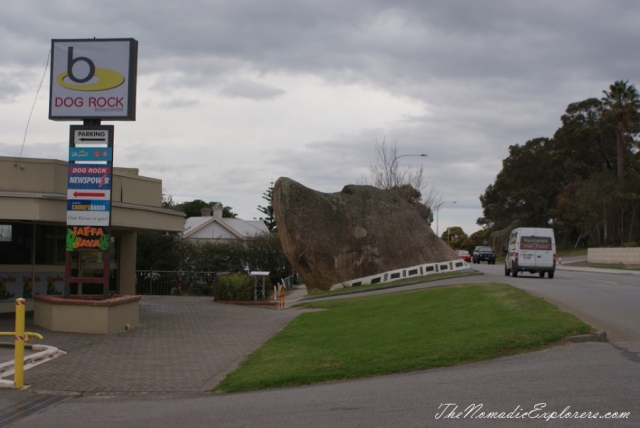 ...and then went to the Natural Bridge and the Gap in Torndirrup National Park (15 min of drive from Albany).
Can you see a smaaaaaaaall man standing on the bridge? The bridge is BIG, isn't it?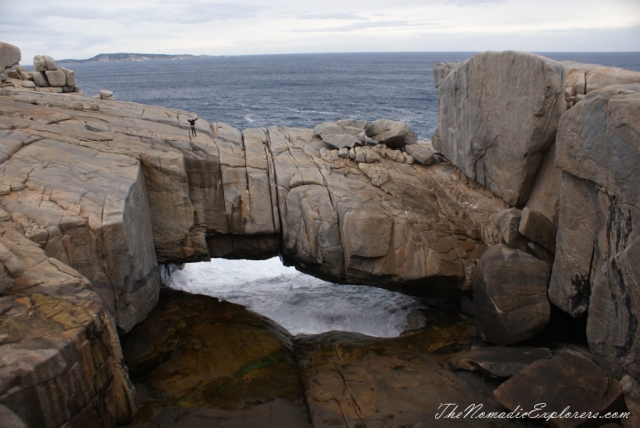 The Gap is HUGE, although it is hard to prove it without anyone jumping to the water )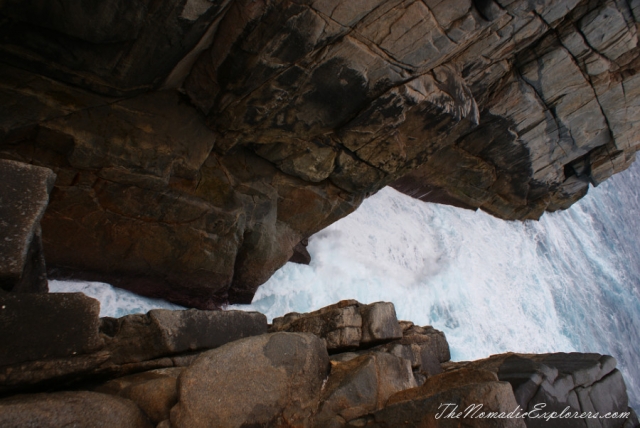 The Elephant Rocks in William Bay National Park near Denmark are HUGE as well. Can you find to tiny men standing in the middle of the photo in the bush? I can hardly see them on a full-sized photo, so trust me - these rocks are definitely worth to see!
Western Australia Trip. Day 6. William Bay National Park near Denmark - Elephant Cove and Greens Pool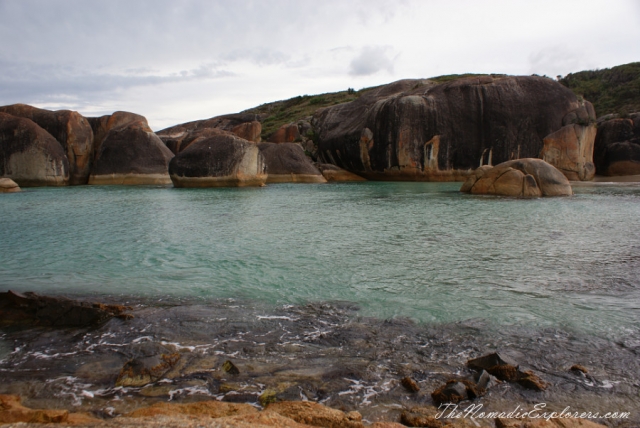 It started raining when we were on our way to Pemberton.
Western Australia Trip. Day 6. Tall Timber Country / The Karri Forests Region
We couldn't walk under this heavy rain at all, so all that I have from one of the Karri-tree forests is this: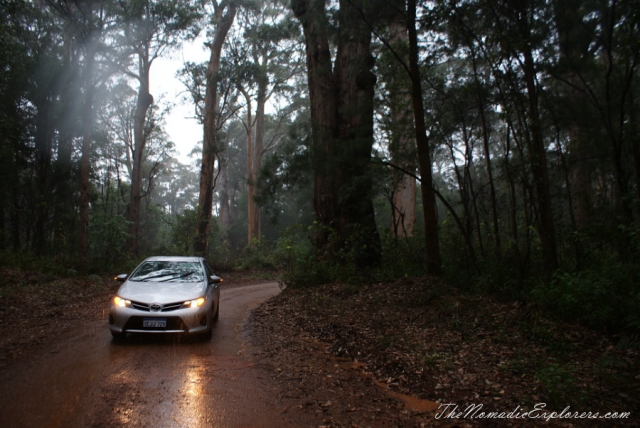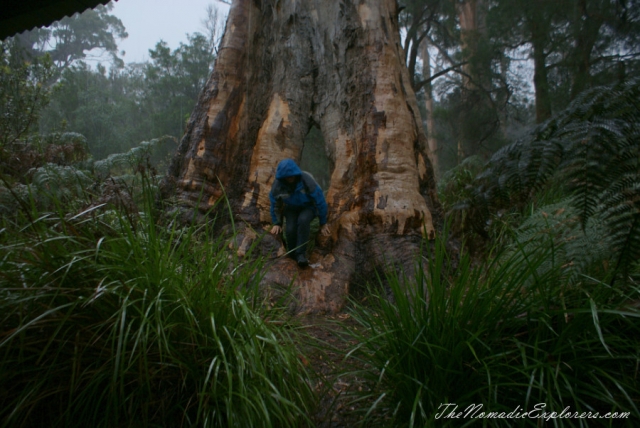 The Bicentennial Tree near Pemberton is VERY tall: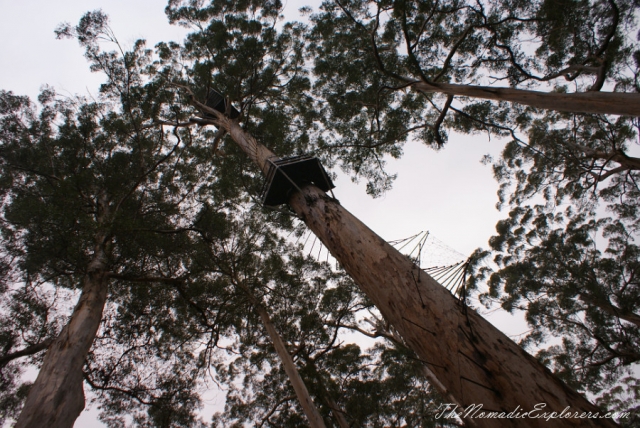 We decided not to climb on it, as it was wet and windy. However, in a good weather it could be a challenge for anyone, as the tree's height is 63 meters!
We went to Pemberton Caravan Park and booked a cabin for a night. Initially, we planned to spend a night at Warren River Camp ground in Warren National Park (not far away from Pemberton), but as it was raining, we thought it would be better to sleep somewhere under the roof. The cabin in caravan park was very cosy and warm. We really enjoyed of staying there.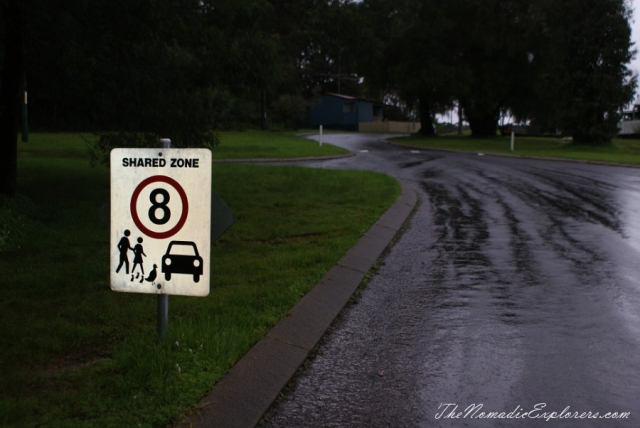 Day 7: Pemberton - Augusta - Margaret River - Perth. Cape Leeuwin Lighthouse, Calgardup Cave
We still had a lot of things to see and to do, so early in the morning we went further to Augusta. We visited the Cape Leeuwin Lighthouse: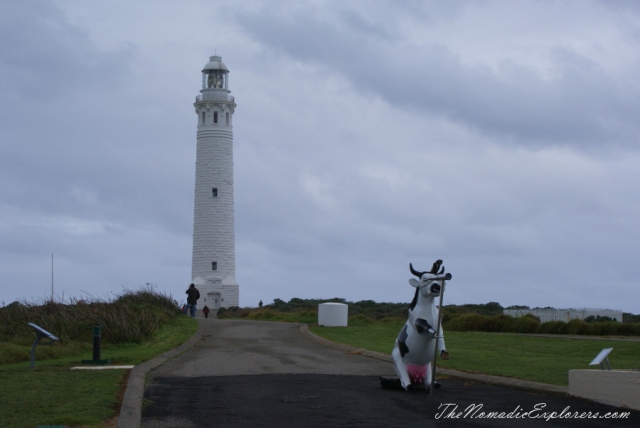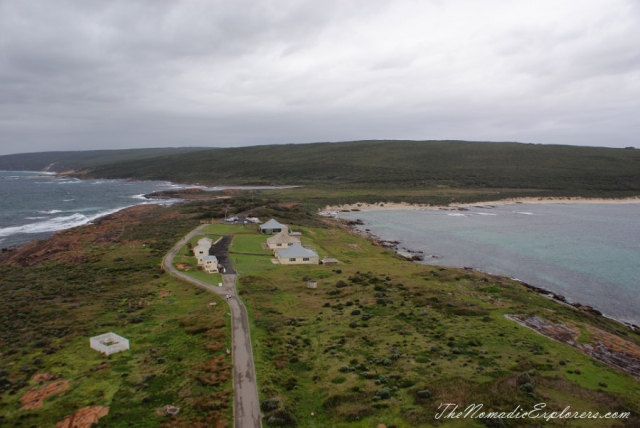 More infromation about the lighthouse here:
Western Australia Trip. Day 7. Cape Leeuwin Lighthouse
And then went to the Calgardup Cave:
Western Australia Trip. Day 7. Margaret River caves: Calgardup Cave
Then we went to Perth to have a dinner with some friends.
It was a looong and VERY wet way ))
Day 8: Perth Zoo
Next morning we re-packed all our stuff and cleaned the car.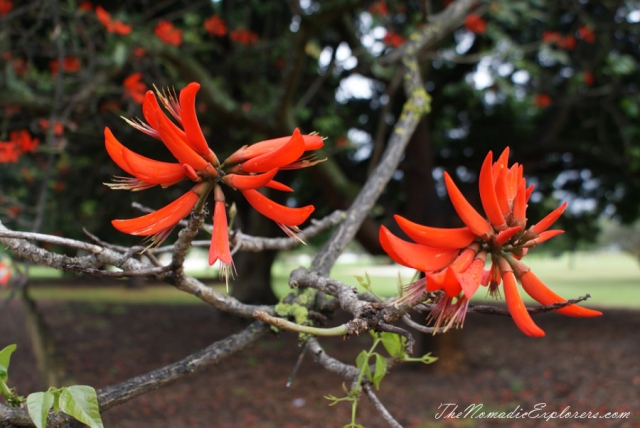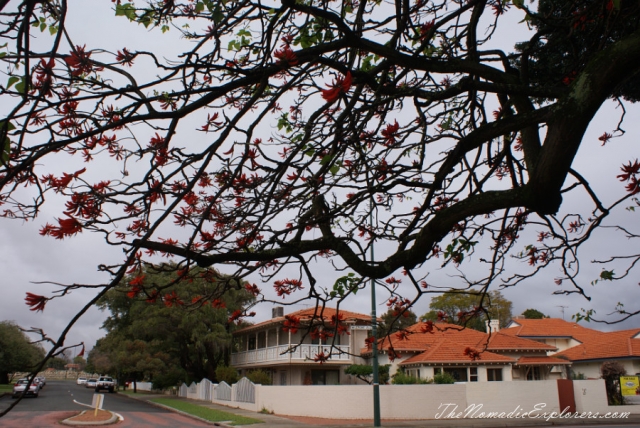 (no, that wasn't a car, it is a flame tree - very beautiful, isn't it?)
We had only 1.5h to spend somewhere in Perth and, of course, we went to the zoo. Our zoo membership cards work not only for Melbourne zoos, but for the Perth Zoo as well. The animals and plants at Perth Zoo are from all corners of the globe and I really liked to walk there. It started raining (again!), so I could not take any photo of Quokka (one of the smallest wallaby species in Australia) or Numbat (Western Australia's mammal emblem), but I took this photo of beautiful Cheetah and pelicans.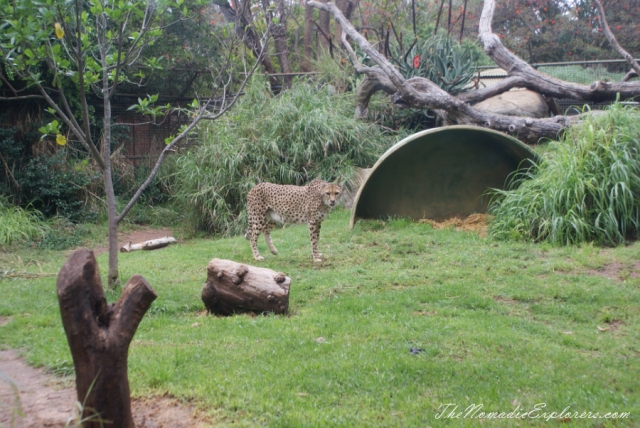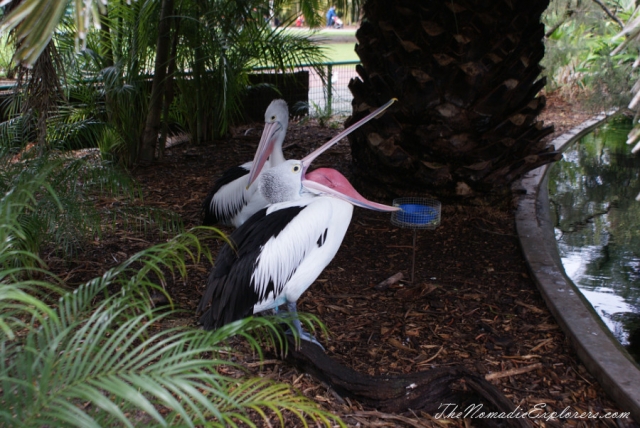 Next time?
Please follow the links provided in this post (or located below) to read a full story. If you have any questions, please let us know! We will be happy to answer them!
Hope that you'll enjoy reading as we enjoyed our trip.
Cheers!