You are probably noticed that usually we "were lucky as we've seen/made/did/walked this/that". So you might think that we always on time, on budget and tick all the boxes in our 'to do/to see list'. Well, it is not. In fact, this blog post will tell you about the time when we were unlucky.
As you might remember, last couple of posts I kept saying that the weather forecast on our way from Albany to Pemberton, Western Australia, wasn't the best one for travel. It started raining on our way from William Bay National Park down to Tall Timber Country: area between Margaret River and Peaceful Bay / Bow Bridge. We had a huuuuuuuge list of items in Karri Forests that we wanted to look at on our way, but unfortunately as it was raining cats and dogs we had to skip most of them….
Routhguides.com website (btw, I LOVE their books) says the following: "Sandwiched between the popular tourist areas of the Margaret River region and Albany's dramatic coast, the forests of the so-called Tall Timber Country are some of WA's greatest sights. Along with the sinuous Blackwood River, which is ideal for sedate canoeing, especially downstream of Nannup , the highlight of the region is the brooding majesty of the karri forests, famed not so much for their arboreal gimmicks – of which the Gloucester Tree near Pemberton is the best known – as for the raw, elemental nature of the unique forest environment. The breathtaking Tree Top Walk near the peaceful village of Walpole provides a unique view on this primeval forest, while the bohemian town of Denmark is surrounded by one of WA's most exciting emerging wine regions".
To give you an idea where the Tall Timber Country is please look at the map below (it was taken from 'Explore Southern Forests' brochure, also available here):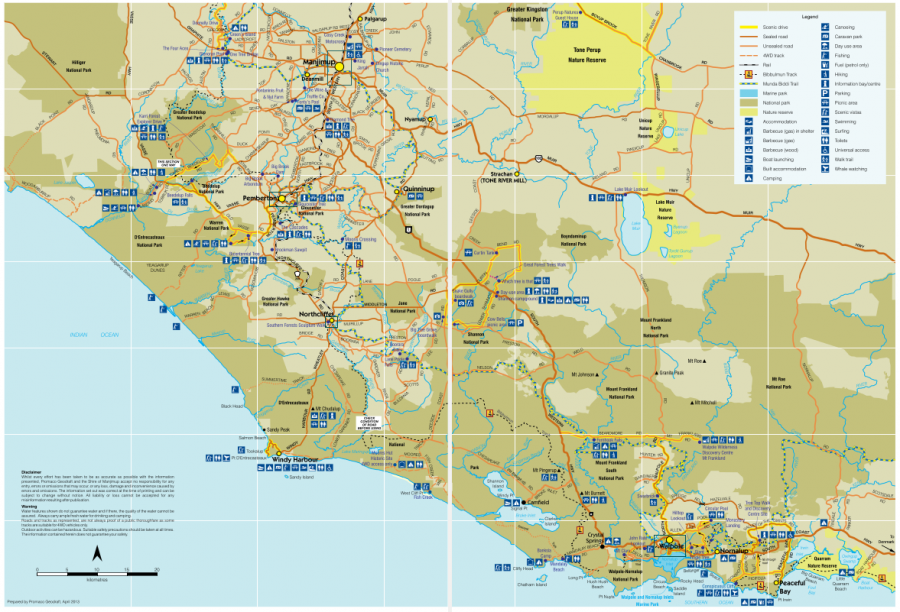 See? Forests with old tall trees (some of them 1000 years old, some measure over 80 metres in height and weigh up to 200 tonnes!), almost like in Tasmania or Dandenongs near Melbourne.
Tasmania, Day 6. Green Point Beach, West Point, Arthur River, South Arthur Forest Drive (Tarkine Drive)
Tasmania, Day 6. Tarkine Forest Adventure near Smithton
How could we miss such them!

In fact, easily, and I am going to tell you how.

Because of the heavy rain we had to skip Valley of the Giants and scenic route to Walpole Wilderness Discovery Centre and Mt Frankland.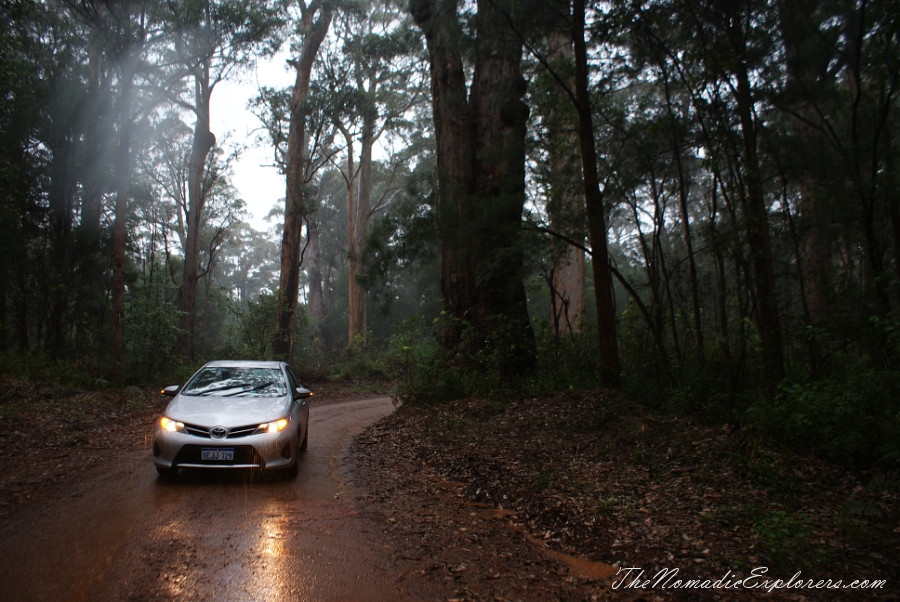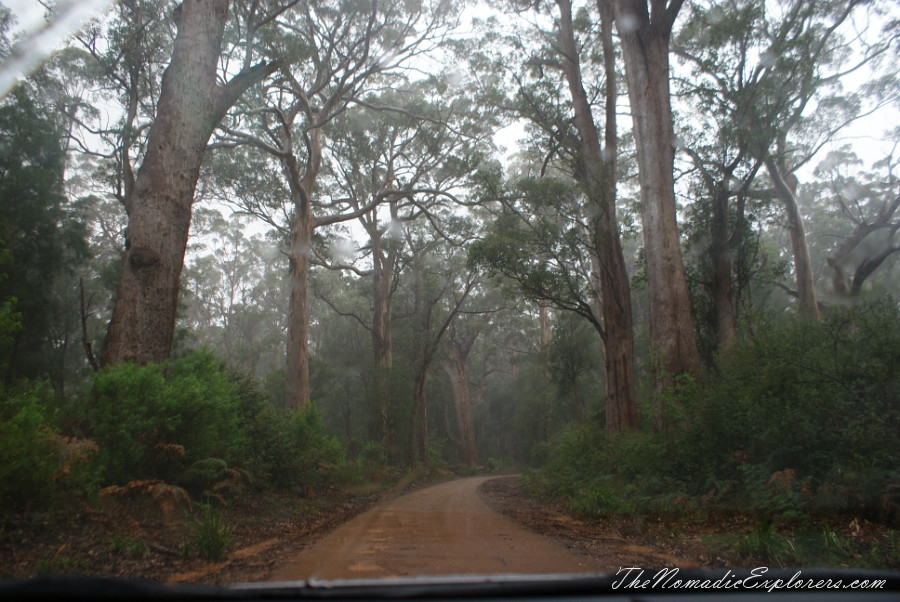 Giant Tingle Tree near Nornalup: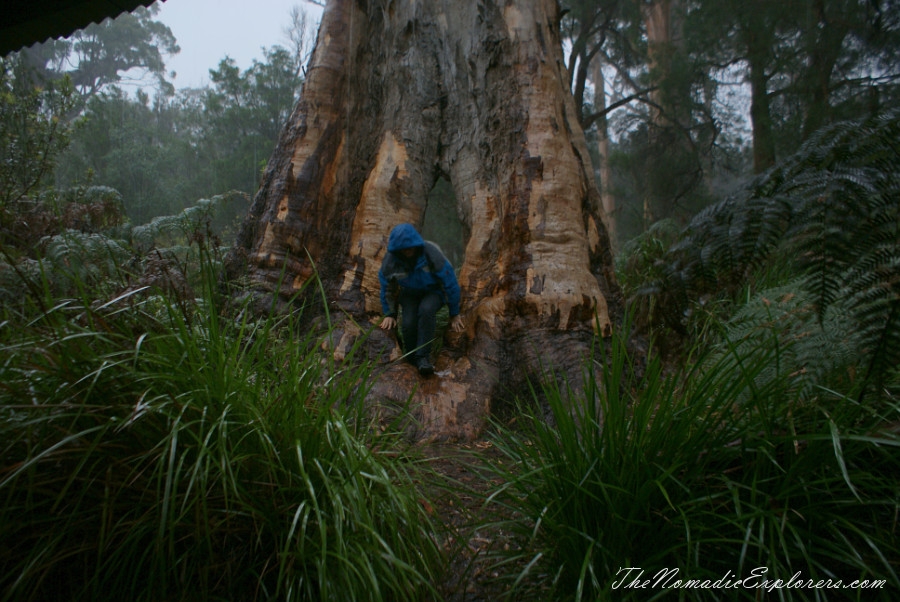 We also had to move further and do NOT drive scenic route in Shannon National Park... D'Entrecasteaux National Park and Windy Harbour? Oh, please, don't say a word about it - again, we had to skip it as well….
We arrived to Pemberton, the heart of Karri country, under the rain. Luckily (yes, indeed) there was a free cabin in Pemberton Caravan Park, so at least we knew that we will sleep under the roof in a DRY room.
Despite of the weather we went to drive part of Karri Forests Explorer Drive to look at two magnificent climbing trees: the Dave Evans Bicentennial Tree, a dizzying 75 metres high, and the Gloucester Tree standing 61 metres high.
Karri tree, one of the largest trees found on the planet and today protected for the natural environment and future generations to appreciate. A Karri tree can grow for (on average) 400 years to just under 90m with the taller trees growing in the valleys where competition for light is fierce.
The Gloucester Tree is probably Western Australia's most famous karri tree, towering above the forest surrounding Pemberton. It was pegged in 1946 as a lookout to spot forest fires, and was named after the Duke of Gloucester who visited and climbed a few rungs that year. Visitors can climb to the cabin for sensational views of the surrounding karri forest.
We didn't climb the tree as it was quite dark and windy. Moreover, I was scary to climb up to two-three meters with no ropes or climbing equipment.
You cannot see it on any photos how TALL the trees are…
The second tree was the Dave Evans Bicentennial Tree. It was commenced in 1988, however was not completed until 1998. The tree is 75m tall and located in the heart of the Old Growth Forest in the Warren National Park.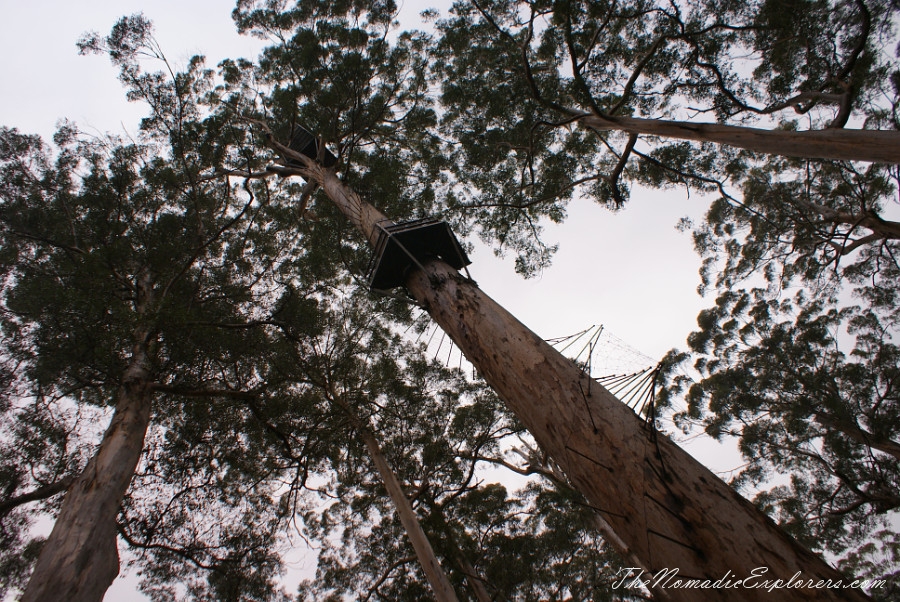 You can climb on it as well.
As for us, we went to our cosy warm cabin in caravan park. It was raining all night and, you know, we were so happy that we spent that night under the roof, not in a tent :)
Note for those who'd like to visit this area: please, please, please plan to spend at LEAST one whole day to explore this magnificent area. I would rather say if you have two days - that will be much better (yeah, I know and agree that actually you can easily to spend a week there if you have that much time). The The Karri Forests Region is absolutely fantastic place, even when it is raining :)