"All the Rivers Run" is one of the first Australian television miniseries that we watched. It is based on the Australian historical novel by Nancy Cato and was filmed in and around Echuca. As we were watching the film, we were thinking that it will be a good idea to visit the town one day. Well, the only thing that stopped us was that Echuka is located within 3.5h of drive from our home, as that means that we have to stay for a night somewhere there. One day we've got a good reason to go to the north part of Victoria, so we packed our stuff and went to Puckapunyal first, and them to Echuca. 
We spent almost a day there, exploring this small town. Further below I am going to tell you what we've discovered.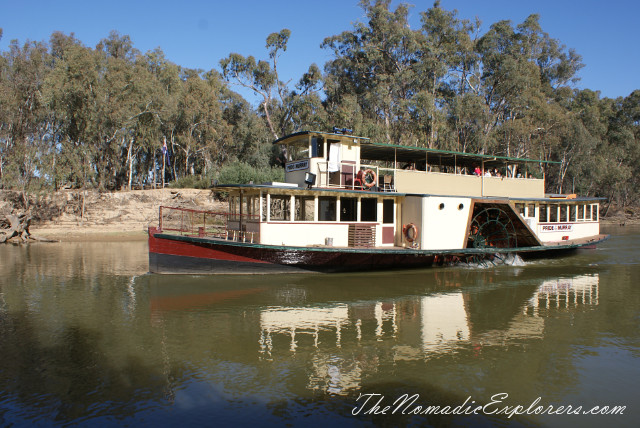 Echuca was founded by an ex-convict named Henry Hopwood. In 1850 he bought a small punt which operated across the Murray River near the Campaspe junction. The relatively small settlement known as "Hopwood's Ferry" became Echuca as the town grew. The Post Office known as Hopwoods Punt opened around 1854 and was renamed Echuca on 1 January 1855.
By the 1870s Echuca had risen to prominence as Australia's largest inland port. Being the point of shortest distance between the Murray River and the major city of Melbourne, Echuca was both a key river port and railway junction. Steam-driven paddleboats would arrive at the 400-metre long red-gum Echuca Wharf, unloading it to be transported by rail to Melbourne. Wool, wheat, other grains, livestock and timber were the most common cargoes.
The expansion of the railways from Melbourne to most parts of Victoria, as well as improvements to roads and fickle river conditions all combined to lessen Echuca's importance, and by the 1890s the paddlesteamer fleet was in decline. An economic depression and the collapse of several banks virtually ended Echuca's role as a major economic centre, and her population began to disperse. In our days the main industry in Echuca is tourism. Visitors are attracted to the town by its warm climate, the Murray River, recreational attractions, and historical features, such as the Port of Echuca which has the world's largest fleet of operating paddle steamers.
The Port is home to the largest Paddle Steamer collection in the world, which includes the world's oldest operating wooden hulled paddle steamer, the PS Adelaide built in 1866. There are several historic vessels operating out of Echuca on a daily commercial basis such as PS Pevensey (built 1911), PS Alexander Arbuthnot (built 1923), PS Adelaide (built 1866) operating from the wharf and the PS Emmylou (built 1980 with a steam engine in use from 1906), PS Canberra (built 1913) and PV Pride of the Murray (built 1924 as a logging barge "C24") operating from Riverboat Dock, a short distance downstream from the main wharf.
PS Emmylou was a steamer, which offered the earliest cruise on that day, so we bougth tickets and went for a cruise.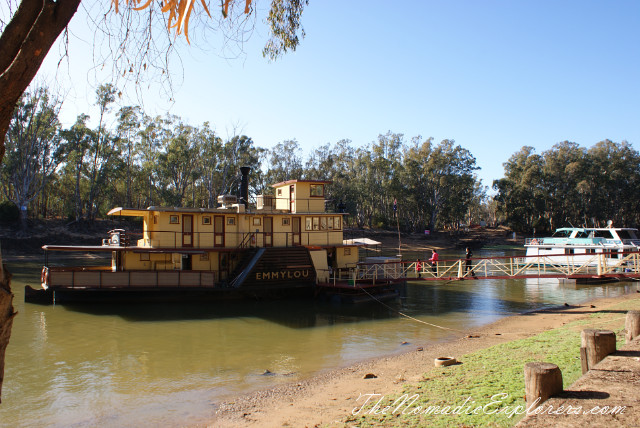 As I said earlier, the paddle steamer was build in 1980 with a steam engine in use from 1906.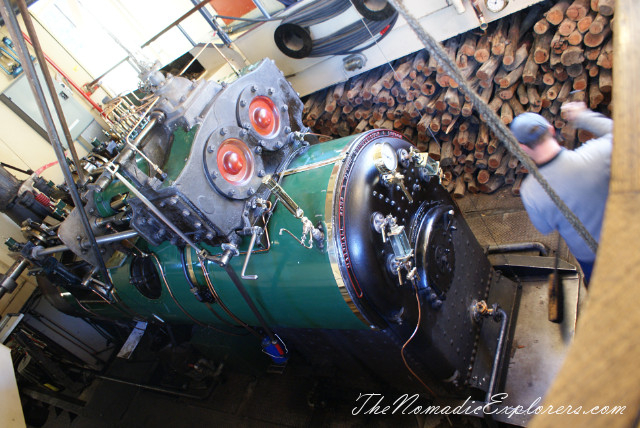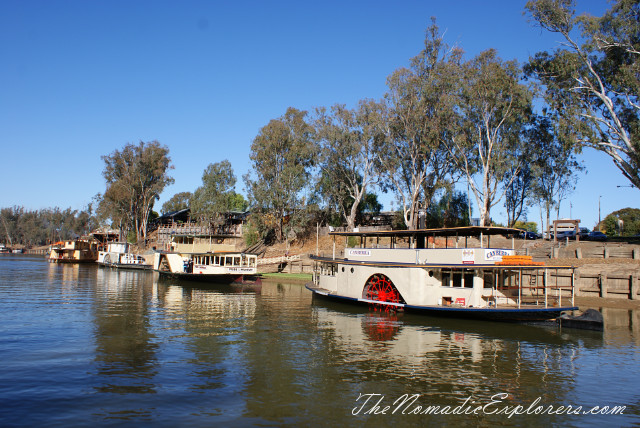 Port of Echuca: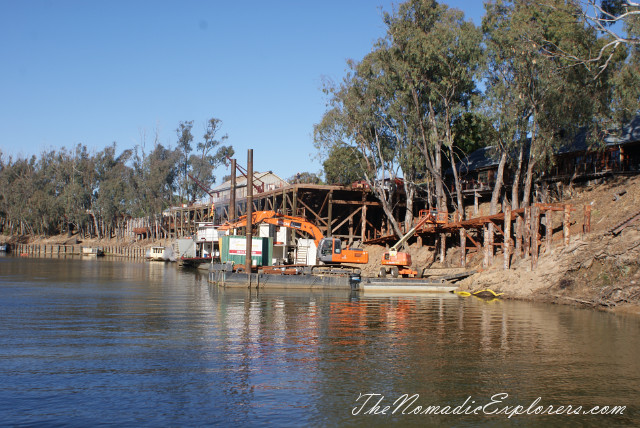 All the Rivers Run...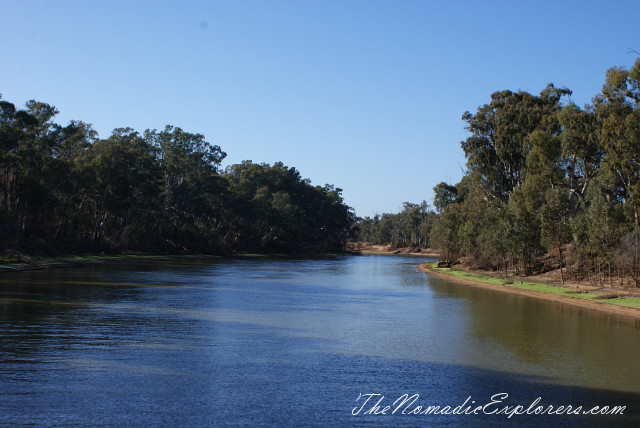 Houseboats. Many of them can be hired.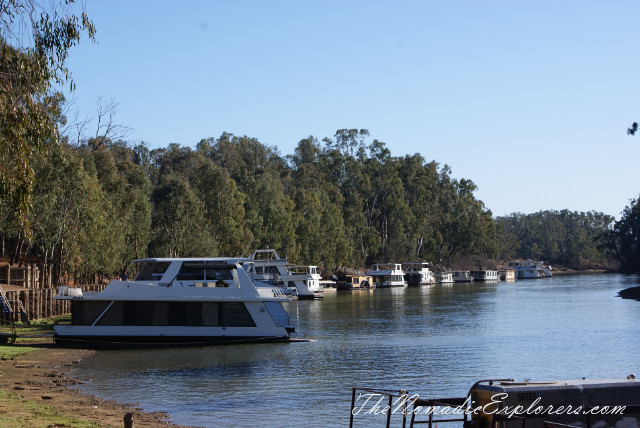 Thong tree near the wharf: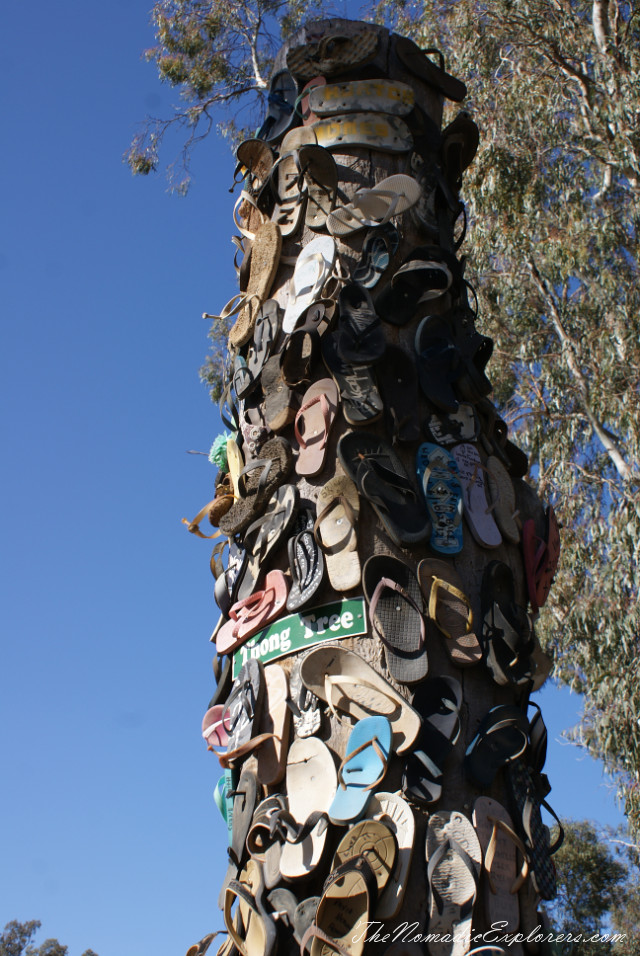 We went for a short walk through the town. There is a 'historical' street near the Port of Echuca with authentic buildings.
We also walked down main street of Echuca - High St. Althought it has same buildings as other towns have: bank, post office, bakery, cafe, we enjoyed this walk and spent more than an hour at the bookstore!!
After a while we went to Moama - town, which is located in NSW across the Murray river. Moama is smaller, so we made a round trip and went 'back' to Echuca.
If we had more time, we would probably spend it in Holden Museum and/orEchuca Historical Society, as we like to visit such museums. But instead, as we had to be in Bendigo next day, we visited The Great Aussie Beer Shed (not impressed at all) and went further.
Bendigo, here we come....