In 2014 during Easter we spent 2 days exploring Flinders Ranges National Park, famous by its beautiful Wilpena Pound. We planned to see and to do following:
Day 1. Kanyaka Homestead Historic Site, Yourambulla Caves, Hawker, Arkaroo Rock Hike, Rawnsley Bluff Lookout, Sacred Canyon, Wangarra Lookout. Night at Wilpena Pound Campground.
Day 2.  Bunyeroo Gorge, Bunyeroo Gorge Hike, Brachina Gorge Geological Trail, Moralana Scenic Drive on the sunset. Night at Wilpena Pound Campground.
Day 3. Way back.
There were some other places that we wished to see and to do in Flinders Ranges like to climb St Mary's Peak (full day), visit the Great Wall of China (on the sunset), the Cazneaux Tree (anytime), Stokes Hill Lookout (on the sunset as well), but as we had not had enough time (as usual) we left them for the next visit.
In fact, we visited all placed and even more, except Bunyeroo Gorge Hike, as simply missed the turn, and Brachina Gorge Geological Trail, as we had to go back to Hawker for tyre fix. Please feel free to use maps of Flinders Ranges National Park, attached to the previous post.
Day 1
We wake up early in the morning in Mount Remarkable National Park, where we spent a night. The Mount Remarkable National Park is conveniently located between Port Pirie and Port Augusta on a way from Adelaide to Hawker (link to the general trip description to be provided). Our first stop on our way to Hawker, the nearest to Flinders Ranges National Park town was at Kanyaka Homestead Historic Site.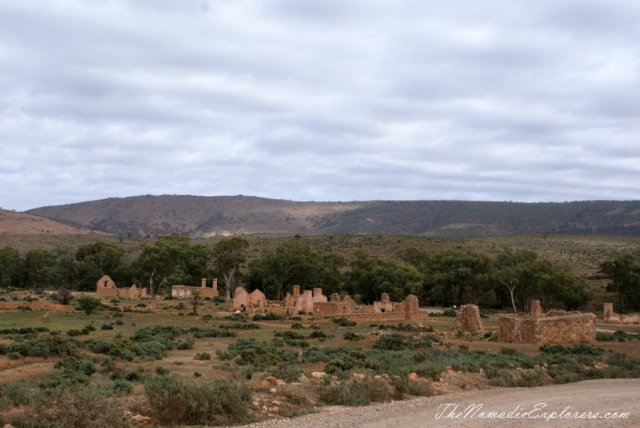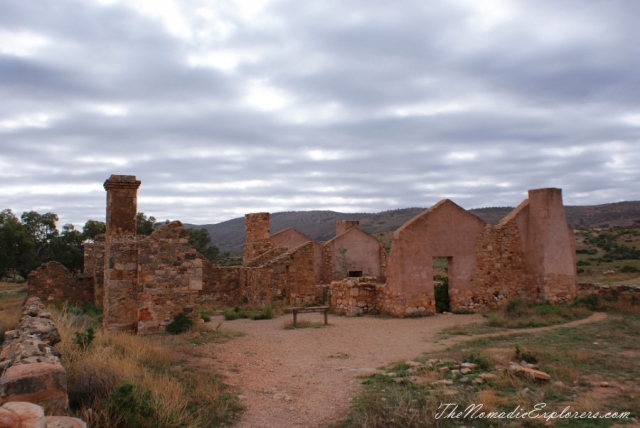 Kanyaka Station is the remains of a once-bustling cattle and sheep station that was home to more than 50 people. In the mid-1800s, many people in South Australia made their living raising cattle and sheep. Some came out to the Flinders Ranges to make a go of it because land was very cheap. One of these cattlemen was Hugh Proby, and he established Kanyaka Station in 1852. After his sudden death, Kanyaka Station began to grow under its new ownership. It supported an entire community of workers and their families. Because the area was so isolated, the residents at Kanyaka were self-sufficient. They built their homes using rocks from the area because they had limited access to transportation for wood and other supplies. They grew and raised the food that they needed and even had a cemetery for their dead. Unfortunately, the Australian landscape was, and continues to be, harsh and unforgiving. The area was extremely dry and susceptible to droughts causing many of their animals to perish. After a while, the residents had to abandon their homes and Kanyaka Station was left in ruins.
The next stop was near Yourambulla Caves, but the caves were closed. Later at home I found that caves are closed for maintenance, but it is not clear when they are going to be opened.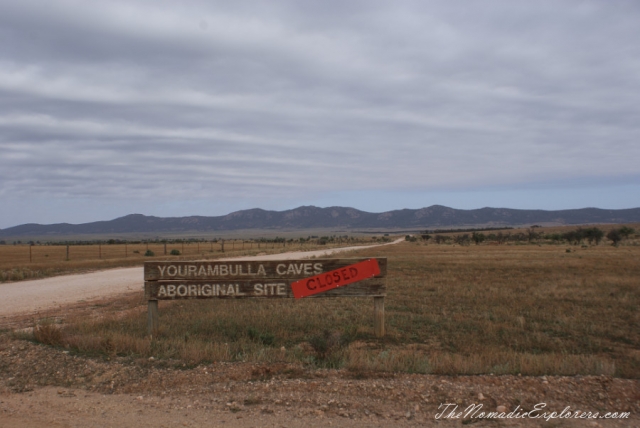 We met our friends in Hawker, had some coffee and went all together to the next stop - Arkaroo Rock Hike.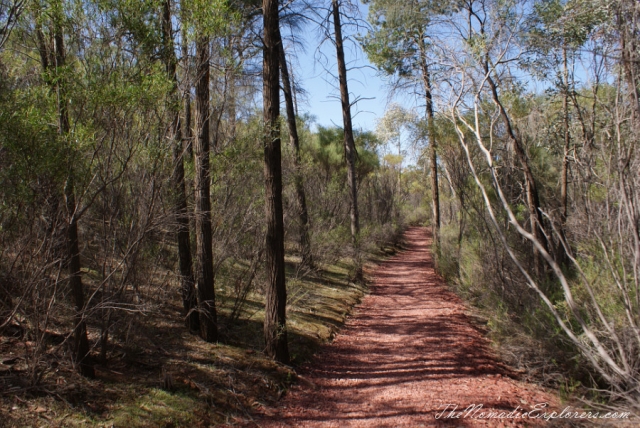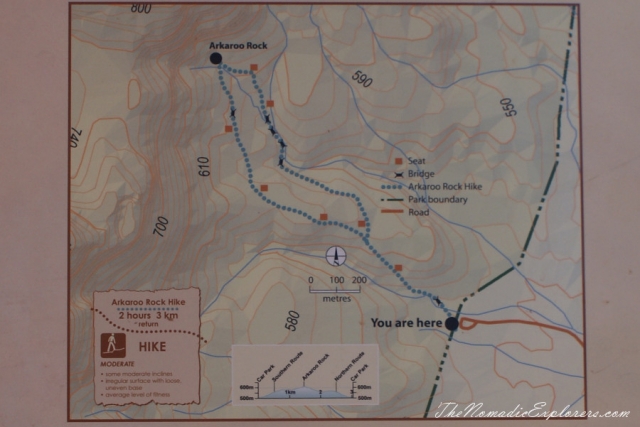 Arkaroo Rock Hike, located 15km from Wilpena proper, is an easy 3km loop track and home to some well-known Aboriginal art. There are 5000 year old Aboriginal rock paintings near Arkaroo Rock that depict the creation of Wilpena Pound. The Adnayamathanha people ("Hills People") of the Flinders Ranges say that a celebration took place where Wilpena Pound (which is Ikara to them) is located now. The people celebrated happily, but suddenly, two giant snakes ("Akarra" or "Akurra" or "Arkaroo") appeared. They raised a lot of dust to confuse the people, and then they ate most of them. After that, they lay down in a big circle and turned to stone. Today, their bodies form the large crater of Wilpena Pound.
There are many paintings of bird tracks, snake lines, waterholes, plants and people at Arkaroo Rock created in red, yellow and white ochre and charcoal, brushed or applied by finger using wet pigments mixed with water, animal fat or blood. The paintings at the Arkaroo Rock tell the creation story of Wilpena Pound. These paintings are a fraction of the sacred aboriginal stories recorded on rock walls throughout these ranges. The site has been dated as 5000 years old. Arkaroo Rock has been used by the Adnyamathanha people for thousands of years, but first discovered by Europeans only in 1957.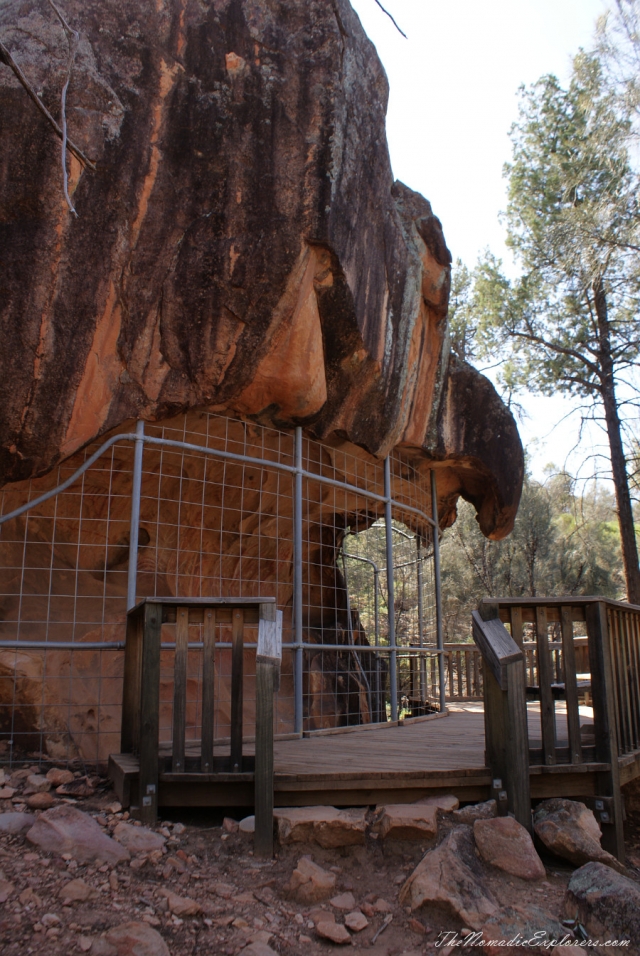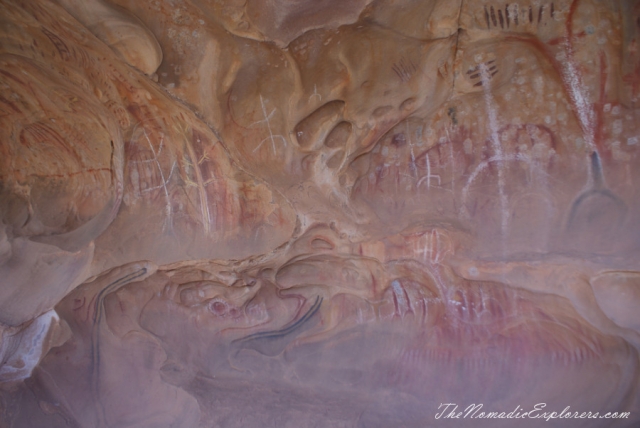 The views around are magnificent!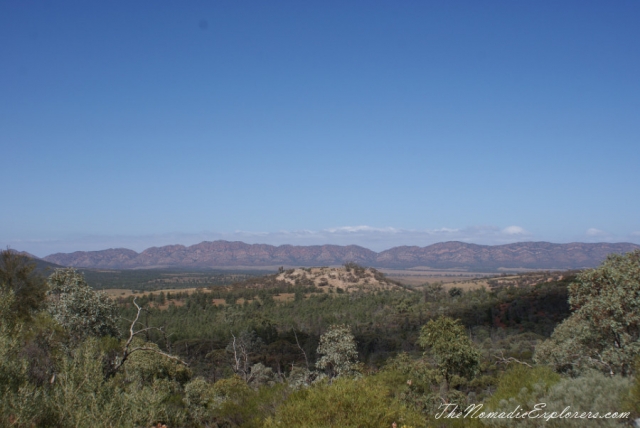 After a hike, we stopped for 5 minutes at Rawnsley Bluff lookout.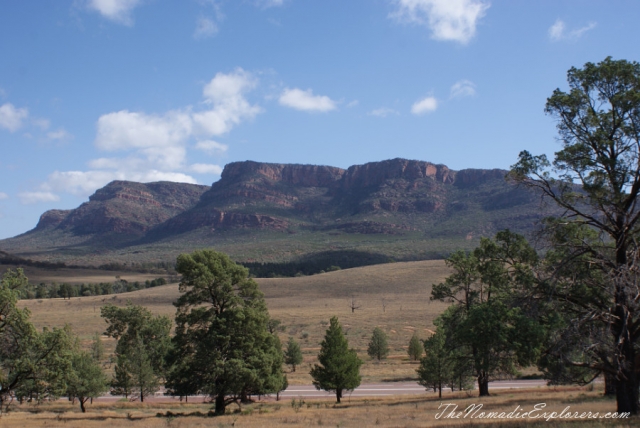 There is a good explanation of how Wilpena Pound had been created.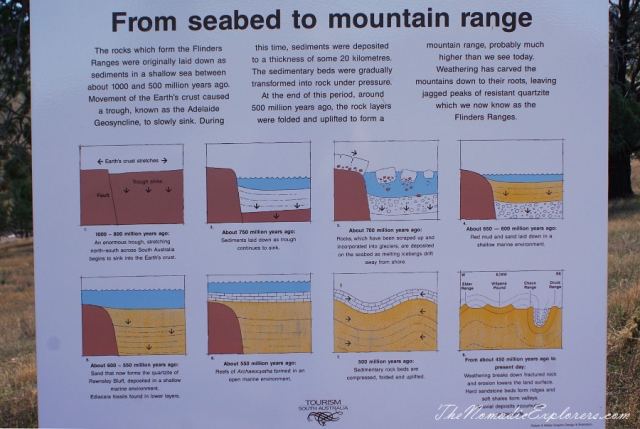 And then went to the Sacred Canyon. There is an explanation of different types of Aboriginal rock paintings at the beginning of the walk: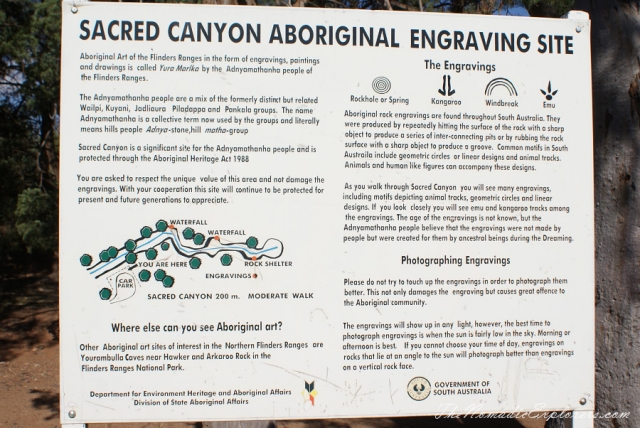 The canyon itself is a small gorge with a water pool at the end of the walk. Here are some paintings that I found: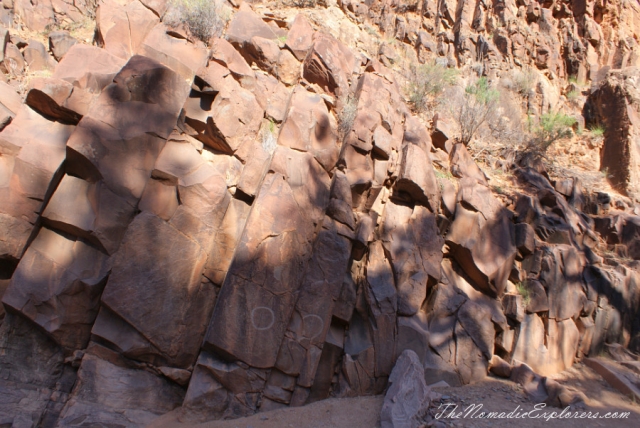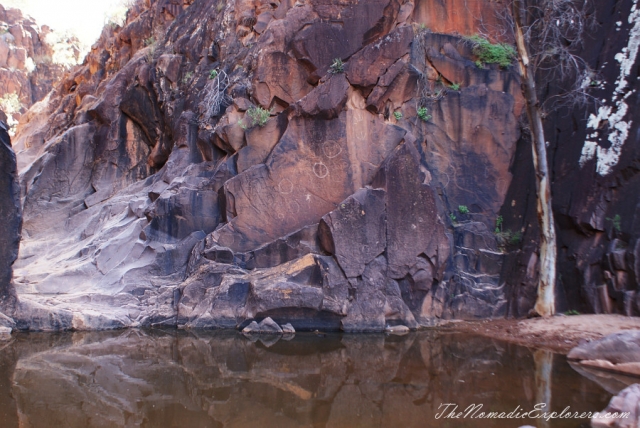 Stone 'layers':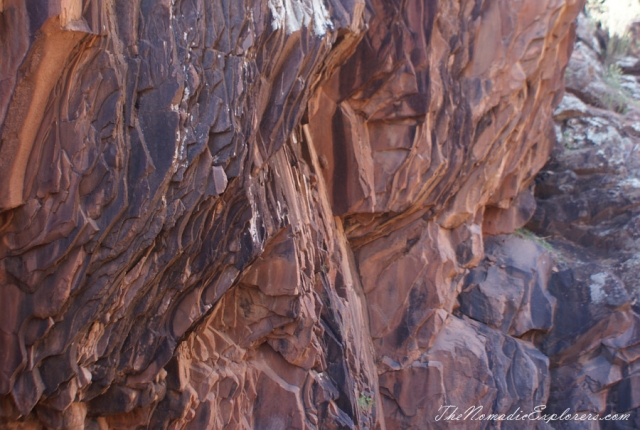 After the canyon, we went to Wilpena Pound Campground, where I booked two unpowered sites for us and our friends. The campsite was overcrowded, as it was Easter and everyone in Australia tries to spend these four days NOT at home. Anyway, after 5-minutes search we found a good spot for two cars and were ready to continue our journey.
The next walk was to Wangarra Lookout. The walk starts from the Information Centre of the Wilpena Pound Campground. We did the 7.8 kilometre the walk in 2.5 hours which included the Hills Homestead and good views over Wilpena Pound.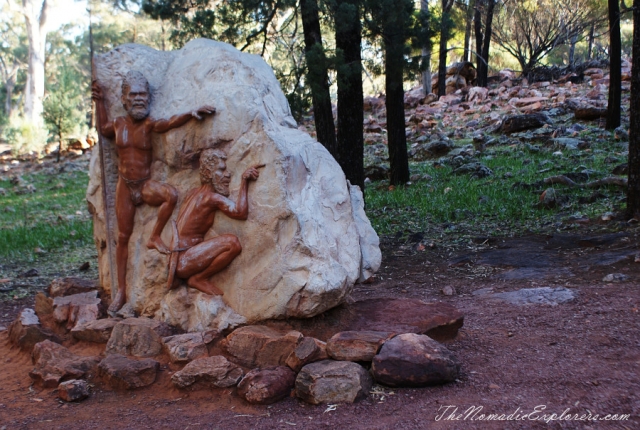 Day 2:
Next morning we were full of strength and ready to go further. Our plan was quite simple - Bunyeroo Scenic Drive, Aroona Valley, Brachina Gorge and Moralana Scenic Drive at the end of the day (see map below).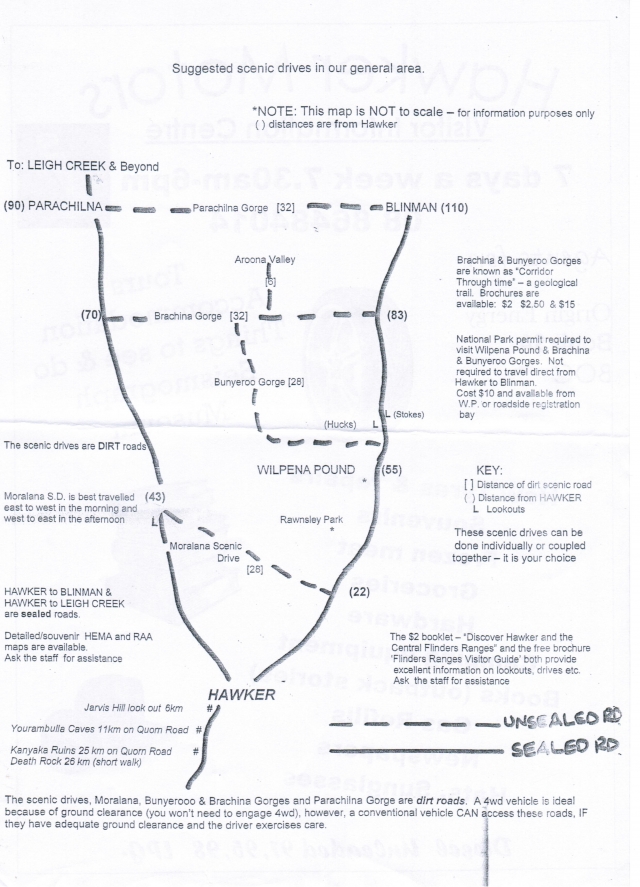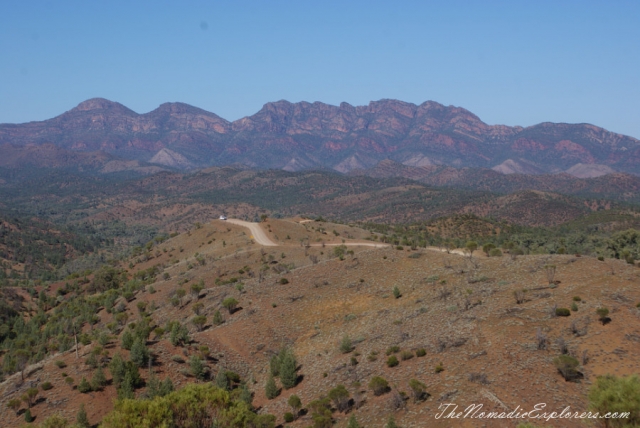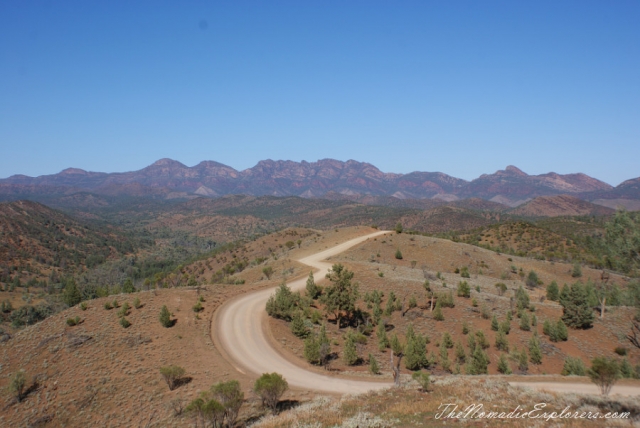 The Bunyeroo Scenic Drive is a great drive with spectacular views and a trip through the gorge itself. There is a 3.5h moderate walk (7.5km return) to the Bunyeroo Gorge. It is said that the walk leads to peaceful gum-lined gorge with interesting gorge formations. As for us, we planned to walk it but simply missed the turn! Next time we will definitely walk there.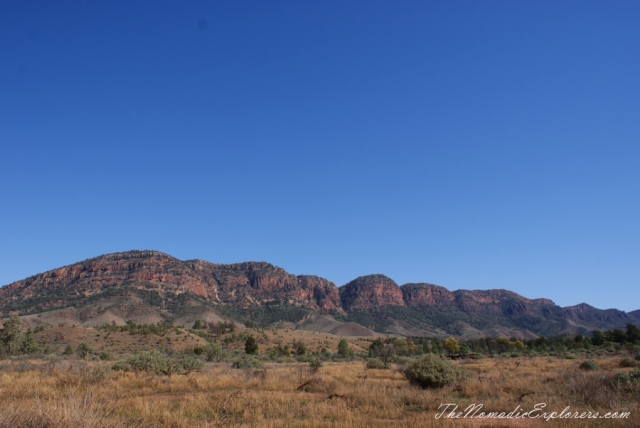 Just east of the Geological Trail and Bunyeroo Scenic Drive intersection, a road leads north that takes you to the Aroona Valley and Aroona Heritage site. It is considered to be the most beautiful place in the Flinders Ranges by many people. The scenery in the valley has been painted by Hans Heysen and other artists.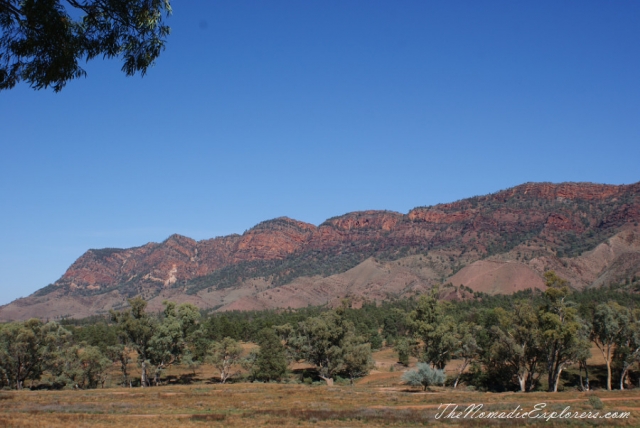 The Bunyeroo Scenic Drive ends (or starts - depending on which way you're heading) at the Brachina Gorge Geological Trail. This spectacular trail was a must see place in our list (google it and you'll see why), but, unfortunately, we got a tire puncture, so we had to go back to Hawker to fix it.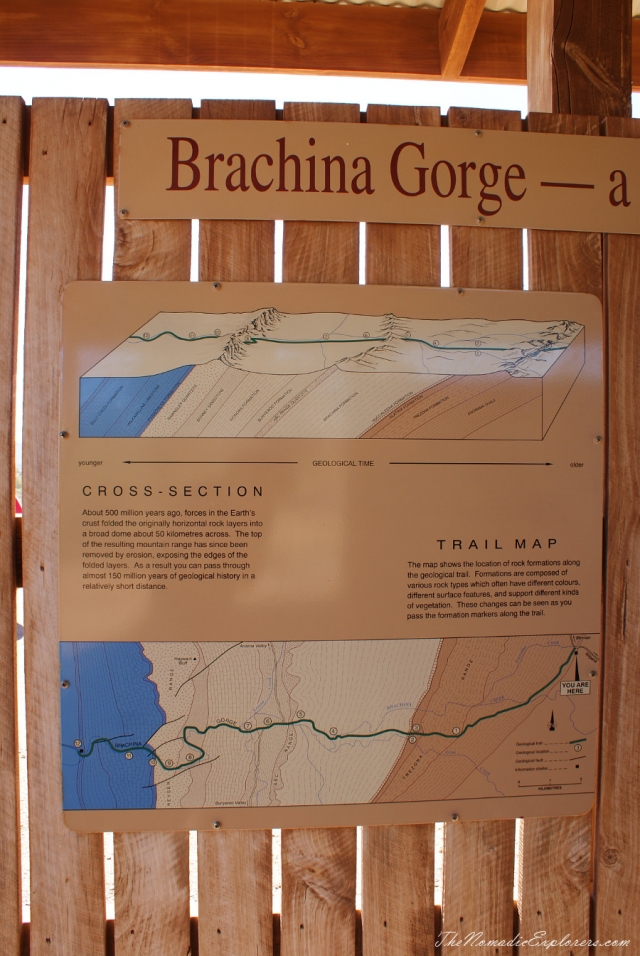 On our way to Hawker we stopped at Stokes Hill Lookout.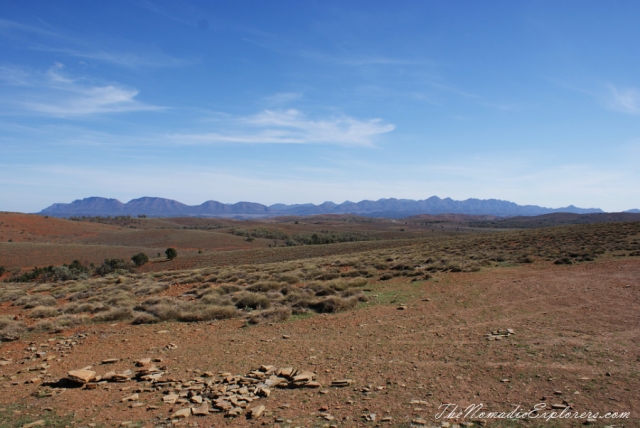 After the tyre was fixed (actually, we had to buy a new one), we went to Moralana Scenic Drive. This 28km route links main roads from Hawker to Blinman and Parachilna. The view of a sunset from the drive was simply stunning! I wish we could drive this route one more time.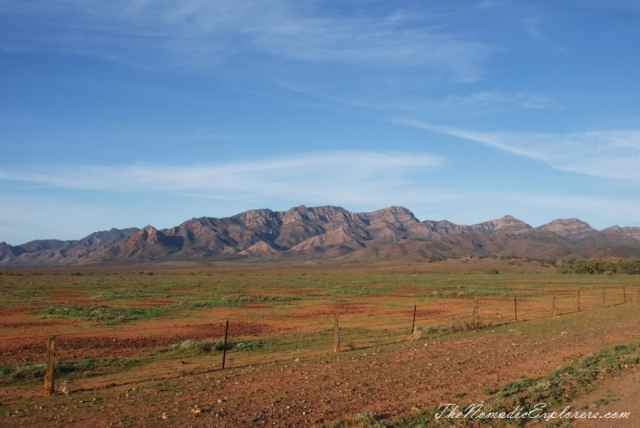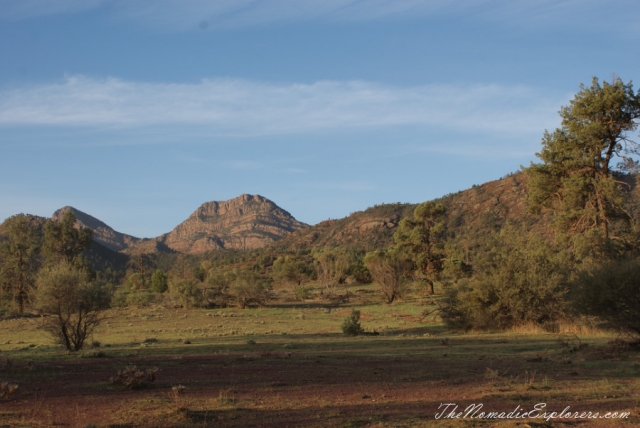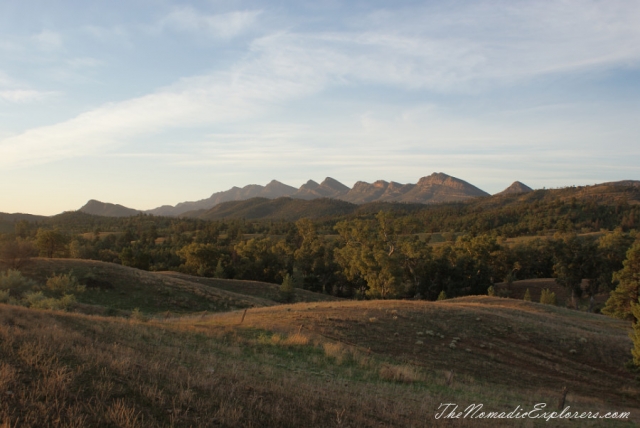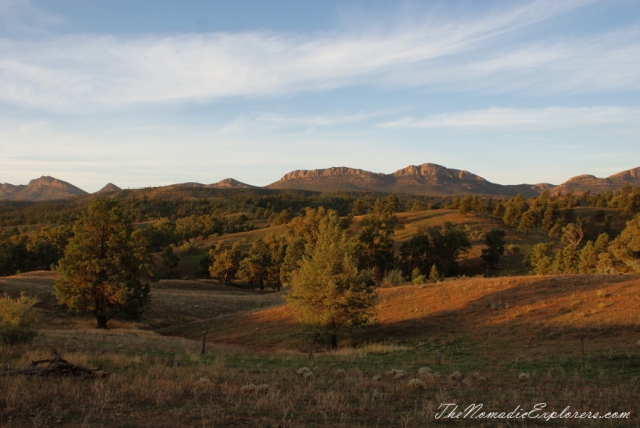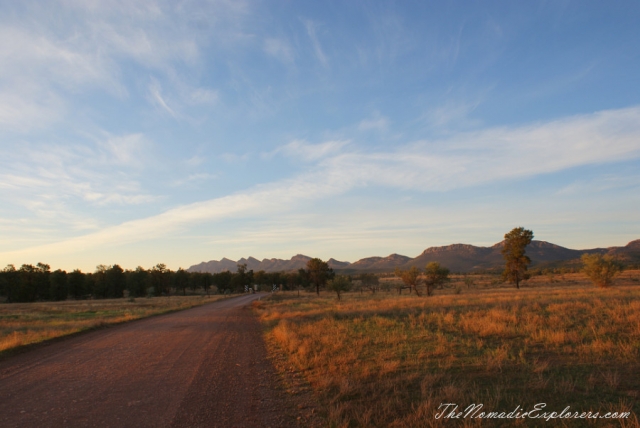 We spent a night again in Wilpena Campground. Next morning we made a short stop at Wilpena Solar Power Station, then left Flinders Ranges and went further.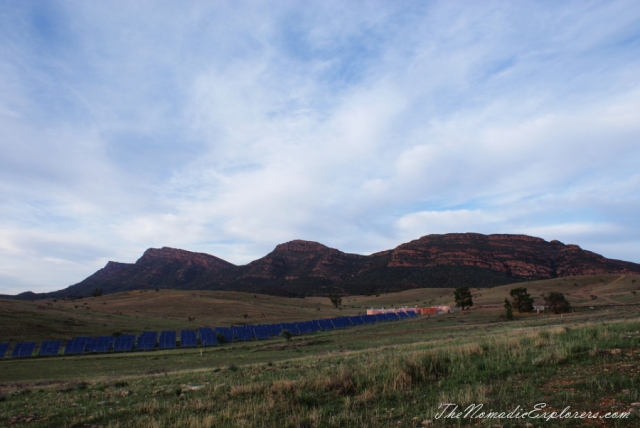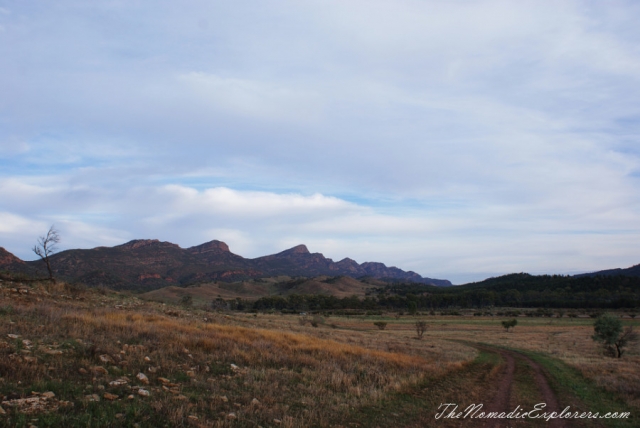 We miss Flinders Ranges and definitely be back one day in spring.