After a Marakoopa cave tour it was time to go further, to Cradle Mountain National Park, where we booked a cabin for two days. We spent half an hour to figure out how to get from the Mole Creek area to Cradle Mountain and finally we've got the directions, thanks to GPS in one car and navigation application on a tablet in the other. The road itself wasn't bad, I was more worried about weather. It became dark, then very dark and it started snowing.
Snow? In Australia? In spring? Yes, it is possible.
Look that we've seen during our way to Cradle Mountain: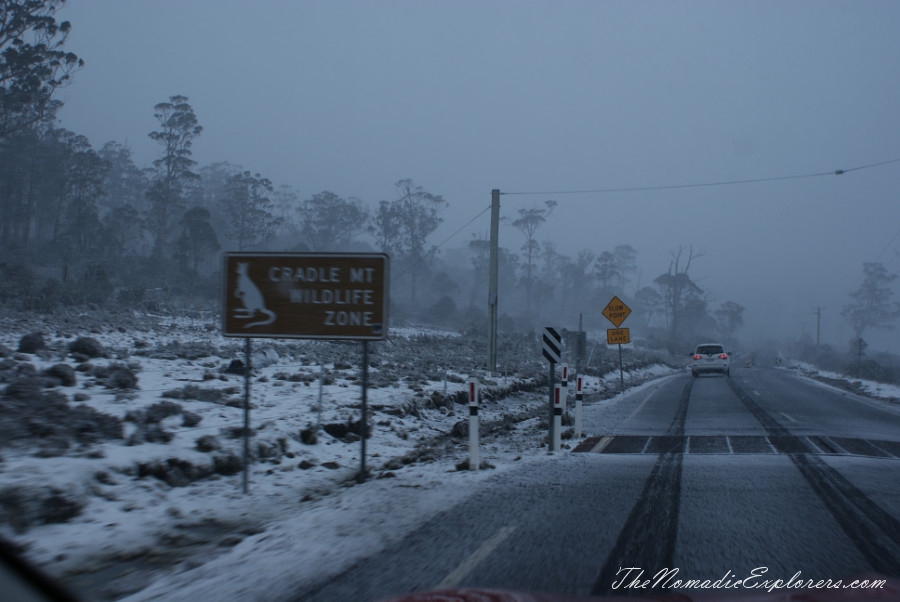 Main thing that worried me was the black ice on the road. We used to live in the country where snow on the road is a common thing in winter, but usually we were prepared for that: winter engine oils, winter tires.. With rented car I hadn't had any idea how it will behave on a slippery road, so I reminded myself all the time that I have to be very-very-very careful.
Finally we safely arrived to Cradle Mountain Discovery Park. It was a real delight to sit down in a warm cabin having a nice dinner looking how it is snowing outside.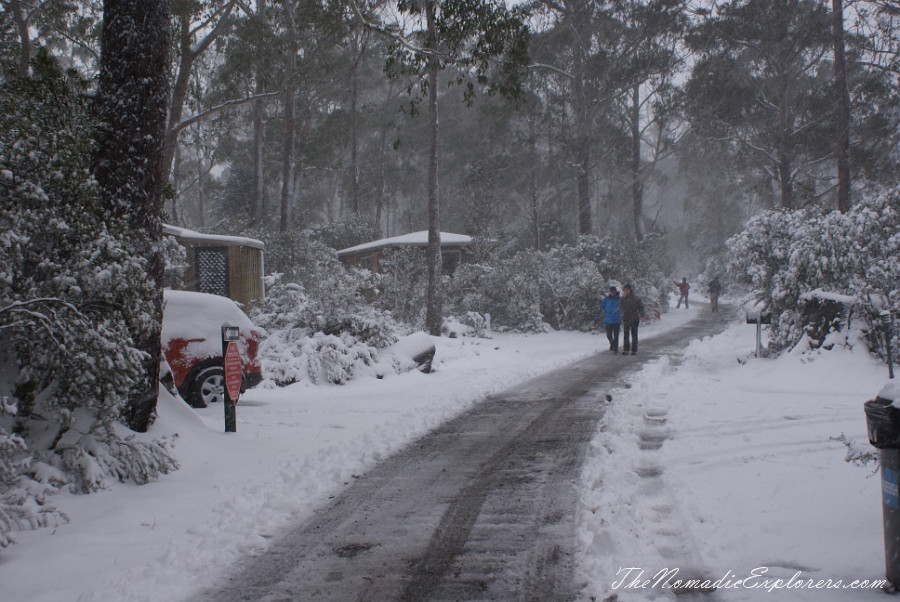 Next day was much-much better. Although it was cold and windy, the sun shined sometimes and the roads were clean with no snow.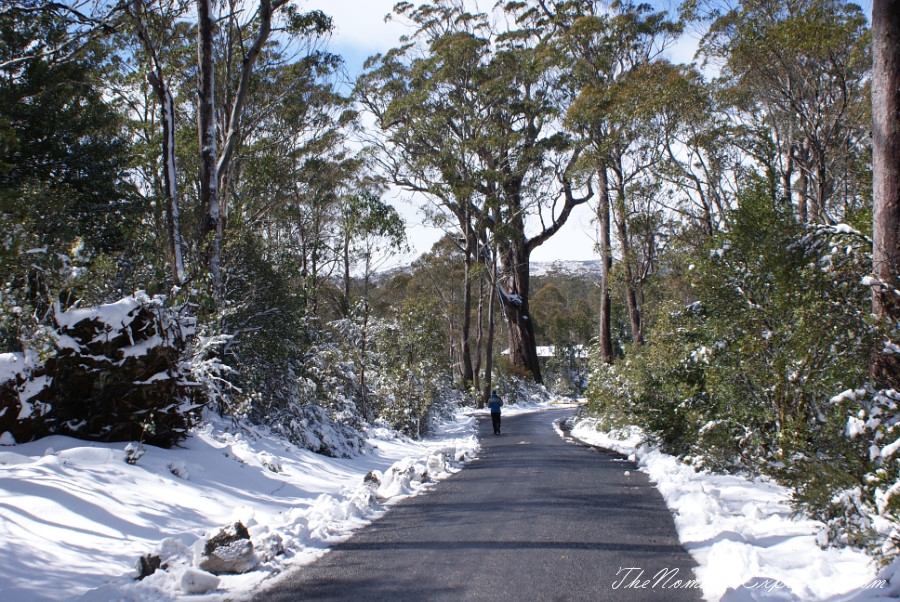 We went to the Visitor Centre, which is located nearby, to get more information / maps to use during a walk near Cradle Mountain. The staff at the centre was extremely helpful. We've bought the Holiday Pass for all parks for one vehicle, which was AUD 60, and was good for eight weeks, giving us access to all national parks in Tasmania, including Cradle. We found this to be great value, as we visited other national parks as well.
When we planned our trip, I found a very useful book called '60 Great Short Walks in Tasmania'. I encourage everyone to download the brochure online from Parks and Wildlife Service Tasmania website or get the brochure in any information centre. As for Cradle Mountain Area, they have Dove Lake Circuit, Enchanted Walk, Crater Lake Circuit  and Cradle Mountain Summit walks. Personally, I planned to hike to the Cradle Mountain Summit, but as the snow was everywhere, we decided to walk shorter walk - Dove Lake Circuit (6km), one of Tasmania's premier walks.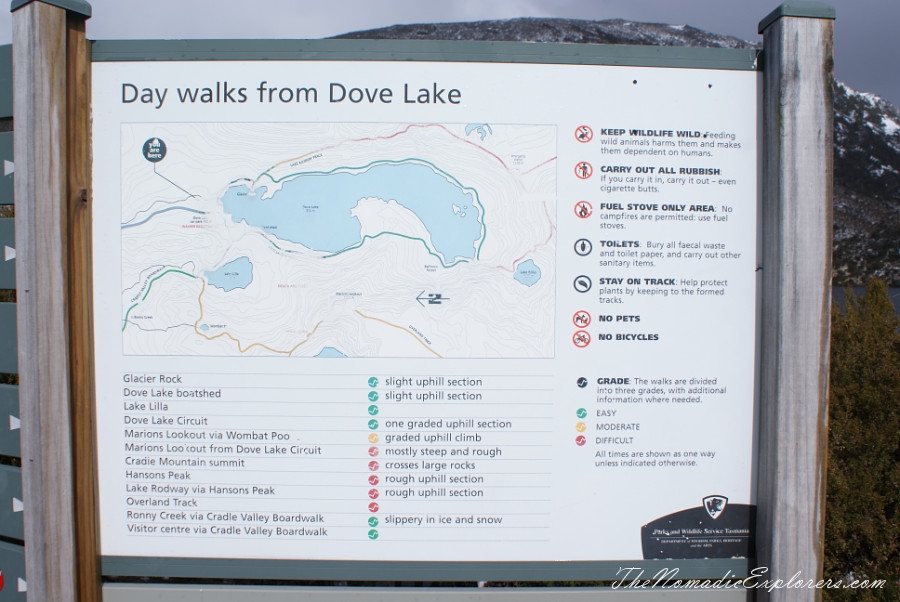 We really enjoyed Dove Lake Circuit. As mentioned, this is a well-paved trail that is not too difficult and gives you great views of Cradle Mountain. It was a cloudy when we started the walk, and parts of Cradle Mountain was hiding in the clouds. But we were lucky that the weather cleared up as we finished, and allowed us to see Cradle Mountain in the clouds and with the sun!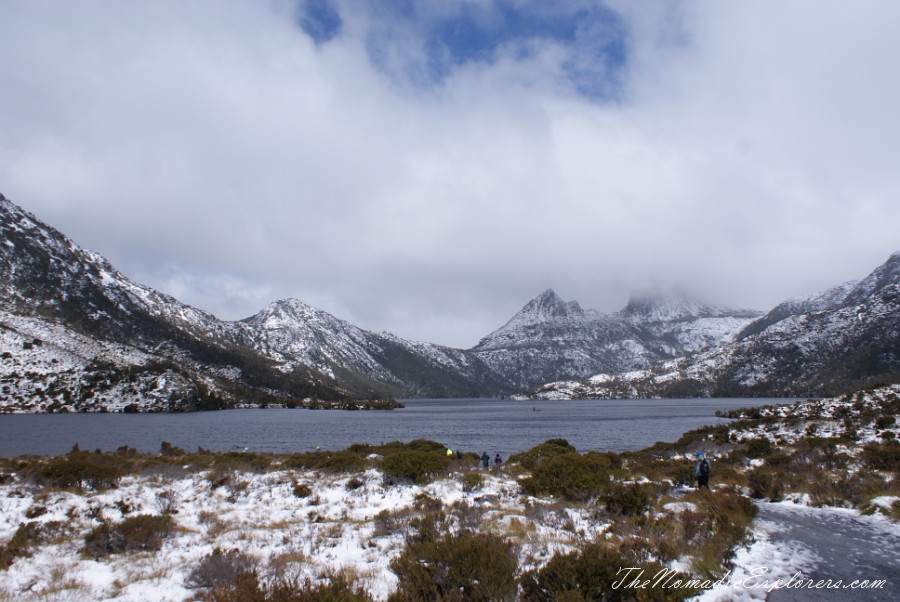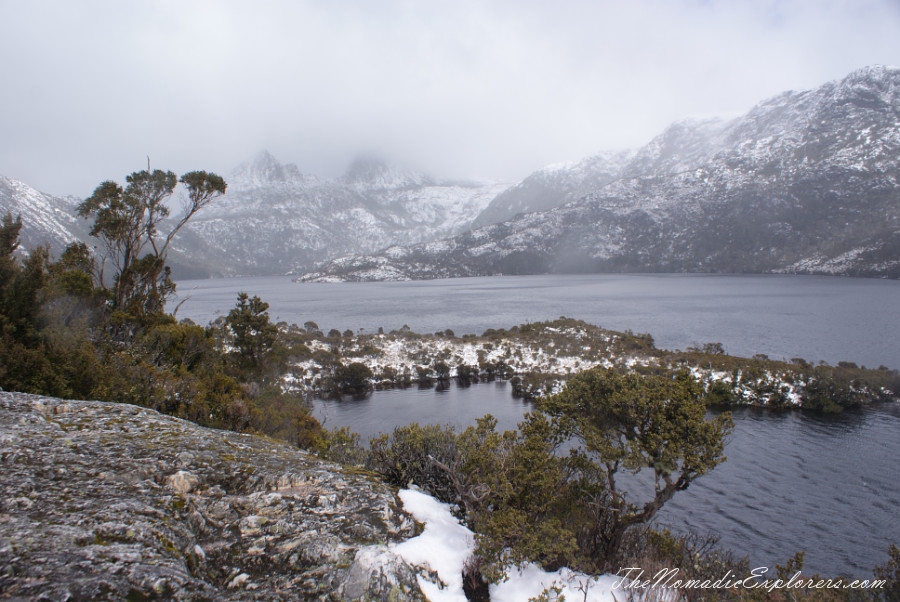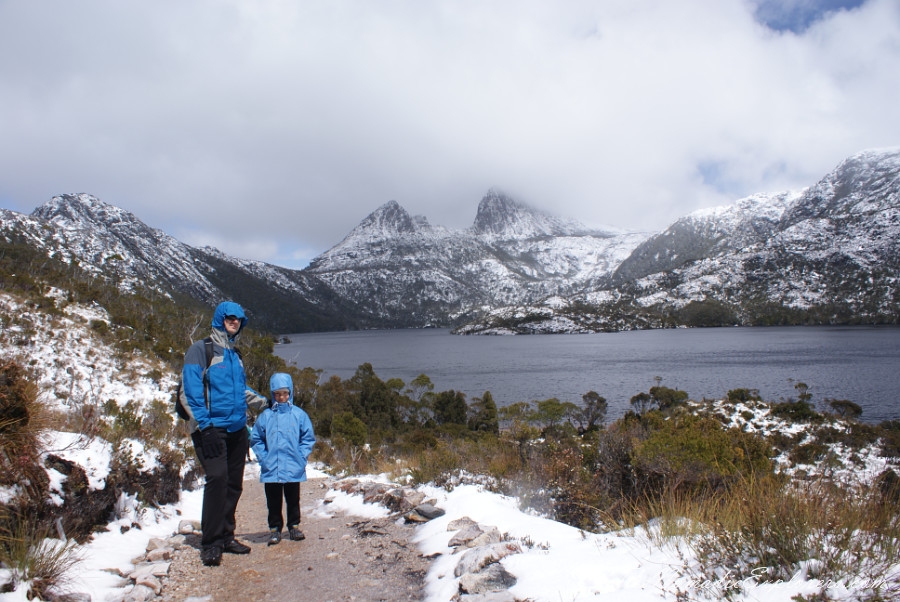 There is plenty of parking at the Dove Lake Circuit. Those who do not want to drive can also take the shuttle, which is free for everyone who bought a pass to the Cradle Mountain. The shuttle runs every 15 to 20 minutes. During peak seasons, the park may not allow cars to drive into the national park area due to traffic control purposes. As the Visitor Centre was located near the place where we stayed, we decided to use the shuttle.
We had read in some travel blogs where it was suggested to turn right to start the trail, rather than the left that is suggested by the signs. We went with the signs (i.e. the left) and found this was probably the better way to go, as the end part had some relatively steep downhill slopes, and thus if you were to start on the right side, the uphill trek may be a bit challenging (especially with wet weather the path can be a bit slippery).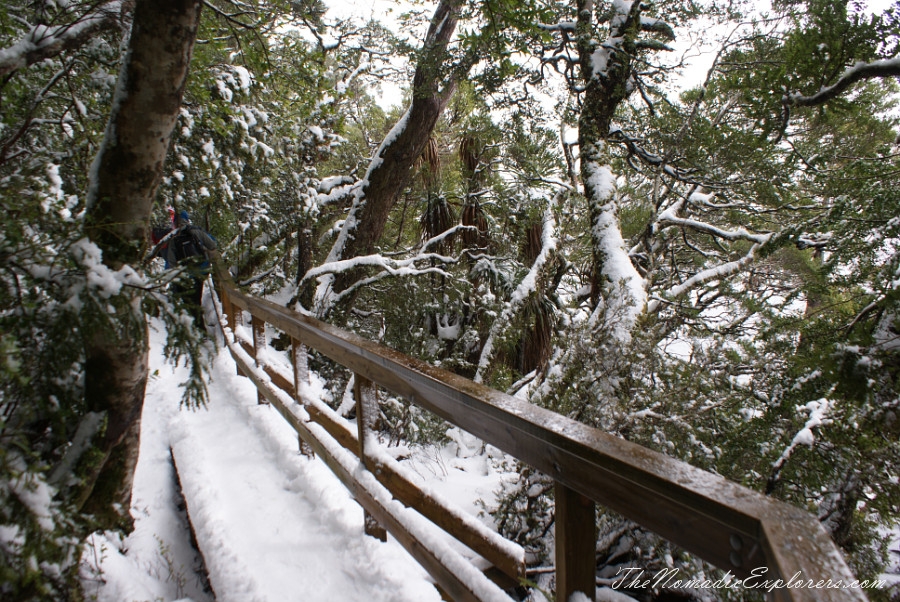 There are some small side paths which takes you to some great photo-taking points, and so we do recommend you to stop at those places as they only take less than 10 minutes of extra walking.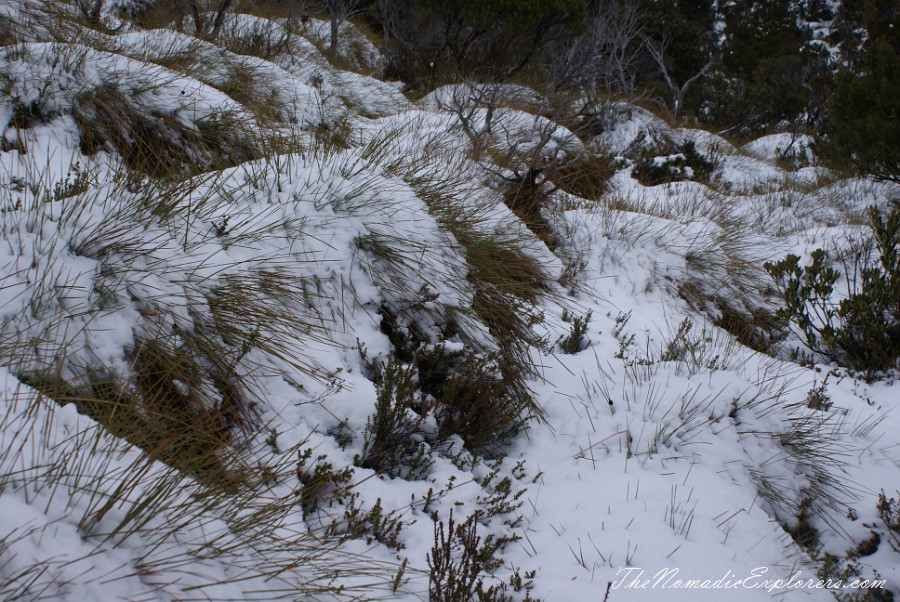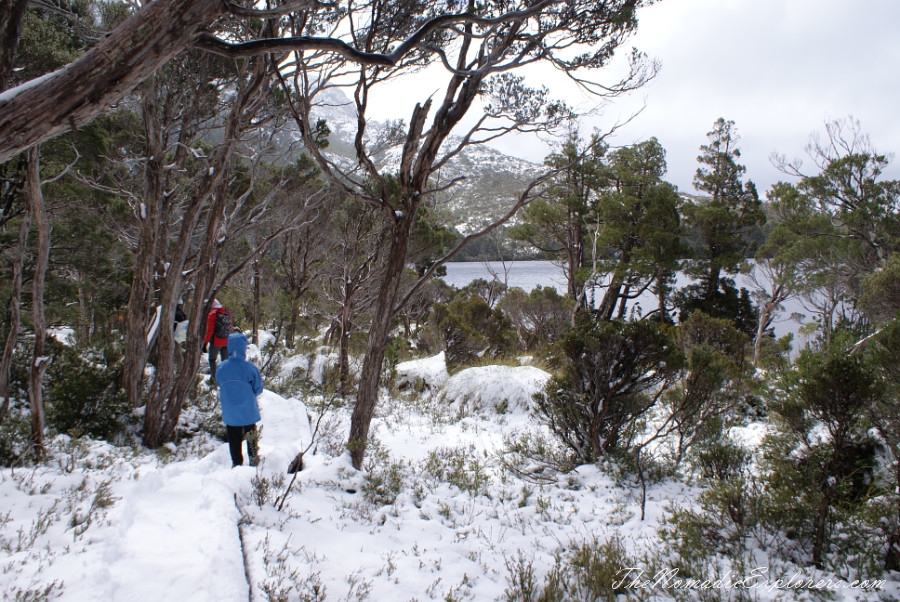 The trail took us around 3-4 hours. It is usually takes less time, but as we were walking with friends who have a 3-year old daughter, we had to stop often to give her a little bit of rest.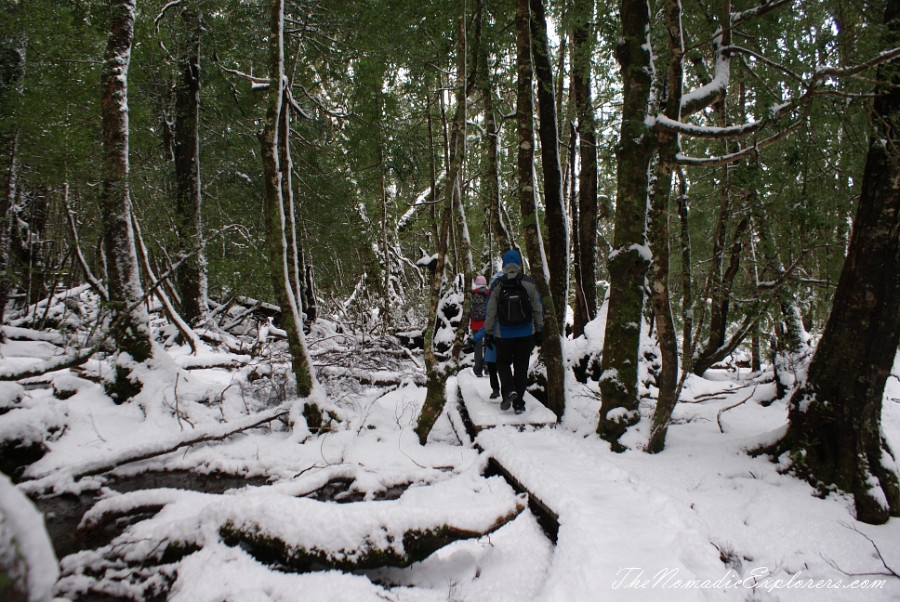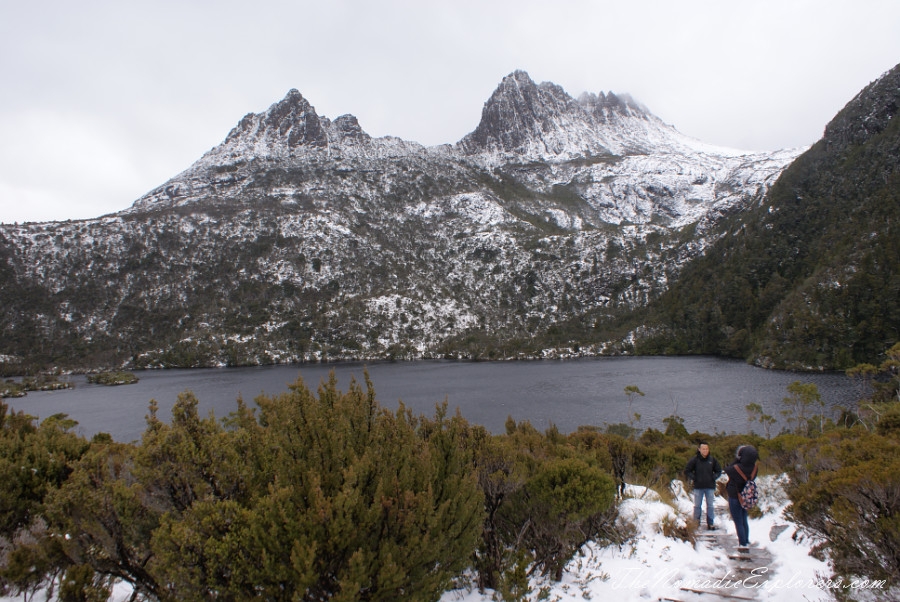 At the end of the day everyone was tired, but happy.
It was a great day to walk and rare opportunity to build a snow-man and play snow-balls in Australia in spring.
Stay tuned!