Once upon a time there was a girl who lived in the city near the mountains. She loved to look at them and she knew all their names by her heart: Ile Alatau (which is a part of Northern Tian Shan mountain system), Talgar peak, Big Almaty Peak and Big Almaty Lake, Abai Peak, Issyk Lake, Medeo..... All these names were not just sounds - they were something bigger for the girl, as she spent most of her weekends somewhere there. The girl moved from one city to another, then even moved to another country. She missed her mountains. Finally, she decided to reach the summit of the highest peak of her new homeland. 
Do you know who was that girl? That was me :) 
In November 2013 we went to Kosciuszko National Park, NSW to reach the summit of the Mt Kosciuszko (only 2228m above the sea level, but who cares?). We did the "Main Range Walk – Charlotte Pass to Mount Kosciuszko" trail.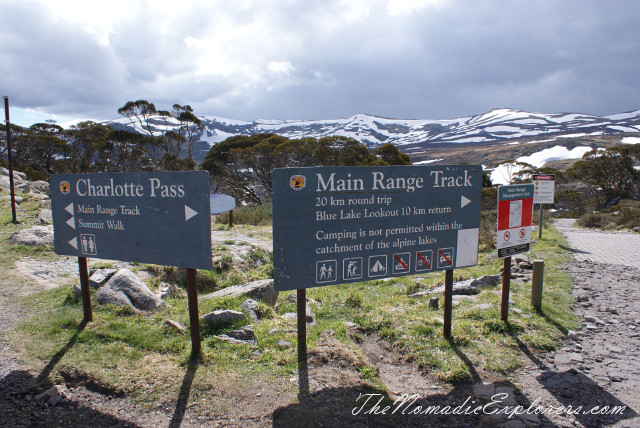 Before we move further, I highly recommend you to read some information in Wikipedia about Paweł Edmund Strzelecki and his role in exploring Asutralian territories (see links below the post).
Have you read it? If not, well, here you are some facts. Paweł Edmund Strzelecki was a Polish explorer and geologist. He arrived at Sydney in 1839. At the request of the Governor of New South Wales, Sir George Gipps, he made a geological and mineralogical survey of the Gippsland region in present-day eastern Victoria, where he made many discoveries. Later in 1839 Strzelecki set out on an expedition into the Australian Alps and explored the Snowy Mountains. In 1840 he climbed the highest peak on mainland Australia and named it Mount Kosciuszko, to honour Tadeusz Kościuszko, one of the national heroes of Poland and a hero of the American Revolutionary War.
From 1840 to 1842, based in Launceston, Tasmania (then known as Van Diemen's Land), Strzelecki explored nearly every part of the island. Strzelecki left Tasmania on 29 September 1842. He was collecting specimens in northern New South Wales towards the end of that year, and on 22 April 1843 he left Sydney after having travelled 11,000 kilometres through New South Wales, Victoria and Tasmania, examining the geology along the way.
So, lets imagine ourselves as a great explorers and examine how to reach the summit of the Mount Kosciuszko:

Trails which start from the Charlotte Pass:
1. Main Range Walk – Charlotte Pass to Mount Kosciuszko trail. 22 km. It might be 24-25 km, if you decide to get closer to the mountain lakes. This trail follows Main Range Walk first, then you reach the summit and go back by the Summit Walk.
2. Summit Walk. 9 km one way (18km total). This walking track to Mount Kosciuszko from Charlotte Pass is in fact that road, which was closed to public motor vehicle access due to environmental concerns. We followed this track on our way back to the Charlotte Pass. Personally, I think you should follow it only if you have a bike. Othervise it is very boring to go up and down using the same path.
Another trail, which starts in Tredbo:
3. Kosciuszko walk - Thredbo to Mount Kosciuszko. 14 km total. Start in Thredbo. It's not a difficult walk and is supported by a chairlift all-year round. From the top of the chairlift there is a raised mesh walkway to the summit to protect the native vegetation and prevent erosion. This tracks meet at Rawson Pass with Summit Walk for the final climb to the Kosciuszko summit.
As I said earlier, we did the "Main Range Walk – Charlotte Pass to Mount Kosciuszko" trail.
Waked up early, we were near Charlotte Pass at 8am. We packed, dressed and started the walk at 8.30am. Why we decided to start so early in the morning? Because the weather forecast said that it will be raining and even snowing later afternoon. 
Thanks to the nature, morning was nice, but very windy.
This is a start point of our journey. You can see two rivers: Club Lake Creek and Snowy River. The path that you can also see is Main Range Walk.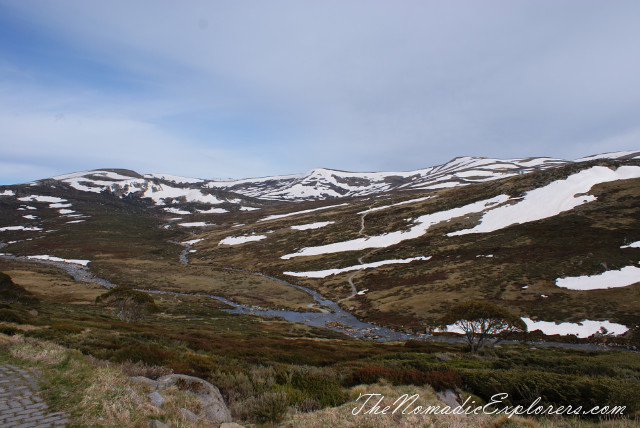 Although it was sunny, it was very cold because of the wind. I was so happy that I took some of our winter clothes.
Do you still think that there is no winter and snow in Australia? It is November (like May in Europe) and there IS snow in the mountains.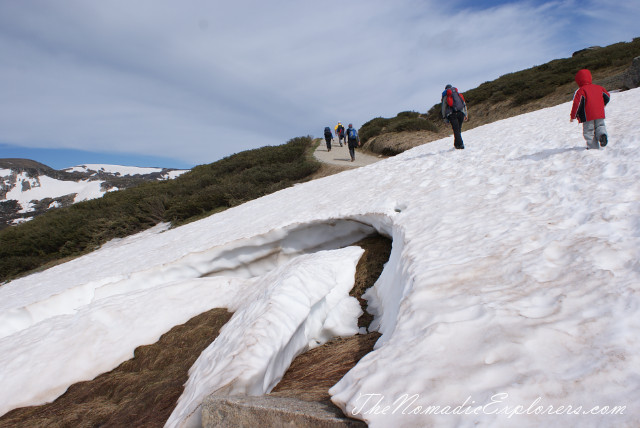 Going further: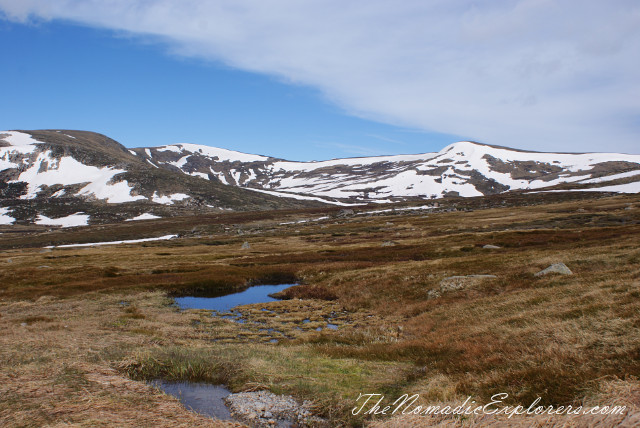 Some of the flowers started blossom. Not all of them, though.
These are endemic flowers. They only grow in Snowy Mountains.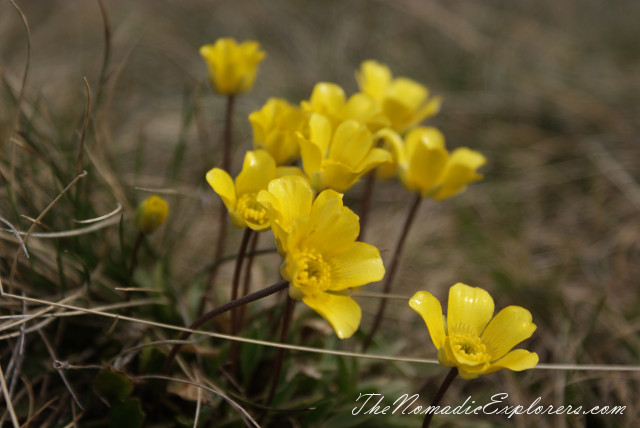 These are like edelweisses: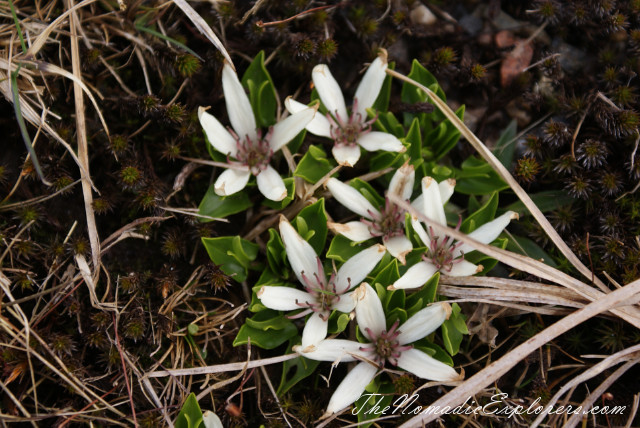 This one looks like a chrysanthemum: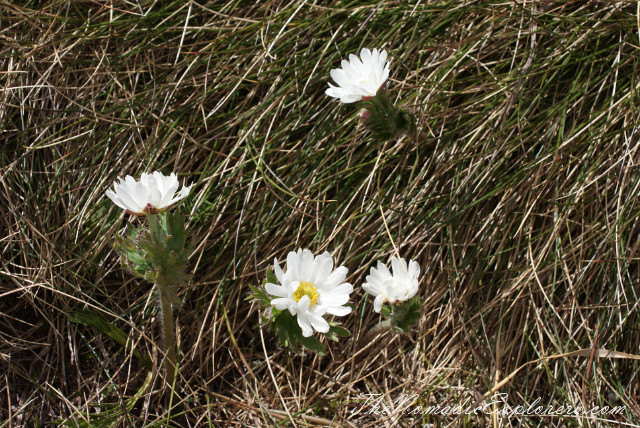 Have no idea what's name of this one (any ideas in the comments?):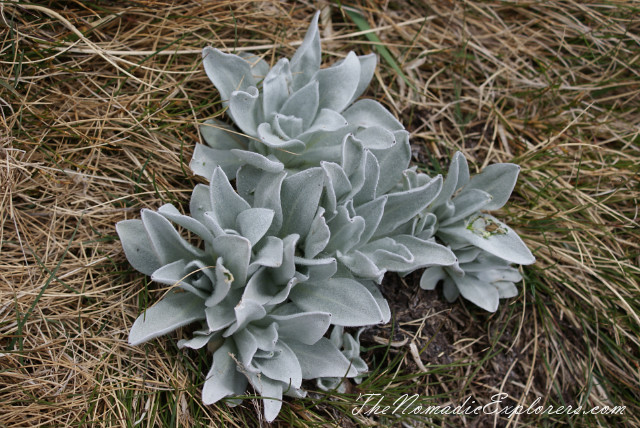 The walk is mostly flat and easy: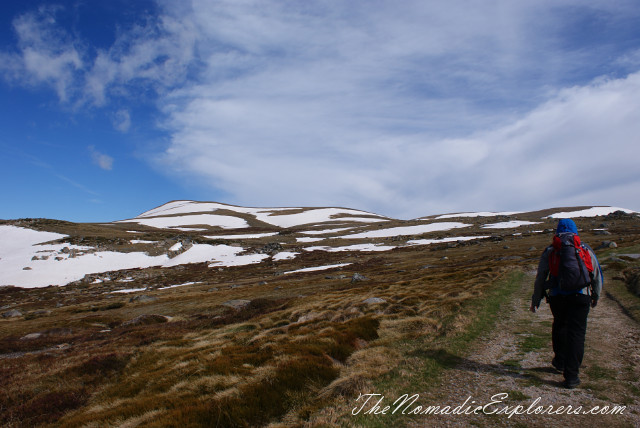 It is a good idea to spend a night here, as you can reach the summit earlier in the morning. Please note that it is restricted to camp near the rivers, you have to be at least 100-150m away from them.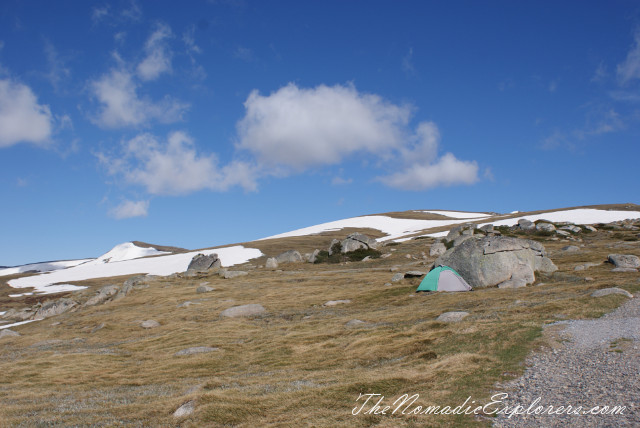 Blue Lake Lookout. Blue Lake is the best example of a glacial lake in the alpine area. At 28m deep, this lake was formed when glaciers, flowing from the Great Dividing Range, converged and carved out a basin in the rock. You can make a side trip to the lake. 
View from one of the peaks:

It is hard to get lost, as there is a lot of information signs: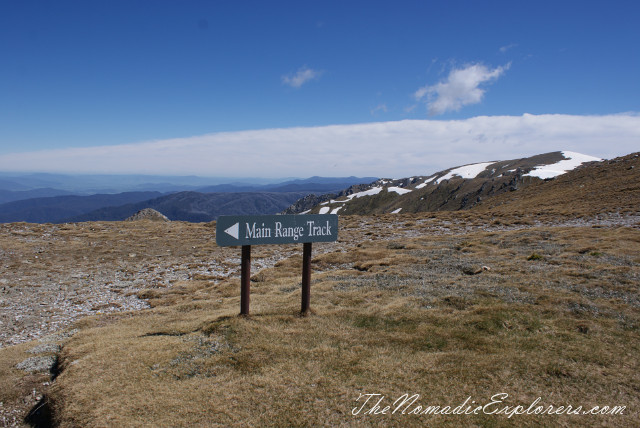 Another view from a peak:

Another view. Small spot in the middle is the Club Lake. We already reached the Carruthers Peak summit. Can you see a walk on the right? Lets go further!

Club Lake: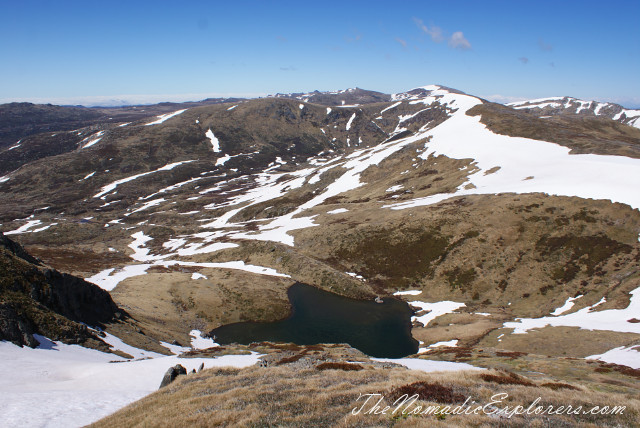 The view is magnificent! The wind is strong :)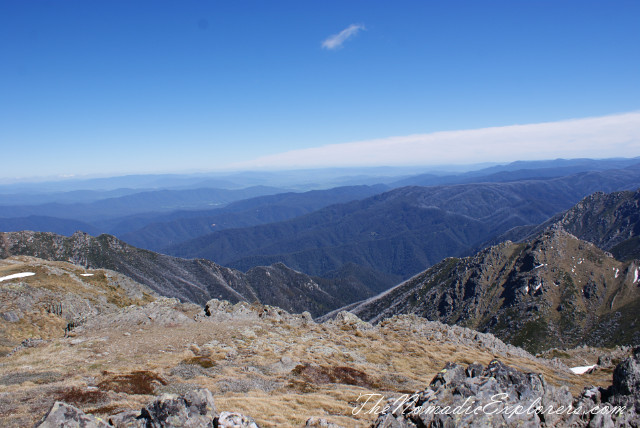 Alps. No flowers, no trees, only mountains: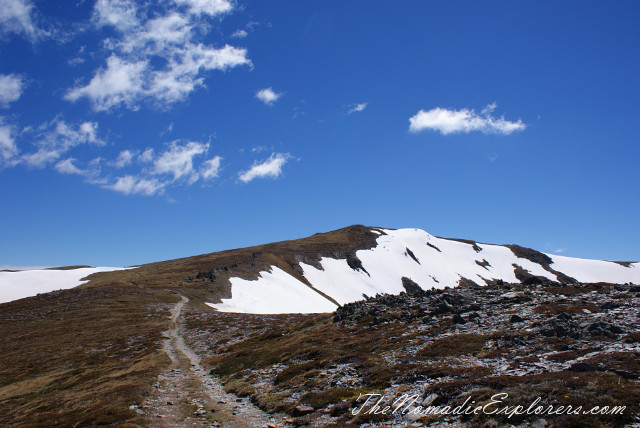 Albina Lake: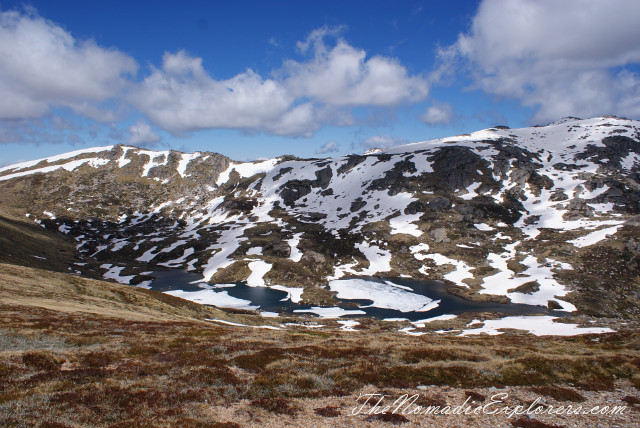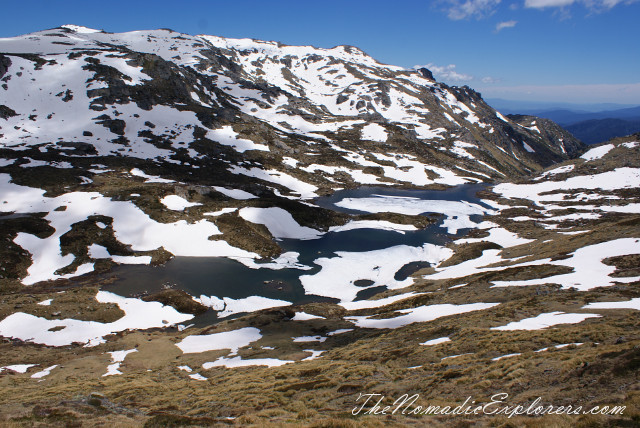 Albina Lake again. We are going further.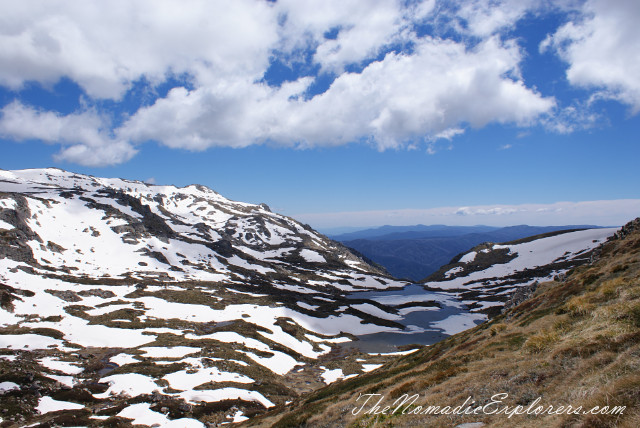 We are closer to Mt Kosciuszko. The road over there is Summit Walk.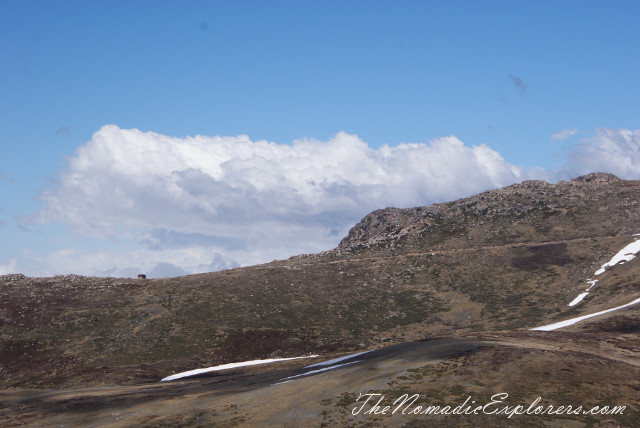 Surprise!
That is much better!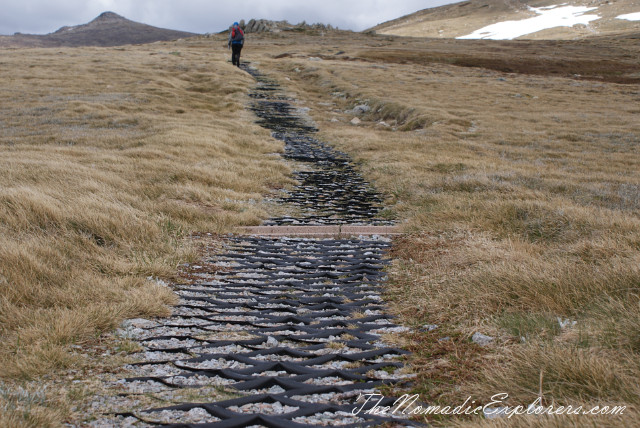 Got lost :) Actually, we lost the trail, not the direction, as Mt Kosciuszko is clearly visible (not on this photo, it is actually on our left).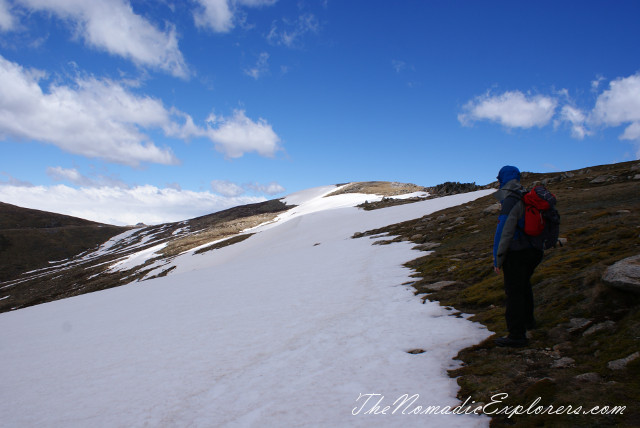 We are back on the trail!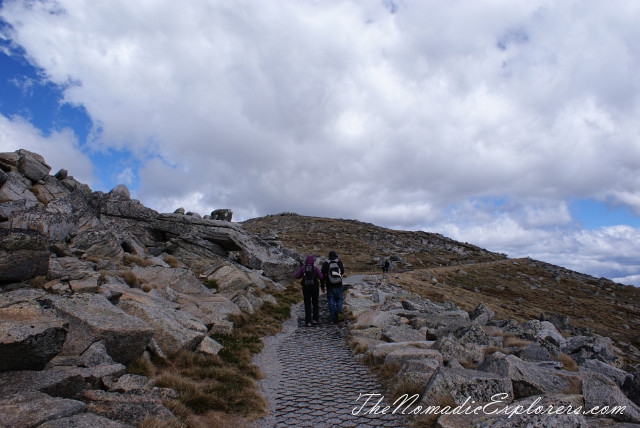 Views are ..... ah.... VIEWS!
Hurry up, winter is coming!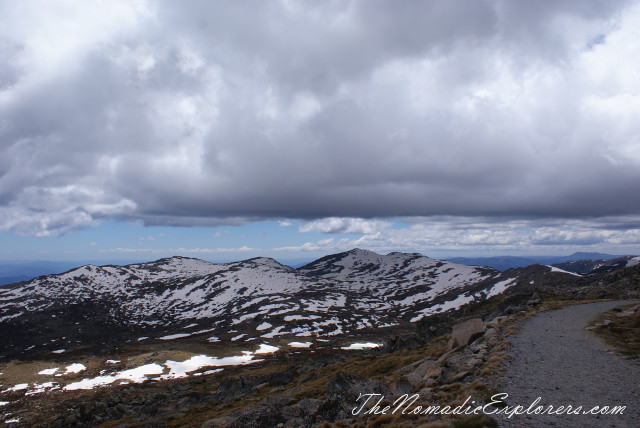 Hurray!!!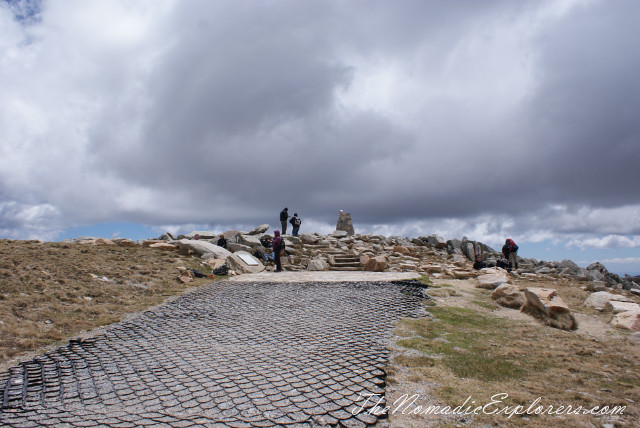 The summit. It is almost 2pm. Time to go back.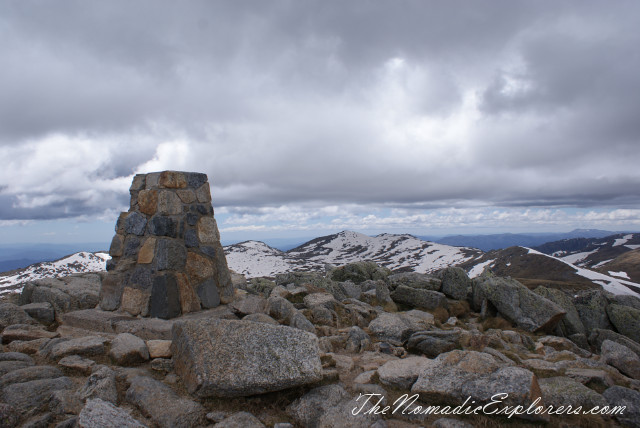 The nature keeps saying - go back to you warm car!! :)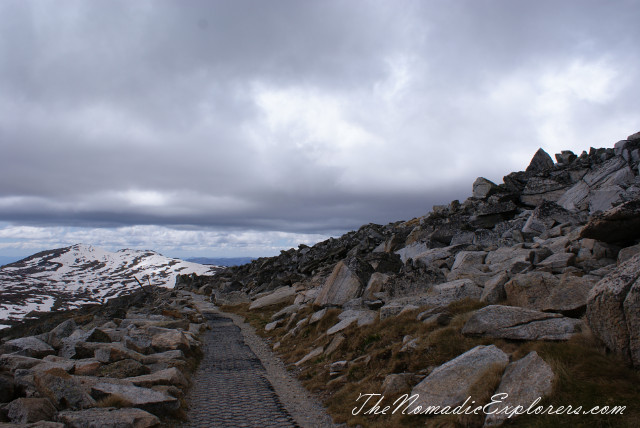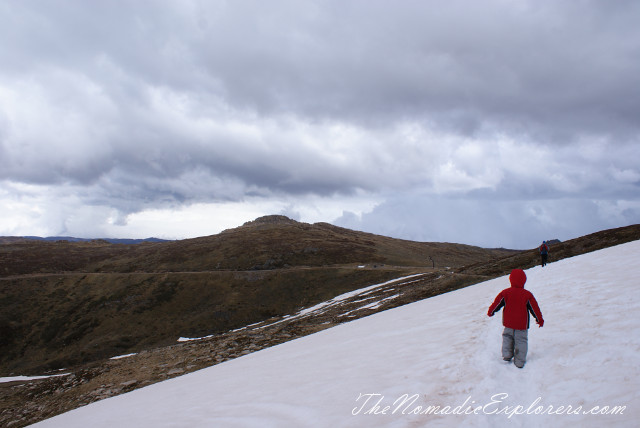 Rawson Pass. The trail on the right goes to Tredbo.
A place for to park mountain bikes for those cycling along the old road (Summit Walk) from Charlotte Pass. Rawson Pass is home to highest public toilet in Australia as well :)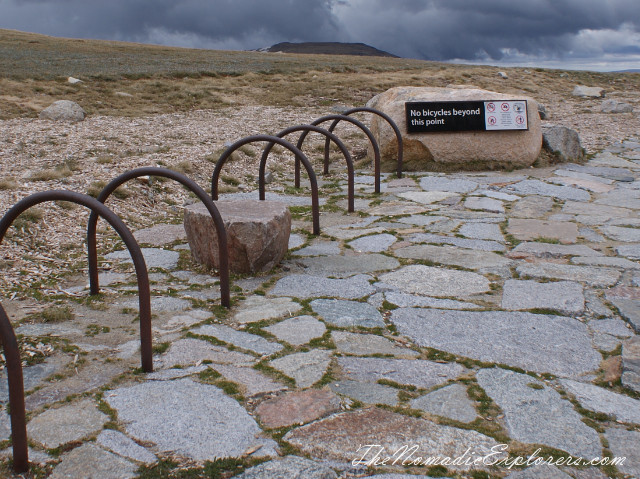 Another view from the Summit Walk во время спуска. Summit Walk is on the right, Snowy River is in the centre. Above of that there are clouds with heavy snow.

Seamans Hut. This hut was erected in 1929, after a young skier named Laurie Seaman perished in a blizzard when he was separated from his group. The hut was built using money donated by Seaman's parents, for the use of those who might need emergency shelter in the mountains. It was renovated in 1938 due to fire. Seamans Hut is a 7m x3m granite stone building with a wood stove, although there is little wood in the area.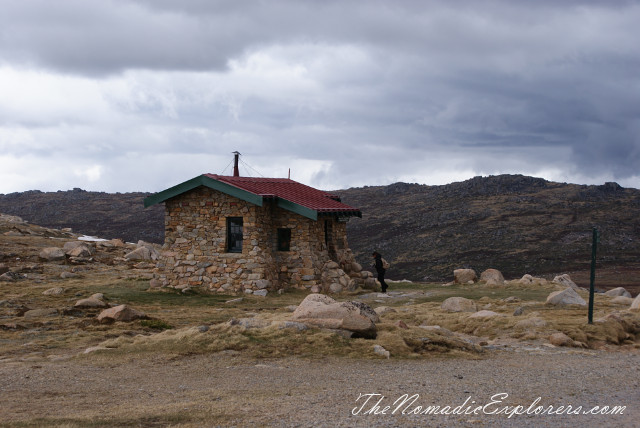 Finally! Trees! We almost finished the walk!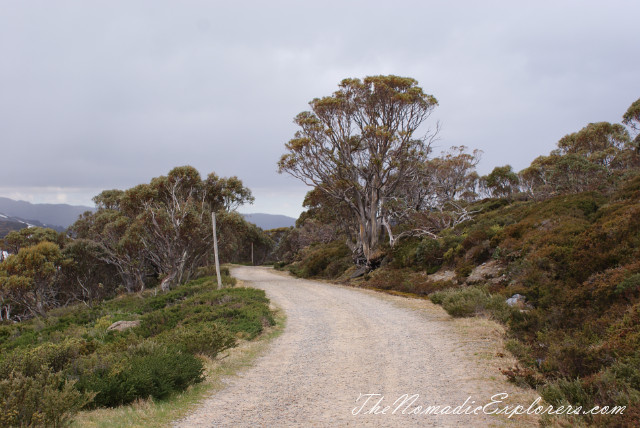 Everyone is tired, especially our son. Only one kilometre left...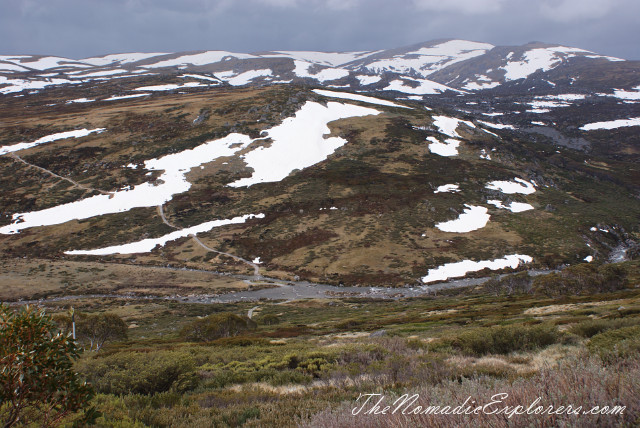 Snow Gums: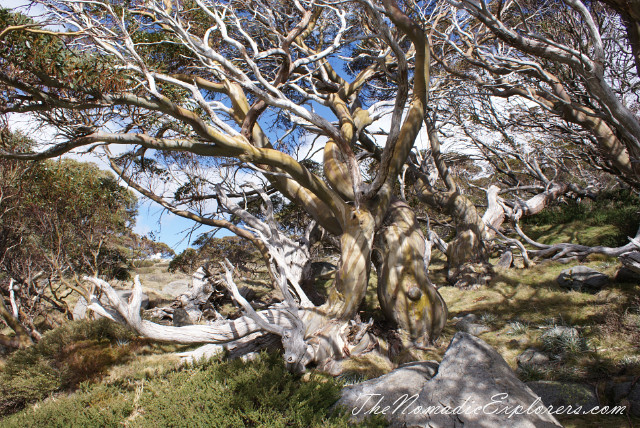 Finish!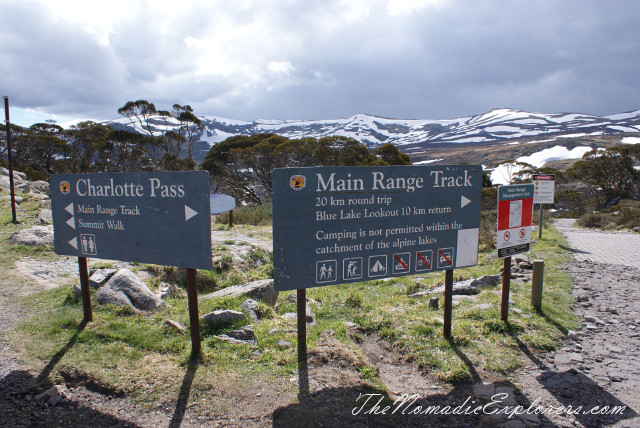 Hurray!!!! We did it!!! It was a long walk and we deserve a prize :) We are going back to Jindabyne, where we've booked an apartment for 3 nights.
Summary:
Although it was rated as a 'hard' trail, our son (7.5years old) did it. Yes, we (all of us) were tired by the end of the trip, but we were so happy as we were lucky to get to the summit before it became snowing. We've took so many beautiful photos, seen so many flowers during the walk. We met some interesting people, talked a lot and, finally, can proudly say that WE DID IT!!!! :)
Next days we explored some over parts of Kosciuszko National Park, so stay tuned!