There is a main difference between Melbourne and Sydney: there is an ocean near Sydney, and there is a bay near Melbourne. Yes, if you live in Melbourne, you have to travel for 1-2 hours (depending on where do you live) to reach real ocean with real waves. As we are not big fans of water (bay/beach/ocean/river/etc.), in summer we usually go to the Brighton Beach and we are quite happy with that. But if you are in Melbourne and would like to see an ocean, the nearest place is Mornington Peninsula.
If you look at the map, you can see that the only entrance for shipping into Port Phillip and hence into Melbourne is "The Rip" - a stretch of water, connecting Port Phillip and Bass Strait. One day we decided to visit the most westerly point of the Mornington Peninsula - Point Nepean and learn more about that area.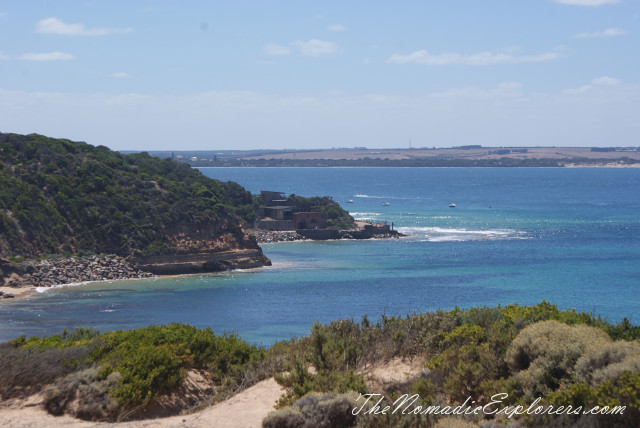 In Jan 2013 M11 - Mornington Freeway has been completed, so it became very easy to reach Mornington Peninsula. It was our first trip into peninsula, so we decided to follow Nepean Highway along the eastern shore of Port Phillip and use M11 on our way back. It took much more time, but we were able to see all the towns like Frankston, Mornington, Dromana, Sorento and Portsea. There is a ferry in Sorento, which will take you to Queenscliff at Bellarine Peninsula (across the bay). I recomend you to think about it if you'd like the idea of travelling around the Phillip Bay in one day.
The end of the Nepean highway is before the gates of the former Commonwealth quarantine (opened in 1852, operated until 1980) and defence station of Point Nepean. The road is closed for cars from that point, so we parked our car and went for a 2.5km walk to the Point Nepean. You can hire a bike (or ride your own) or use a hop-on hop-off shuttle service, which is transporting visitors between the Quarantine Station and Fort Nepean.
Point Nepean is truly one of Victoria's beautiful natural landscapes. The panoramic views of Bass Strait, the Rip and Port Phillip Bay are magnificent.
An outstanding coastal scenery: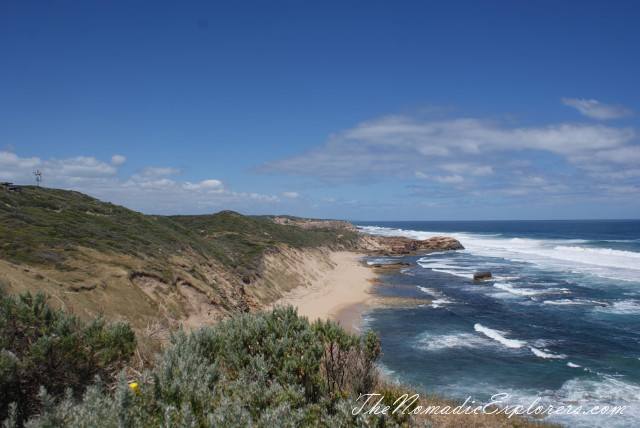 This station is working: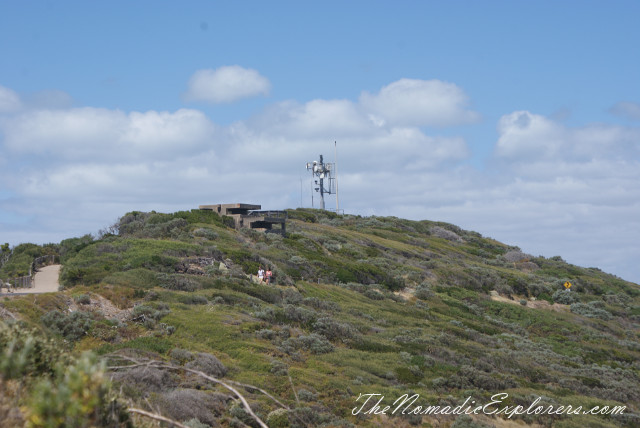 The ocean is on the left, the bay is on the right. A land far-far away is Queenscliff: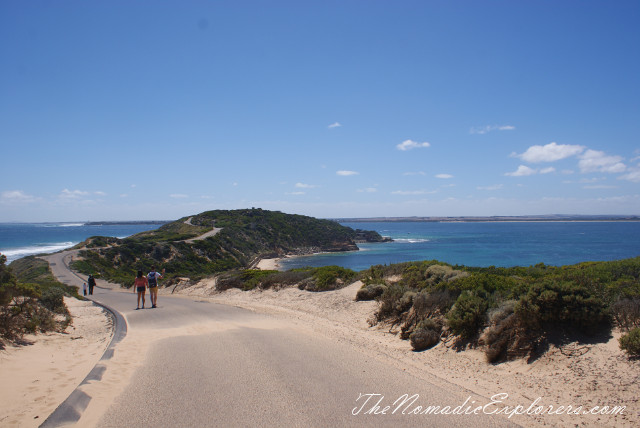 Some fortifications of Fort Nepean: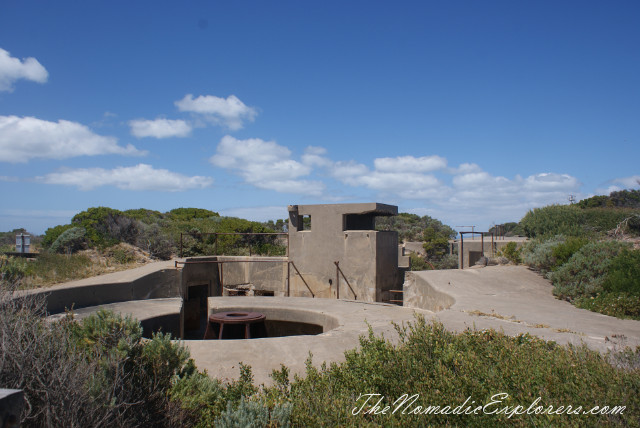 Port Phillip Bay views: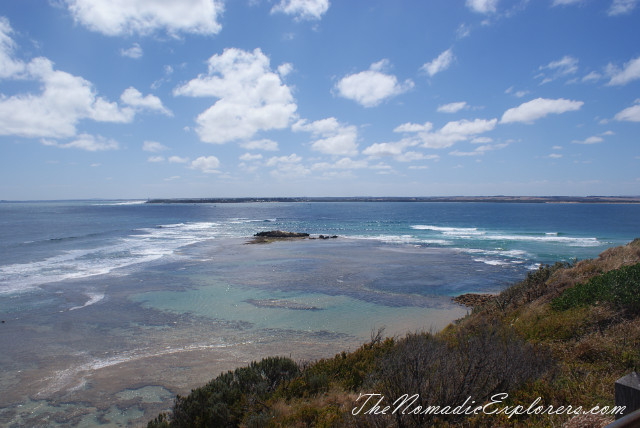 Fortifications and barracks: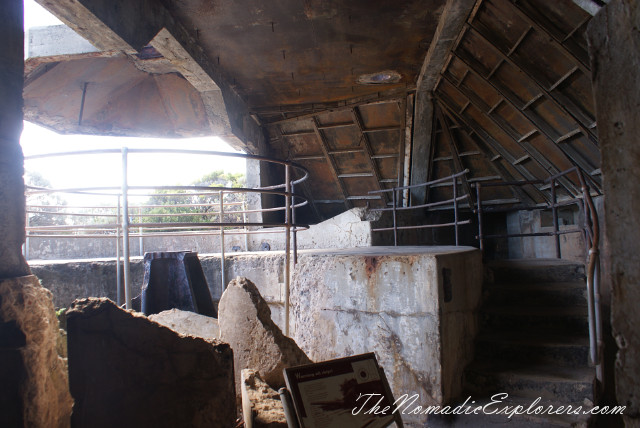 There is a LOT of information about Fort's Nepean past. To sum up, fort is a former defensive facility occupying part of Point Nepean, and it was part of a network of fortifications, commanded from Fort Queenscliff, protecting the narrow entrance to Port Phillip. Fortifications and barracks were built on Point Nepean from 1873 and gun batteries were installed in 1886. By the 1890s Fort Nepean was known as "Victoria's Gibraltar". The first Australian shots (many sources report the first Allied shots) of both World War I and World War II were fired from Fort Nepean. With the removal of coastal artillery after World War II, the guns were dismantled and sold for scrap. The barrels of the historic Mk VII guns which fired in anger were retrieved from the Port Wakefield artillery proving ground and a scrap yard at Brooklyn, Victoria in the 1960s and returned to the fort. The area was opened to the public in 1988 upon the formation of the Point Nepean National Park.
On 5 August 1914, the German ship SS Pfalz attempted to escape from Port Phillip. Within minutes of being notified that war had been declared, Lieutenant-Colonel Sandford at Fort Queenscliff gave an order to Lieutenant C Morris, the Fire Commander at Fort Nepean, to "stop her or sink her". After the Pfalz ignored signals to halt, the B1 gun fired across her bow. The Pfalz then turned around and the crew was arrested at Portsea.
At 1.30am on 4 September 1939, within hours of war being declared, the A1 gun fired across the bow of a ship which failed to identify itself. The ship then identified as the Australian freighter SS Woniora.
The guns:
Once again, ocean and the bay.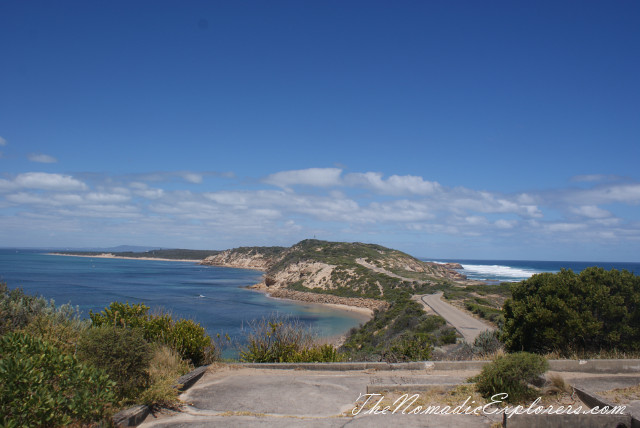 Queenscliff is really close!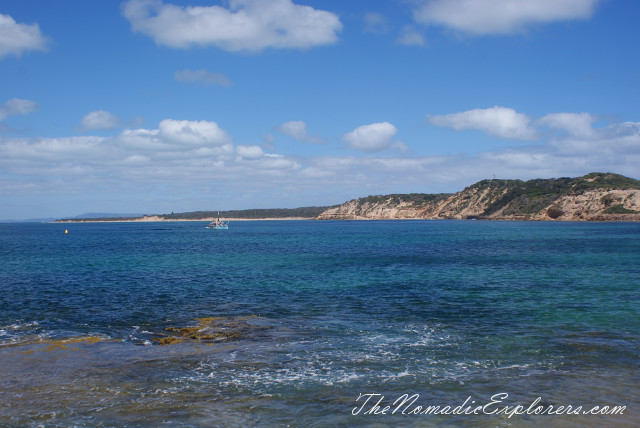 On our way back we went on the bus, as everyone was tired from a hot weather and long walk. 
There is a "London Bridge" lookout near Point Nepean. Went there and took some photos:
It was a really good day, thanks for reading this.