Spring has finally arrived to Melbourne! I love this time of the year when you don't have to monitor weather forecast or keep an umbrella in the bag 'just in case', when you can put all warm clothes far away, put on jeans and a T-shirt and then spend all day long outdoors.
It's also been awhile since we went for cycling altogether. According to my Endomondo account, last time when I was cycling I was in Adelaide! When I realised that it was more that 6 month ago, I simply opened a map and choose a random trail to ride.
Well, honestly, it was not a random trail. It had to be flat, no more that 40kms, be within metropolitan area, and, the most important thing, it had to be a 'new' trail. Western part of Melbourne and Federation Trail, here we come.
We started our trip from city. There is a nice trail from Southbank to Port Melbourne via Lorimer St next to Yarra River and some wharfs.
To get across the Yarra River we took a ferry (see Westgate Punt for more information).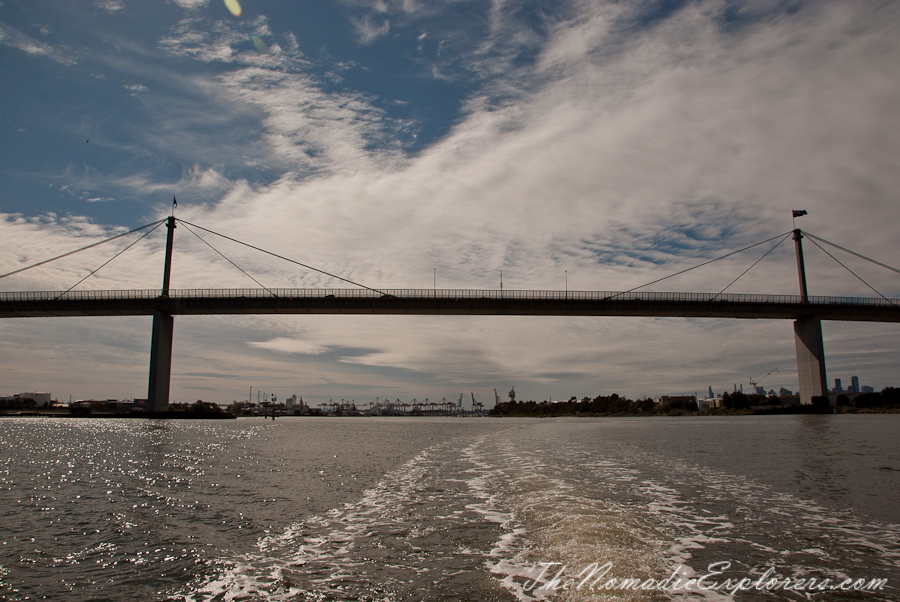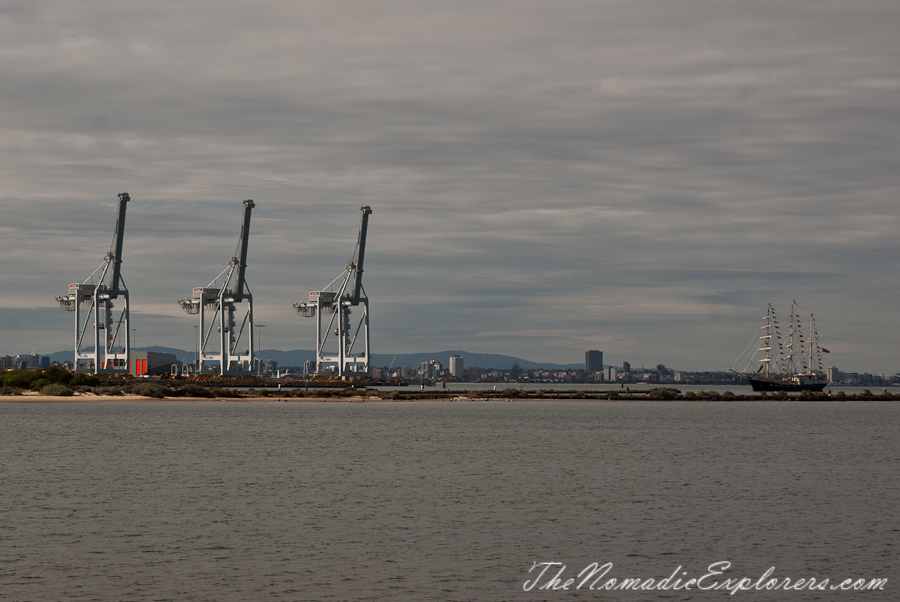 After that the most difficult part started - to get to the start of Federation Trail we had to ride sometimes on the road or sometimes on dedicated lanes. It is not a problem for me to ride on a road, but our son is not old enough to do the same, so it took more time than expected to ride from Newport to the trail via Mason St and Millers Rd.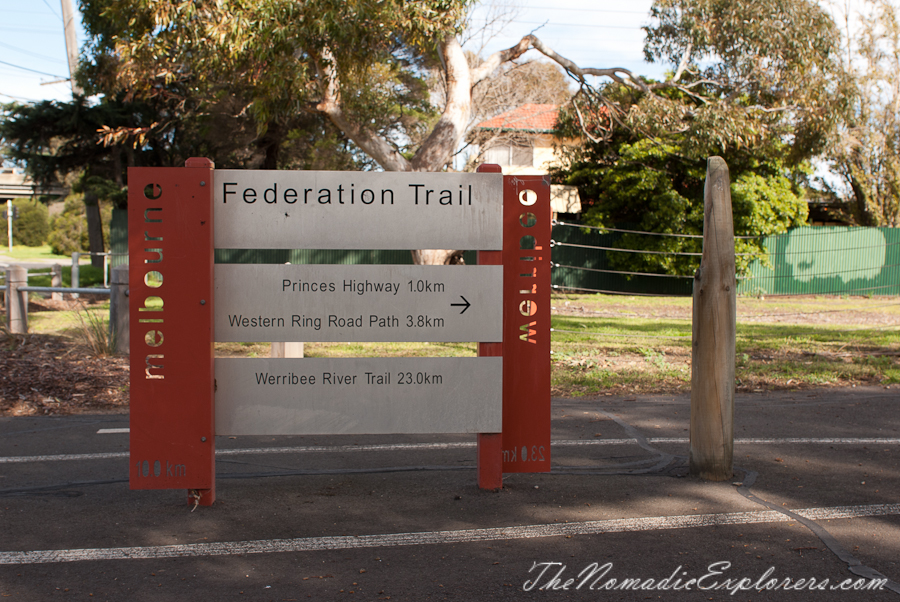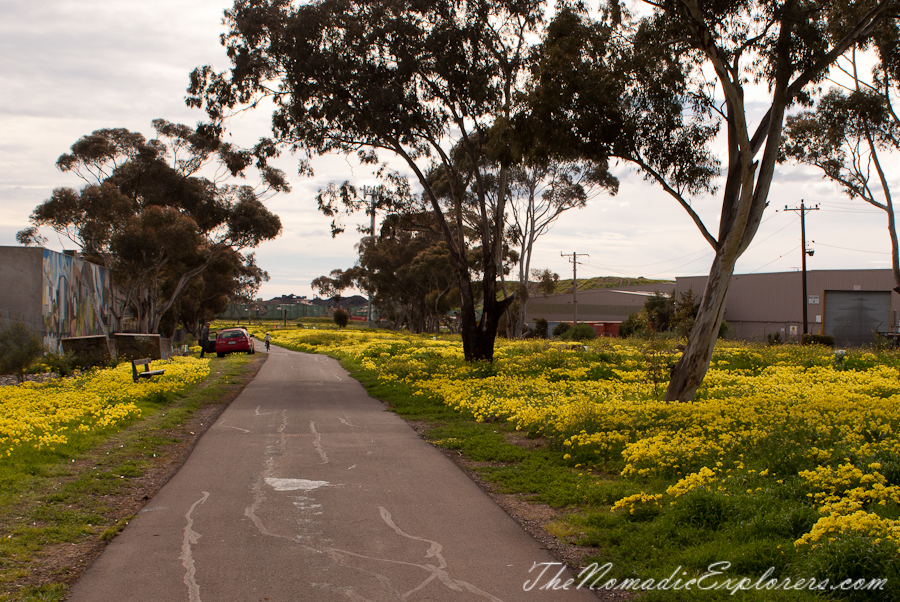 According to Wikipedia, The Federation Trail is a shared use path for cyclists and pedestrians, which mainly follows the heritage-listed Main Outfall Sewer (built in the 1890s) through the western suburbs of Melbourne, Victoria, Australia.
Don't be daunted by the fact that the trail follows a sewer. It is no longer in use. Still the trail takes you through the heartland of Brooklyn's waste and recycling facilities with … uhm… specific odor.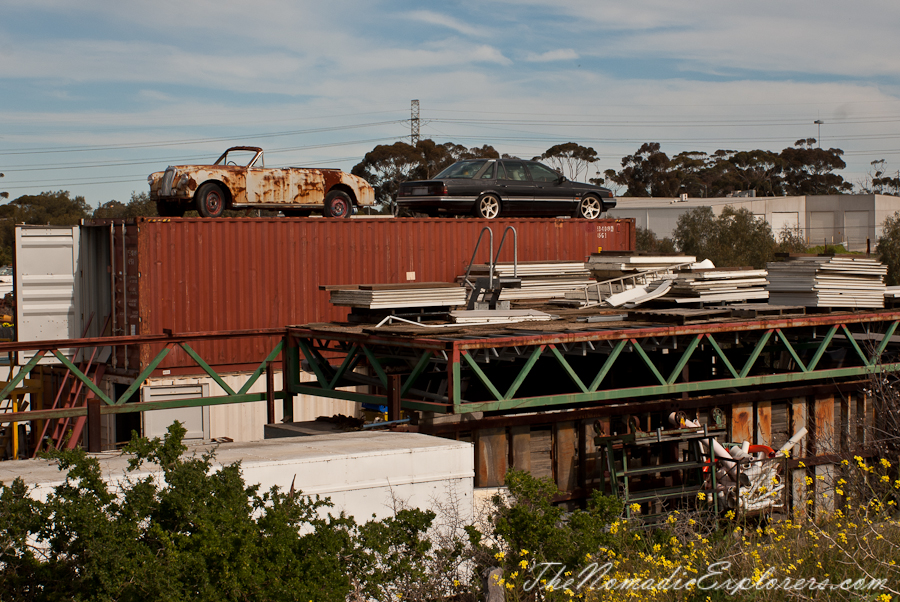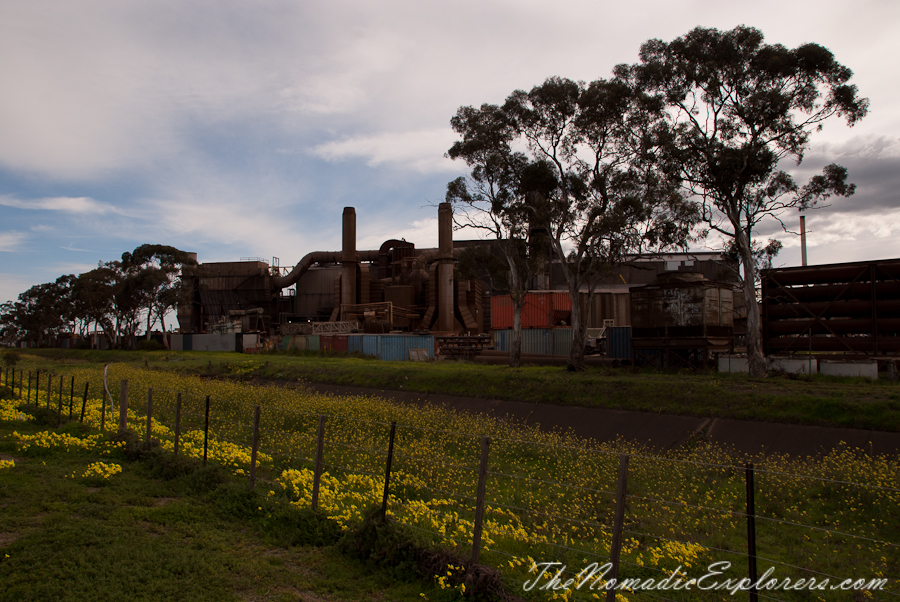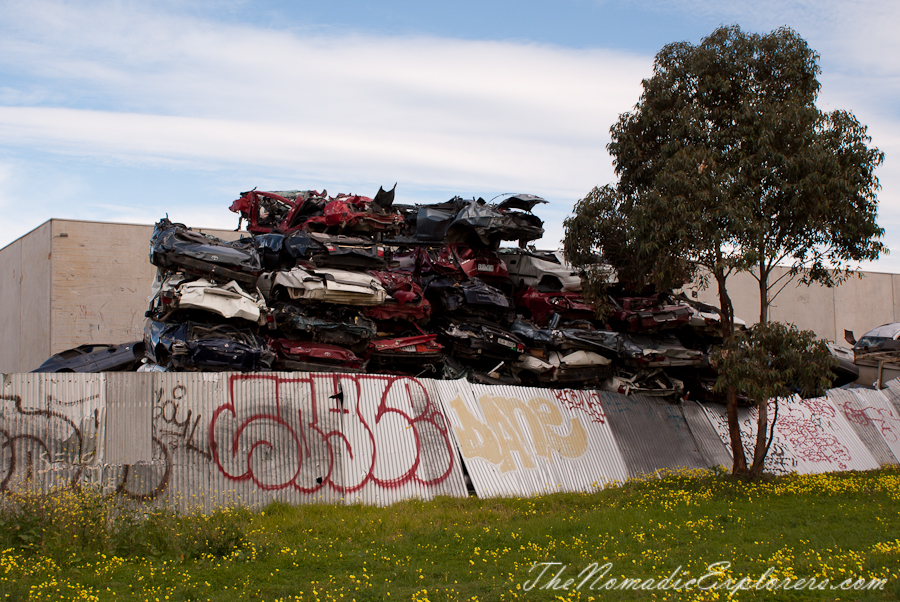 Some people also call this trail as 'Snake City Bike Track', as in spring and summer snakes love to slither all over and sleep upon the track. We haven't seen them there at all, but were warned by some other cyclists.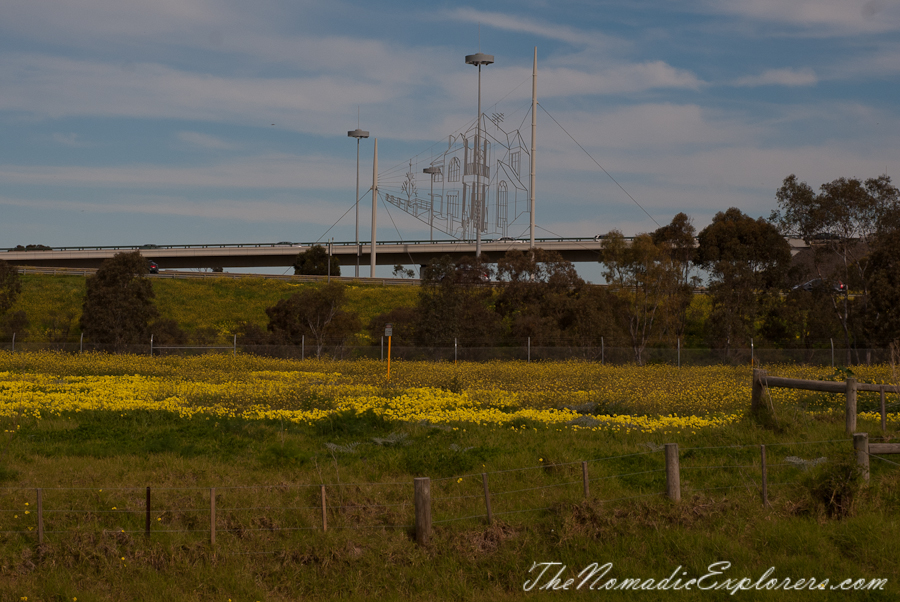 After crossing Skeleton Creek the trail goes next to the Princes Freeway (very noisy), then to Werribee via the Hoppers Crossing and Hoppers Ln. The last part from Suzanne Cory High School to the station was the most enjoyable, as it was wide and quiet, with no snakes alerts and unpleasant smells.
It took ~40 minutes to get back to the city from the Werribee Station.
Here some stats: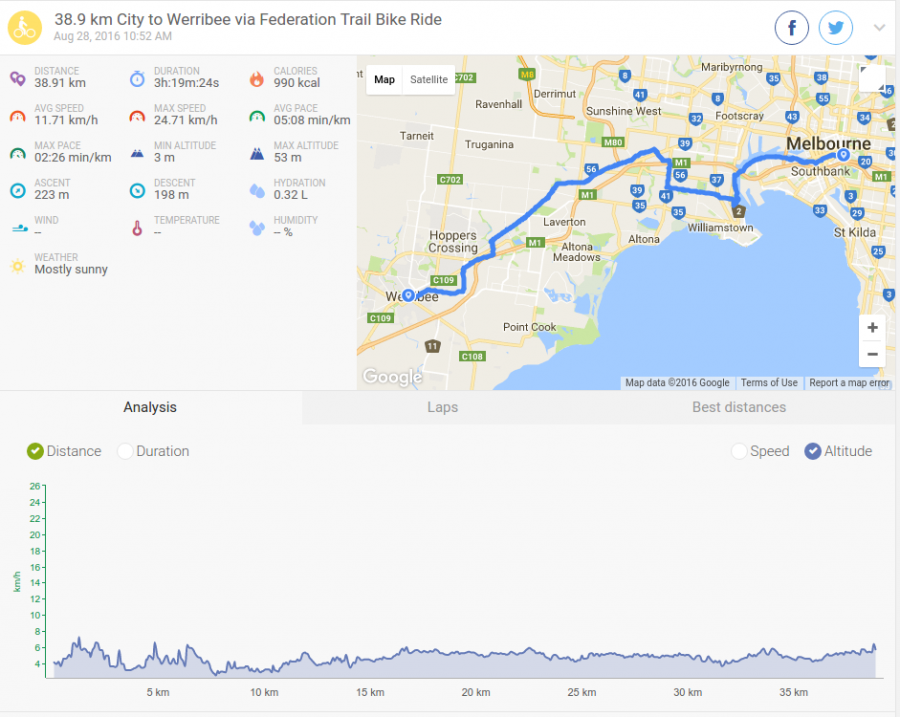 Will we ride this trail again? Not sure. With lots of scenic trails (see Darebin Creek Trail, Merri Creek Trail or even Capital City Trail), we'd better ride any of them rather than this industrial one. Honestly, I wouldn't recommend it, especially if you ride with young children.
If you'd like to know where to ride in Melbourne, have a look at this book: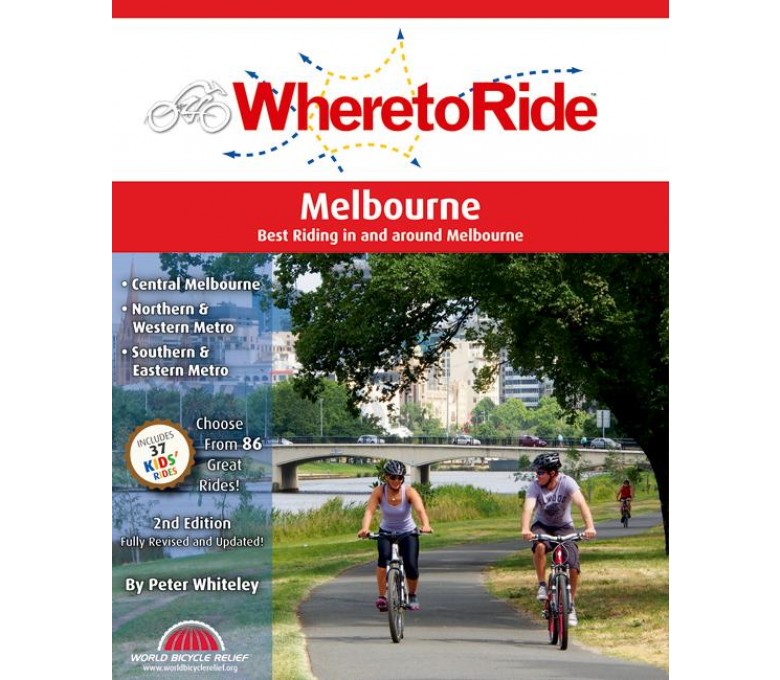 I highly recommend it to averyone who love cycling, but don't know where to ride. The book has everything: maps, trail descriptions, etc.
If you'd like to read more about some of our rides, check this link:
Enjoy your riding and feel free to ask any questions.