My husband and my son like everything army-related: from uniform to computer games (e.g."Word of Tanks"). If we travel and there is a war museum somewhere around, then I have to figure out what I (Katrina) is going to do within an couple of hours, as I know that both of them will go to the museum. I am a girl and I do not know a lot about war/planes/ships/guns/etc., but I love them, so sometimes I visit such places. So, one day we googled a place around Melbourne where we could show a real tank to our son. We found Puckapunyal Tank Museum (or RAAC Memorial and Army Tank Museum), which has more than 70 Armoured Fighting Vehicles on display in Hopkins Barracks, the home of Australian Armour at Puckapunyal, Victoria. Covering an area of over 4000 square metres the museum is one of the largest armour museums in the Southern hemisphere.
How could we miss that? We packed up and went there.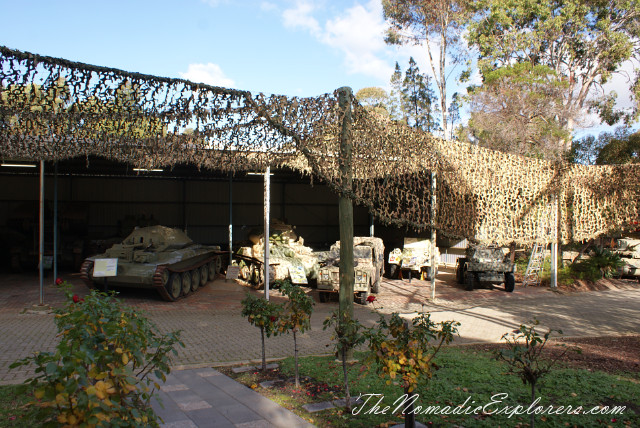 The main attraction of the museum is the vehicle displays. The museum now has over 70 Armoured Fighting Vehicles (AFVs), both wheeled and tracked. Vehicles on display have their origins in Australia, Britain, US, Canada, Japan, Russia, Germany and China.
Many of the vehicles were brought to Australia as trial vehicles or for intelligence purposes. Other vehicles were captured and presented to Australia. These include a Chinese Type 59 tank captured during the Vietnam War and a German 88 mm Flak Anti-Aircraft / Anti-tank gun captured by the Australian 26th Brigade during the battle of El Alamein in the Western Desert during World War 2.
Subject to training commitments current equipment (Leopard MBTs, M113's etc) is also displayed in the museum on weekends and public holidays. In addition to the AFV's the museum also has on display a collection of more than 15 Artillery/Anti-Armour guns.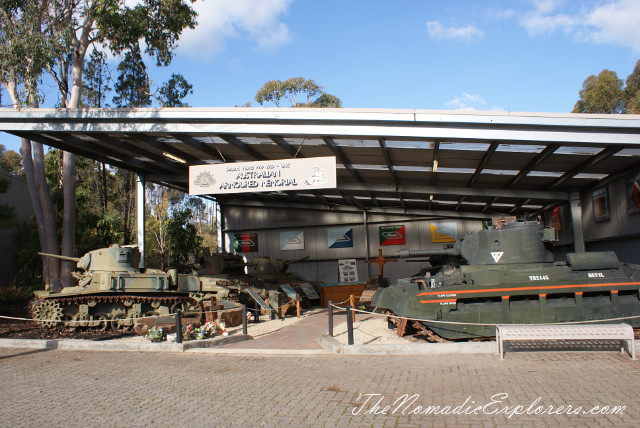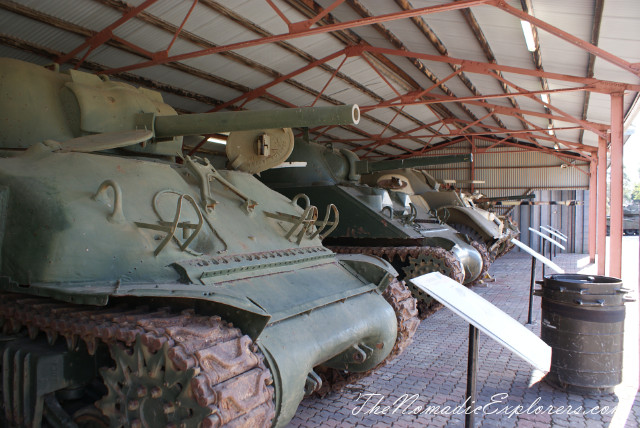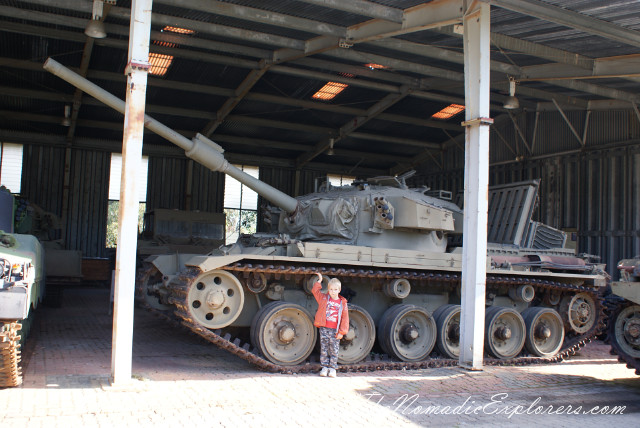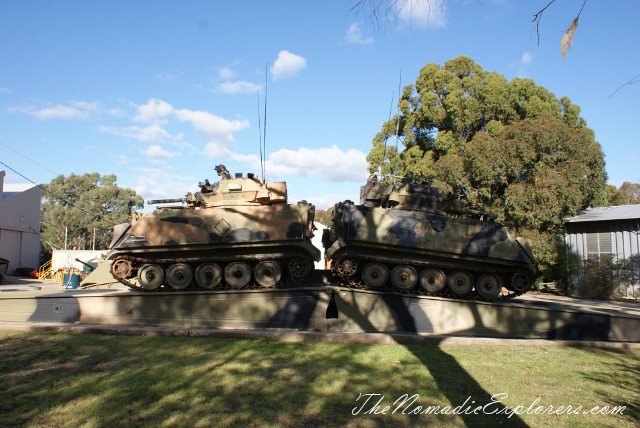 There are other expositions in the museum: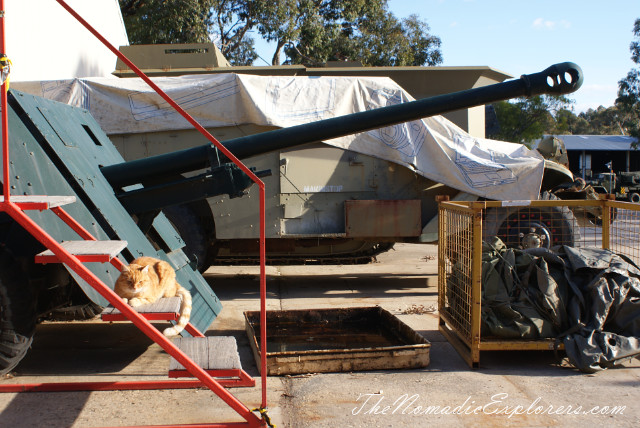 This is one of the oldest, it is located outside the museum.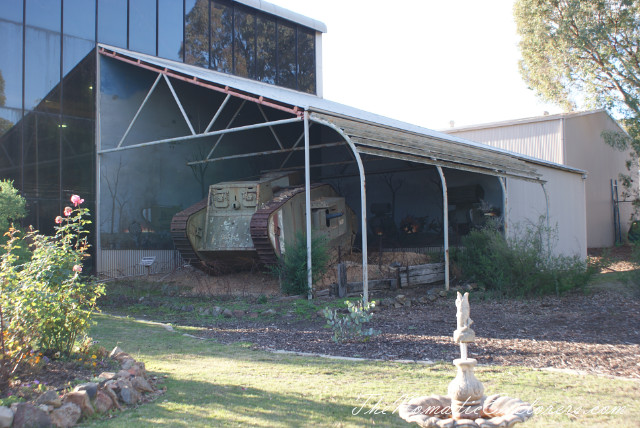 Warning!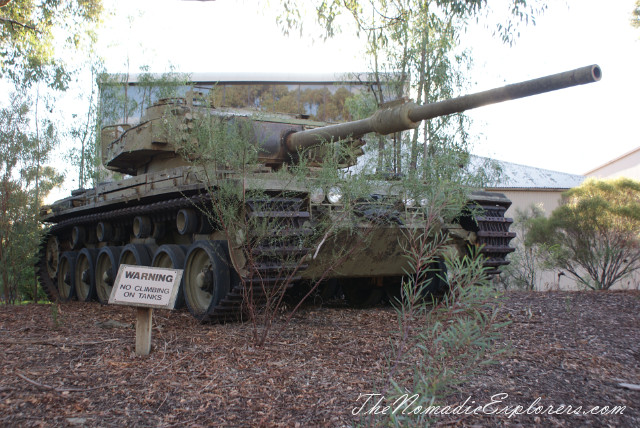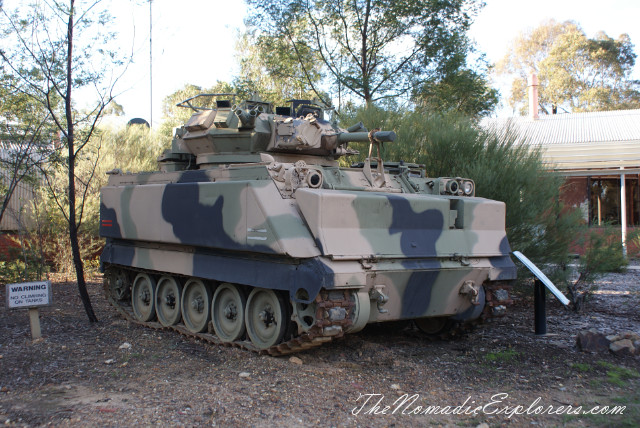 All persons aged 16 and over must produce some form of official Government body photographic Identification before being allowed to proceed to the museum. Also I highly recommend you to check the time when the museum is opened - all information is on their website. Moreover, the website has a lot of other information about vehicles.
We are definitely are going to visit the museum again in future, as we (even I!) enjoyed to be there.