Well and truly satisfied with views from Yellow Water Billabong in the Kakadu National Park, we went further to learn more about aboriginal culture. We made a stop at Warradjan Aboriginal Cultural Centre, which is not far away from Cooinda. The centre's large display, developed by Bininj/Mungguy, provides detailed information about Aboriginal culture in Kakadu. It is well set up, and cost nothing to browse through (and it is cool inside!). Next stop was at Nourlangie region, where we planned to look at Nanguluwur Rock Art Site and Anbangbang Gallery.
The building itself was quite different as it was designed in the shape of a pig-nosed turtle (Warradjan).The first display was a calendar explaining the Aborigine people's year. As they say 'Our land is our life" and the weather dictates what they do throughout the year. Their calendar is not based on four seasons but on the times the rain comes and the years is divided into six distinct seasons.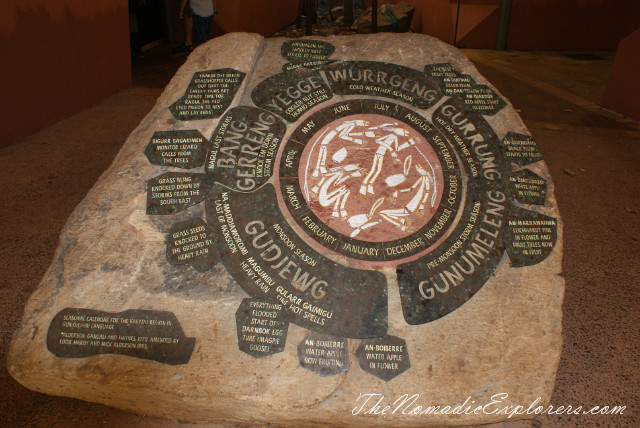 Gunumeleng: the pre monsoon season goes from mid-October to late December, may in fact last from a few weeks to several months.
Gudjewg: the monsoon season lasts usually from January to March, can be described as the 'true' wet season.
Banggerreng: April, is the season when the rain clouds have dispersed and clear skies prevail.
Yegge: May to mid-June, is relatively cool with low humidity.
Wurrgeng: Mid-June to mid-August, is the 'cold weather' time with low humidity . Daytime temperatures are around 30°C and night-time temperatures are around 17°C.
Gurrung: Mid-August to mid-October is hot and dry.

We spent more than an hour in the centre. It was a very visual display with simple explanations. The displays took us through food that was eaten and how they obtained this - their hunter gatherer methods and equipment. There was also a lot of information and displays about their beliefs and how their art paintings reflect these. It was fascinating and a really very informative place to visit and enabled visitors to learn a bit more about the local Aboriginal people. It is sad that you are not allowed to take any photo inside, so the only one that I made there is that one above.
When we went back to the car, we realised that it is hot (again!) outside. I am not complaining, however, it is very difficult to walk anywhere when it is +35 degrees and there is no any shelter or shade on your way. Keeping that in mind we decided to skip 6km Gubara Pools walk and went to the small rock art gallery at Nanguluwur.
Turkey bushes (Calytrix exstipulata):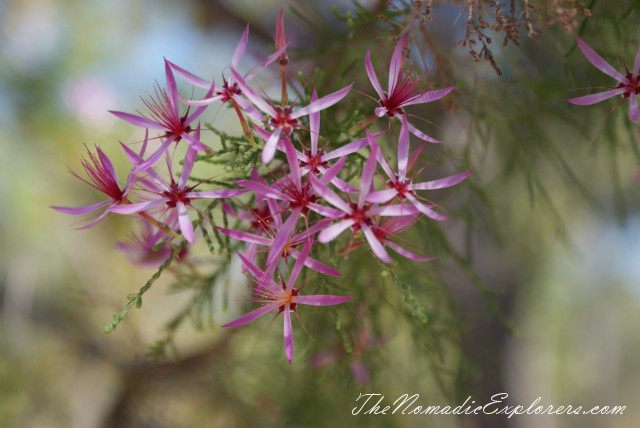 Before I move any further, there is something that I have to explain you first. There are approximately 5,000 rock art sites in Kakadu NP. Generally, the act of painting was more important to Bininj people than the painting itself. At many sites in Kakadu images have been painted over each other, as the artist was not concerned about preserving an image for posterity but simply wanted to paint to tell a story. The stories and knowledge associated with many paintings often have a number of levels of meaning. Younger Bininj and non-Aboriginal people are told the first level, known as the 'public story'. Access to the 'full story' depends on an individual's progression through ceremonial life, their interest, and their willingness to take on the responsibilities of that knowledge.
Three of the best of these are open to the public and we visited all of them. Ubirr and Nourlangie Rock are the most well known, but Nanguluwur also displays an important gallery of painting. All galleries are different, so I highly recommend to visit all of them.
The car park for Nanguluwur is located a short distance along the unsealed road to Gubara. Access to the art site is via a 3.4 km return walk. There are beautiful examples of X-ray style art as well as contact paintings. These paintings are so named as they illustrate relatively recent contact with other cultures.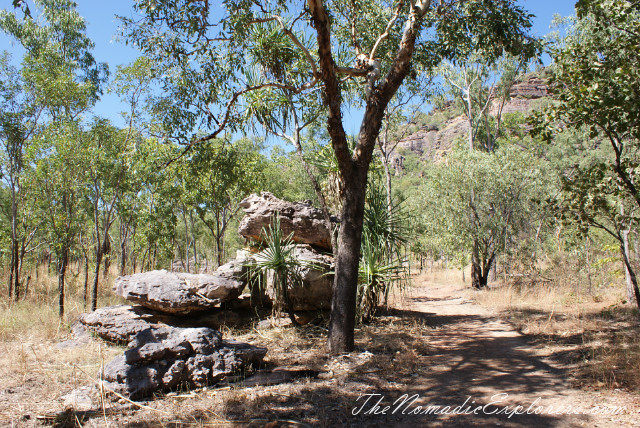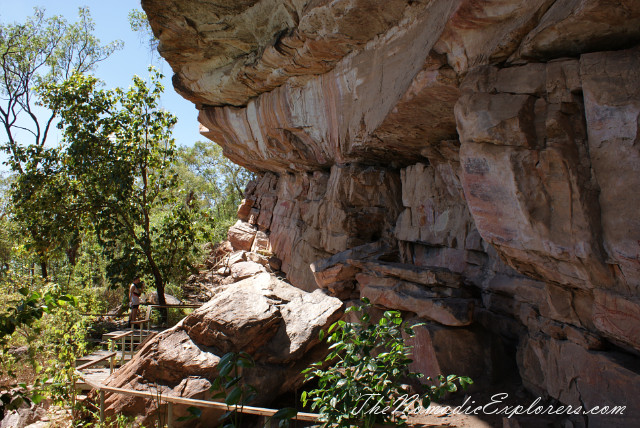 Of special interest is the picture of a sailing vessel. Ships like this were seen in the area between 1880 and 1950 when they brought supplies to buffalo hunting camps on the floodplains of the Alligator Rivers, returning to Darwin with hides. Many Aboriginal people worked in these camps seasonally. This painting clearly shows the detail of an anchor chain at the front, and has a dinghy in tow behind. Aboriginal artists have a very retentive memory for detail when seeing something totally new. The fish to the left of the ship appears to have been painted at a later time.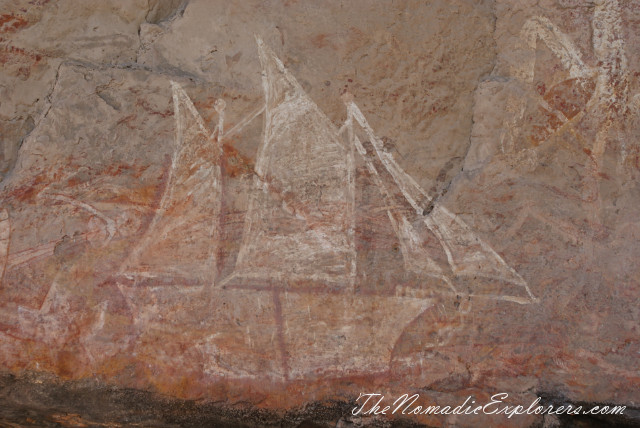 Hands have been the subject of rock painting since Aboriginal people first came to the area perhaps 50,000 years ago.  The display of stencilled hands above includes some prints with all fingers open, and others with the middle three fingers grouped together.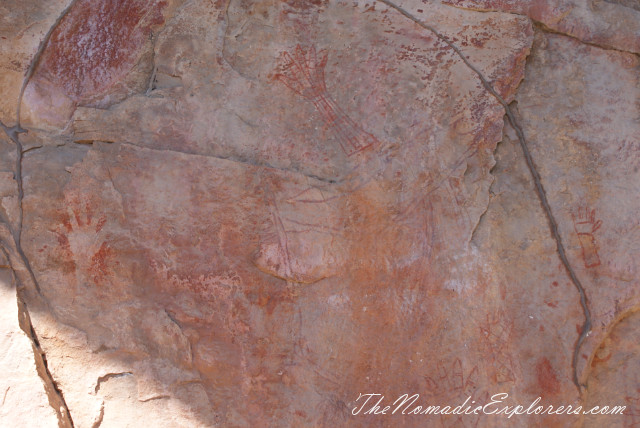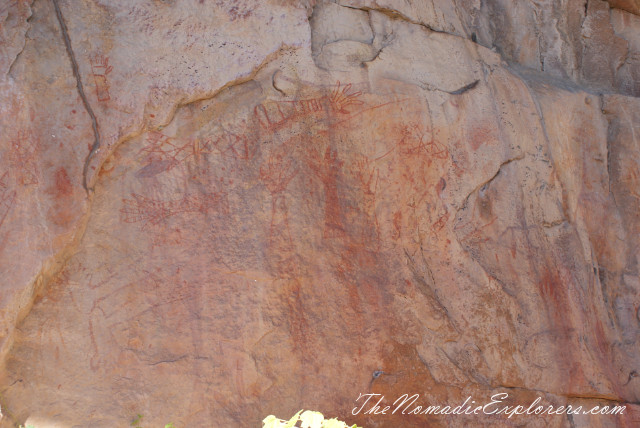 A type of fish, think it might be Barramundi.  This is x-ray art, you can see the backbone, anus, fins.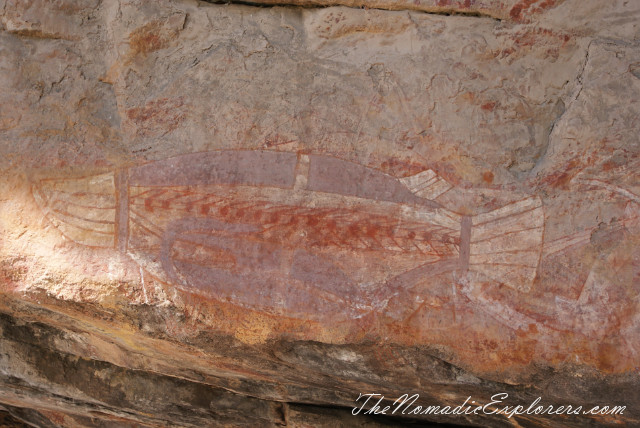 This is Algaihgo (Al-guy-go), the fire woman.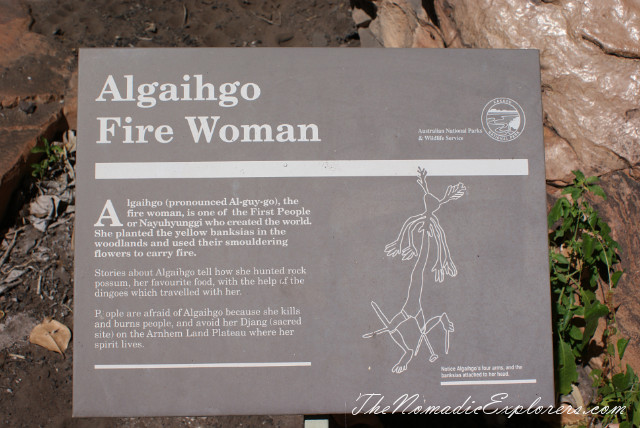 She is one of the first people or Nayuhyunggi (Nab-yuh-young-ghee), who created the world. She planted the yellow banksias in woodlands and used their smouldering flowers to carry fire. Dingos travelled the countryside with her and helped her hunt possum (her favourite food). People are afraid of her because she kills and burns people. Her Djang (sacred site) on Arnhem plateau, where her spirit lives, is avoided. Algaihgo has four arms, and attached to her head are banksias.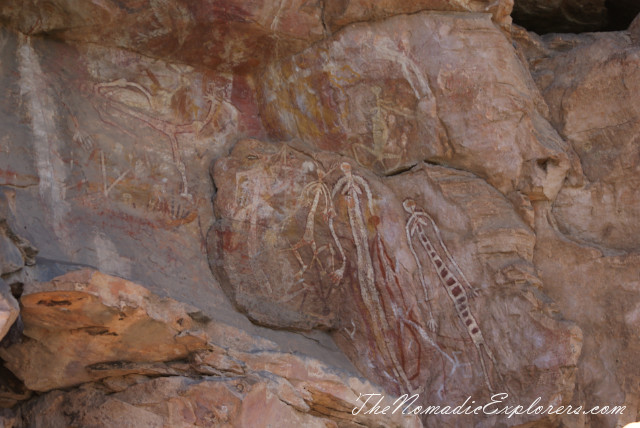 Look at the figure on the left - the x-ray person. Pictures are painted on top of others so you often come across sections awash with bits of paintings. I read somewhere that it was the act of painting that was the spiritual act not viewing the painting.
Nayuhyunggi not only created the world but handed down laws for future generations to live by. Some of the creation beings were human, others animals or plants. All have great power. These Nayuhyunggi are called Namarde (Nah-marn-deh). They are invisible to ordinary people, live in caves and hollow trees and come out at night. They can entice people into their caves by calling them to come closer.  They eat human flesh. They have elongated toes and nipples.  Some carry dilly bags for their victims liver, lungs, heart and kidneys.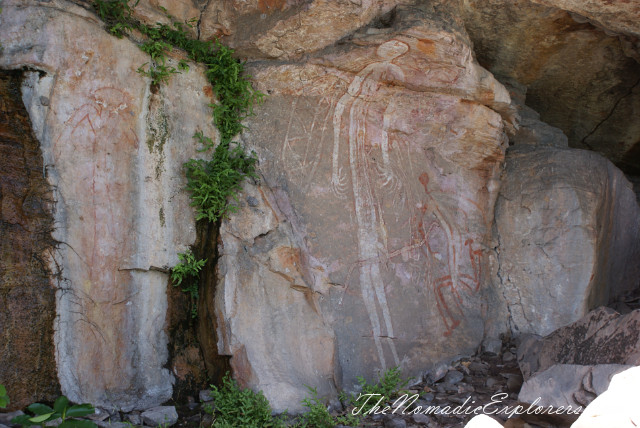 Close up of one, more than 5 fingers.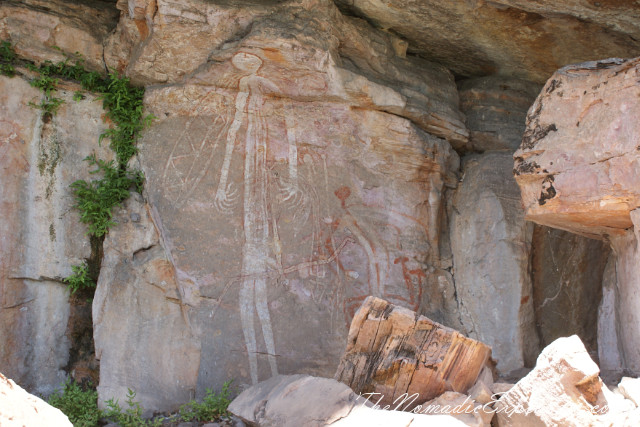 Other paintings, what I can't identificate.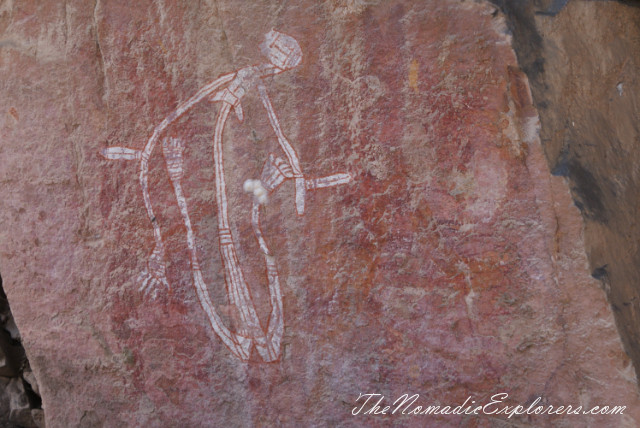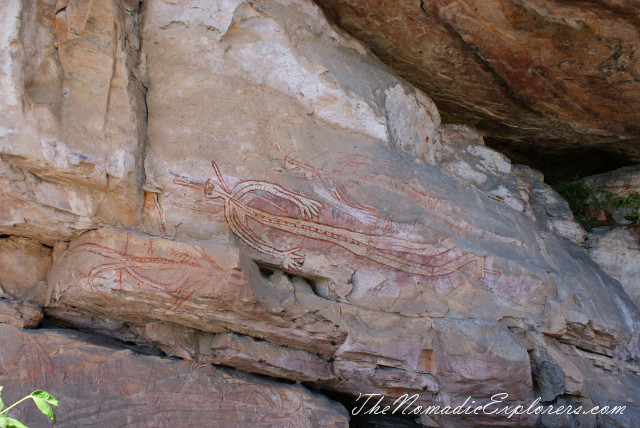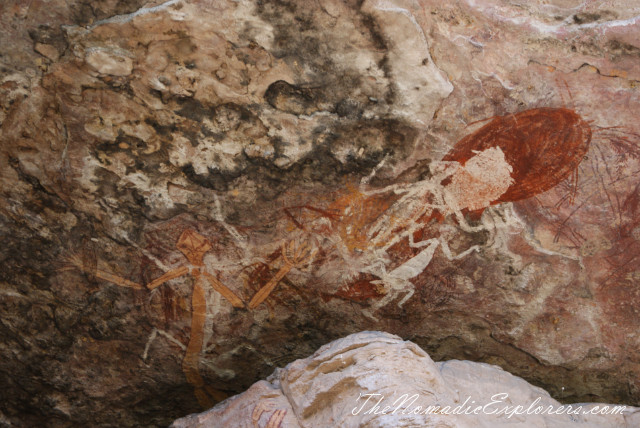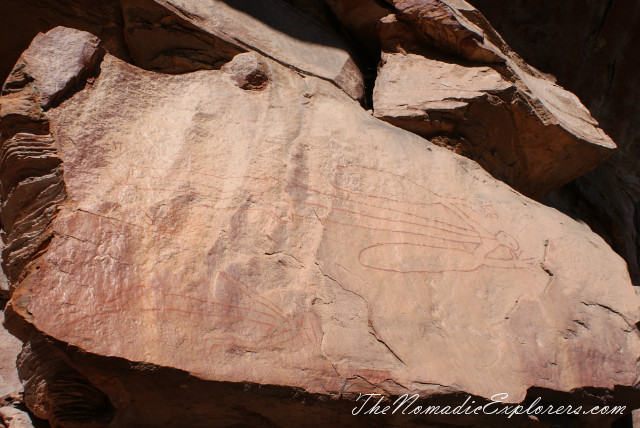 It is recommended to visit this site in the morning when the art site and cliffs are in cool shade. The entire site is exposed to the force of the western sun later in the day. We were there between 12pm and 1pm, and you can see that some of the paintings are hardly visible.
We went back to the car and continued our way to Anbangbang Gallery. There is a Anbangbang Billabong walk nearby, but sadly it was closed. The colourful sandstone of Nourlangie Rock can be seen across the lily covered water.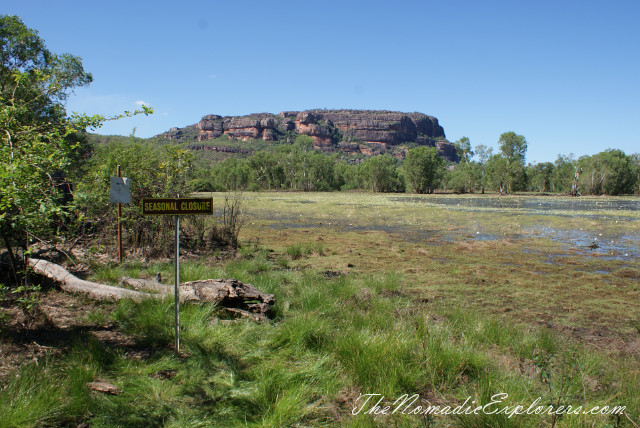 The next stop was at Anbangbang Gallery. This is a place where most of tourists buses are coming. It is well marked, with a wheel chair access to the most of the painting.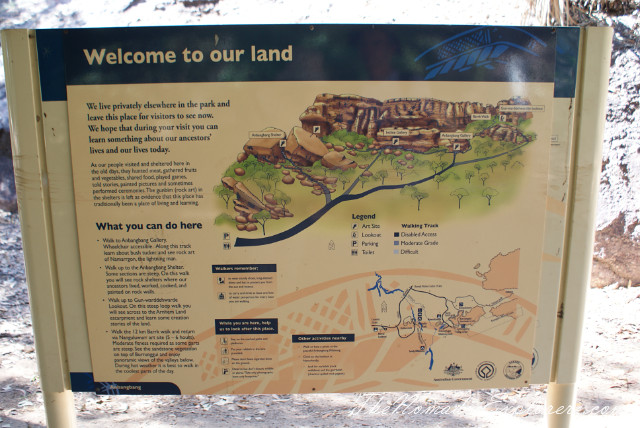 Anbangbang Gallery is a collection of figures, which tells a story, although the meaning is not known to us. An understanding of art usually comes from interpreting it through things we are familiar with. For example, when we look at a painting of a western-style wedding such things as the minister, the church doorway, the church windows, the guests and the wedding dress help us to identify it as a wedding. Much of the information in the painting is specific to a western-style culture. Someone from a different culture would perhaps not realise they were looking at a depiction of a religious ceremony because they would be unfamiliar with the symbols used. Similarly, Aboriginal art makes sense only to those with sufficient knowledge of the culture to recognise the information the art conveys. Although there are explanations of the paintings at the Lightning Man rock art site, the explanations are incomplete: non-Aboriginal people are not entitled to know the full story.
I took a photo of information sign, as it has explanations who is painted and where: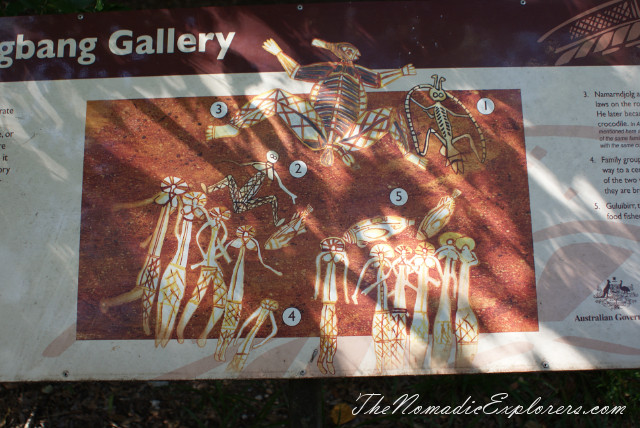 Namarndjolg is the large figure at the top of the painting; he and his 'sister' broke the kinship laws on the rock ledge above this gallery. Namarndjolg later became Ginga, the great saltwater crocodile (Aboriginal culture has very strict kinship laws regarding who they may marry, and the use of the word sister here indicates it was a forbidden relationship).
Namarrgon is the Lightening Man and he can be seen to the right of Narmarndjolg. He wears his lightening like a band around him connecting his arms, legs and head. He has stone axes on his knees and his elbows make thunder.
Namarrgon, his wife Barrginj and their children Aljurr came from the north coast searching for a good place to settle. Namarrgon now lives at Lightening Dreaming on the escarpment. His children Aljurr is the lightening, but also has another form – the bright orange and blue grasshoppers which come during the early storm season. They are looking for Namarrgon. Aboriginal people know that it is now time to seek shelter. Barrginj, Namarrgon's wife, is on the left side, just below Namarndjolg's leg. Family groups of men and women on their way to a ceremony are arranged at the bottom of the picture. Flecks on the breasts of the two women on the right indicate they are breastfeeding children. Guluibirr, the Saratoga fish is a popular food fished from the waterways nearby and is seen just above the families on the lower right.
A number of figures at the Lightning Man rock art site were repainted by Nayambolmi (sometimes spelt Najombolmi), in 1963 and 1964. Repainting was part of the rock art tradition, although not all rock art was repainted. Only people who were 'authorised' or recognised as artists were allowed to repaint. Nayambolmi, probably born around 1895, was from the Badmardi clan and was highly respected as an artist. Nayambolmi worked for non-Aboriginal people for many years, but he visited his country and painted in shelters throughout his life. One of the last prolific rock art painters in the area, he died around 1967.
Here we saw paintings on top of older paintings; the most recent ones said to represent people dancing.  Animals can also be seen here amongst the figures.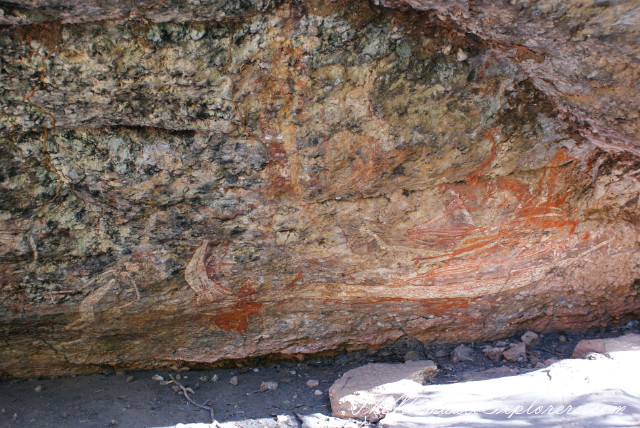 In a very different and probably more modern style, a hunter is pictured about to strike this kangaroo with a spear.


Nabulwinjbulwinj is a dangerous spirit who eats females after striking them with a yam.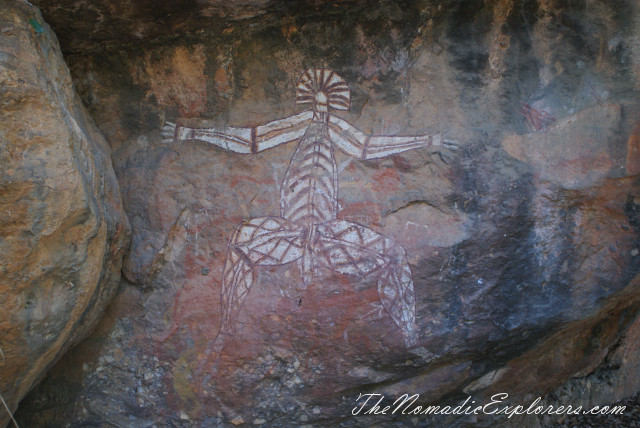 The lookout named Gunwarddehwardde is a short distance beyond the art galleries. It is well worth the climb to take in sweeping views of the escarpment and the main face of Nourlangie Rock.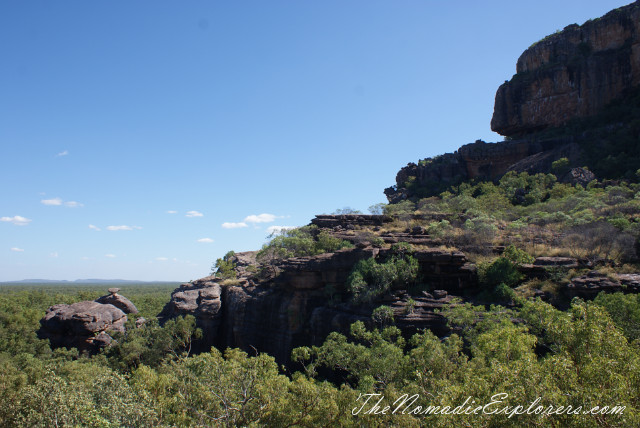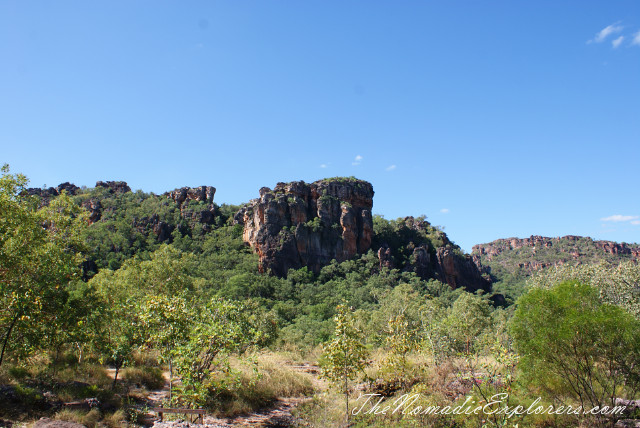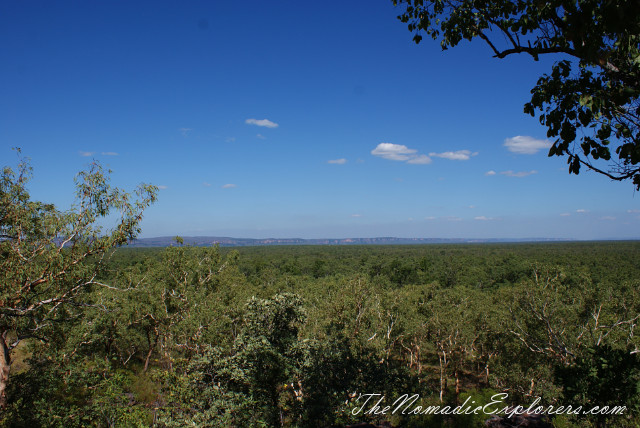 On our way back we saw two rangers and a group of guides near one of the art sites. As far as I understood it was something like a presentation or a coaching session for tour guides. We wish we could stay and listen to some more stories, but we had to go further.