Before I continue with description of our Top End journey, I'd like to say couple of words about campsites where we stayed. We hadn't booked anything, except one site in the middle of our trip, hoping that we will always find a unpowered site for us.
Read more to know if it was that a good decision.
So, we arrived to Darwin at 2am in the morning. Actually, was it morning or night? As we've got a plan not to stay in Darwin and head Litchfield NP early in the morning, we decided not to stay in any of campsites in Darwin and slept the rest of the night in the car.

Next day we stayed for one night at Wangi Falls Campsite in Litchfield National Park. There is no formal 'booking' for the sites, so 'the first come, first served'. Wangi Falls Campsite has a campground with all amenities including: toilet, shower, kiosk and barbecue facilities. Unpowered sites only. As this place can be occupied in the busy season, we had a 'B' plan: camping at Litchfield Safari Club. Lucky for us there was a free spot at Wangi Falls Camp area, so we stayed there.
The price for 2 adults+1 child for 1 night was $15.50.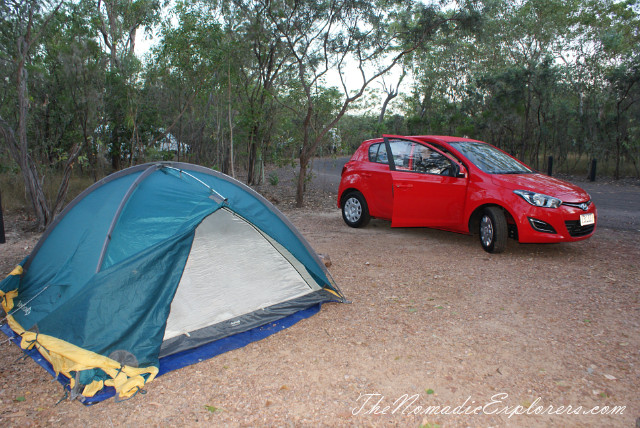 Next day we stayed at Nitmiluk Caravan Park near Katherine Gorge in Nitmiluk National Park. This was one of the best campsites we've ever stayed: well grassed, with shady sites, close to the visitor centre, hiking trails, cruise boat and canoe hire areas. There is a resort-style swimming pool, a cafe, laundry, BBQs, communal food preparation area and refrigerator. The best part was that wallabies and other wildlife wandered freely through the grounds, so we were really close to nature. We even heard wild dingoes that night!
The price for 2 adults+1 child for 1 night was $47, credit cards accepted.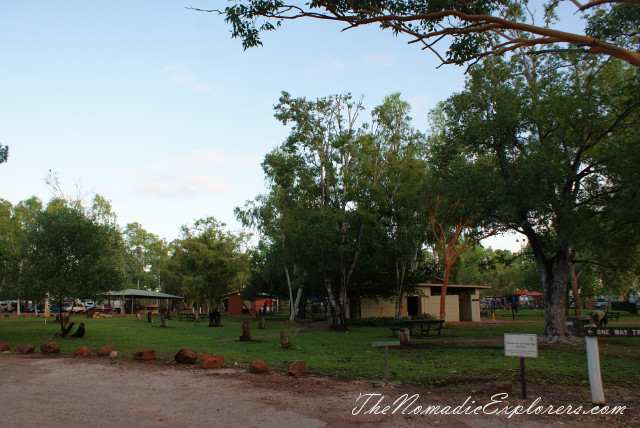 Communal food preparation area: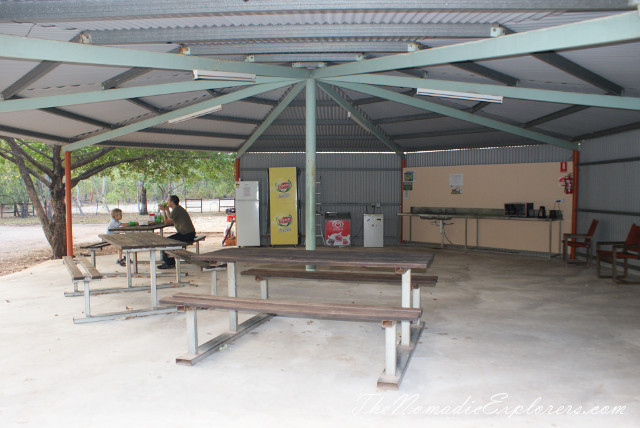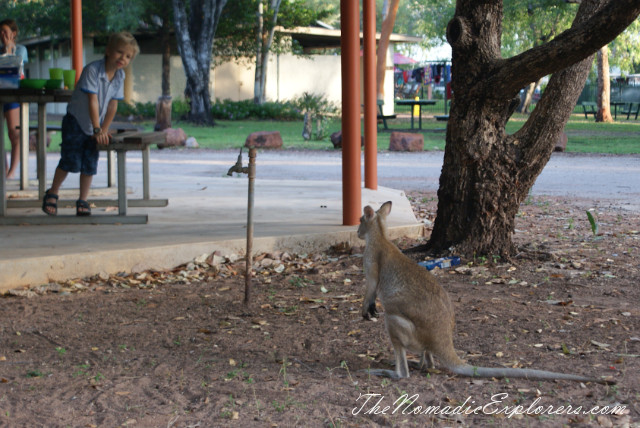 We also stayed in at Cooinda Lodge in Kakadu National Park. Surrounded by Kakadu National Park at the gateway to the world famous Yellow Water Billabong, it is mostly the same as Nitmiluk Camping area (see above), with kitchen, showers, laundry, pools and cafe. I've booked a powered site there to charge all our cameras and batteries. We spent a quiet night on the grassed lawn.
The price for 2 adults+1 child for 1 night was $46, credit cards accepted, booking via their website is available.
The only photo which I took was this one: the sunset. Yeah, I know it is not related to the campground at all, so if you'd like to see more photos, please check out their website.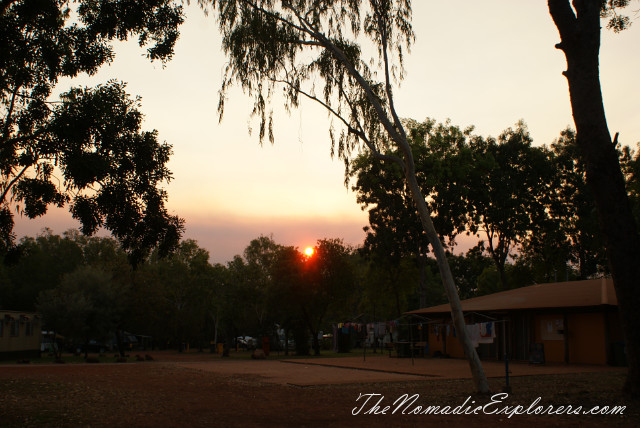 We planned to stay in Jabiru for the next night, but as we finished with all the walks earlier, we decided to meet the sunset at Ubirr and stay at Merl Campsite area. There are showers, toilets and a generator zone and it is located only 500m from the Ubirr. We thought that it will be a good idea to stay there and do not drive back to Jabiru for 40km at night. At the end of the day we were tired and hungry, so we started to set up our tent and found that there is a lot of mosquitoes flying in the air!! They were everywhere and nothing helped to get rid of them! Forget about sprays, creams and other bushwalker stuff - we were forced to take a shower and prepare our dinner sitting in the tent and listening for their 'bzzzzzz' all night. Stay for a night in Merl with mosquitoes?? Never again!
The price for 1 night is $10 per person.
We spent the last night of our trip in Darwin. One of the chosen campsites was full, but the lady on the reception recommended us to check the Darwin FreeSpirit Resort. Once again, lucky for us, a powered site on the grass next near the amenities was available, so we stayed there. The campsite is huge - it has showers, pools, laundries, kitchens, even a playground for kids! It is also quite close to Darwin (20min of driving).
The price for 2 adults+1 child for 1 night was $52, credit cards accepted, booking via their website is available.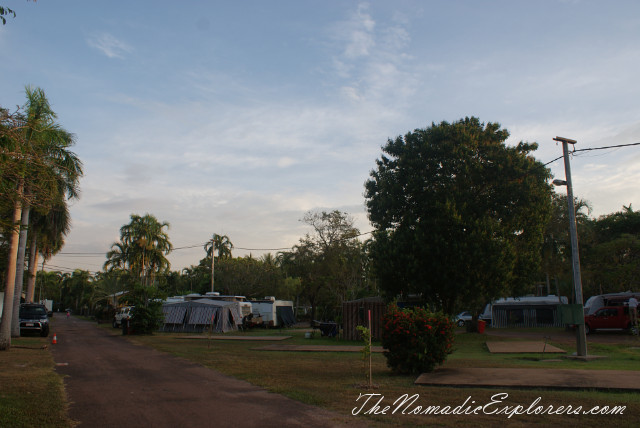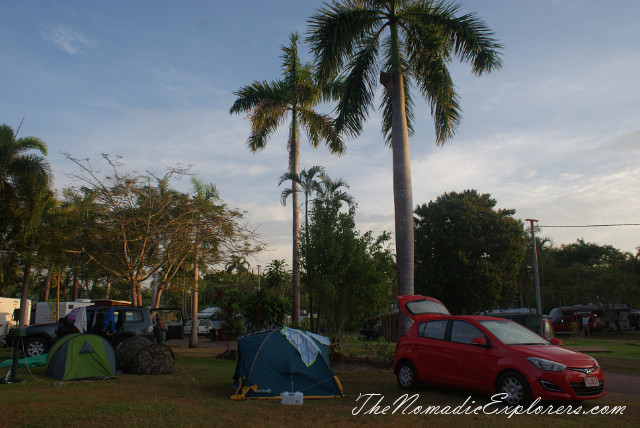 That's all :) If you have any questions, please do not hesitate to ask me using a comments form below.