This is our second visit to Portland. Last time we visited Cape Nelson South wind farm and Cape Nelson Lighthouse and went for Cape Bridgewater Seal Walk to look for seals.
This time our goal was to walk around Cape Bridgewater, past Blowholes, The Springs and the Petrified Forest.
Both Cape Bridgewater and Bridgewater Bay were named by named after the Duke of Bridgewater, by Lieutenant James Grant sailing on the Lady Nelson on 4 December 1800. We will talk about Lieutenant James Grant a little bit more in the next posts. Cape Bridgewater is home to a colony of up to 650 fur seals and the highest coastal cliff in Victoria. The cape itself also boasts a large blowhole and a feature known as the petrified forest, but now known to be hollow tubes of limestone, eroded as a result of millions of years of rainfall. Bridgewater Bay and the adjacent Cape form a partially submerged volcanic caldera. To the west is a large area with huge sand dunes. For these reasons the Cape and the nearby coastal area is classed by the government as the second most important coastline in Victoria, after the 'Twelve Apostles', along the Great Ocean Road.
It is hard to find any information in the internet regarding things to see and to do around Cape Bridgewater, so please follow links that we've provided, as they contain useful information.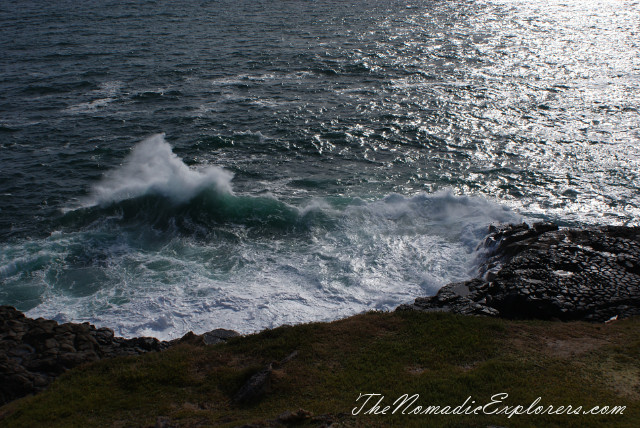 We followed Bridgewater Rd to the Blowholes car park.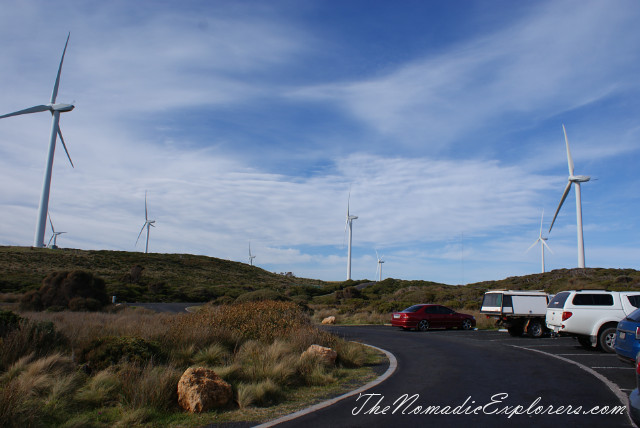 The Blowholes are formations worn in the volcanic rock at the base of the cliffs. During a good swell spectacular spouts of sea spray are forced through these formations with a roar. The local Aborigines attached many legends to this phenomenon and there are a number of middens along the cliff tops. We haven't heard anything during our visit, but may be you will be lucky enough.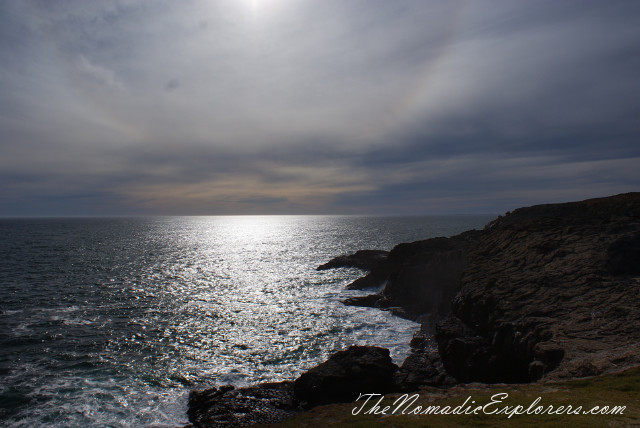 This walk from The Blowholes leads past the 'Petrified Forest'. Firstly I'd like to show you some photos and then explain what did you see on them.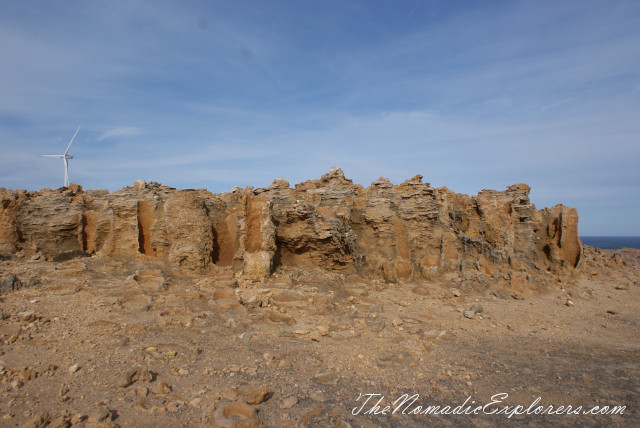 Look at the size of the rocks: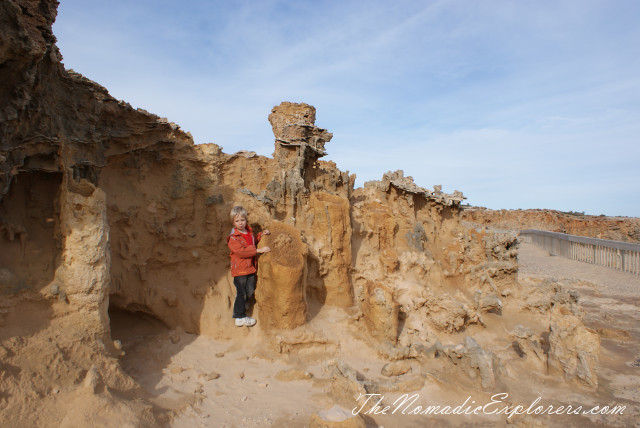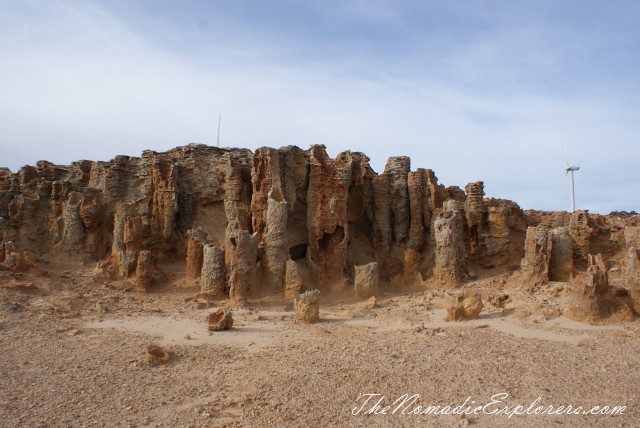 Many websites still inaccurately reproduce an early theory that the Petrified Forest was formed by the smothering of a forest of Moonah trees by a large sand dune. Water seeping down through the sand formed a sandstone crust around the decaying tree trunks, which were left with a hollow centre. This outdated publishing may be a deliberate tourism marketing tactic though since the truth is usually not as exciting. In fact, these columnar and branching calcrete structures of over 1 metre high called rhizo-concretions are hollow tubes of limestone, eroded as a result of millions of years of rainfall.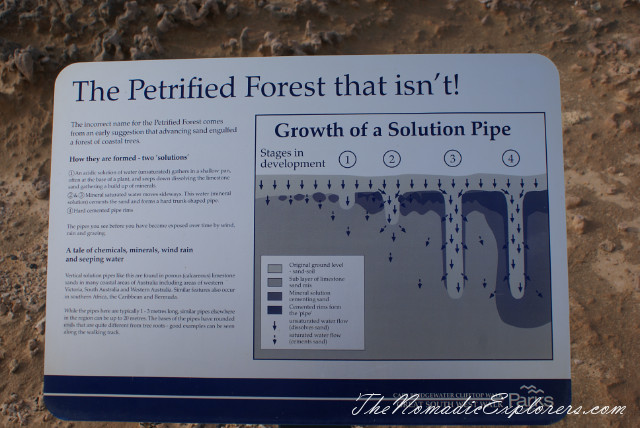 Small 'tree trunk':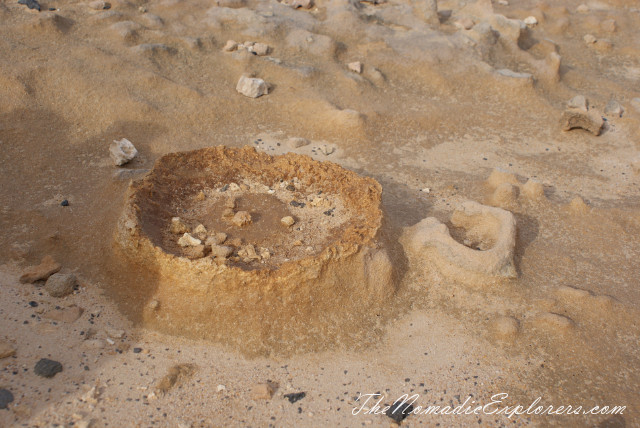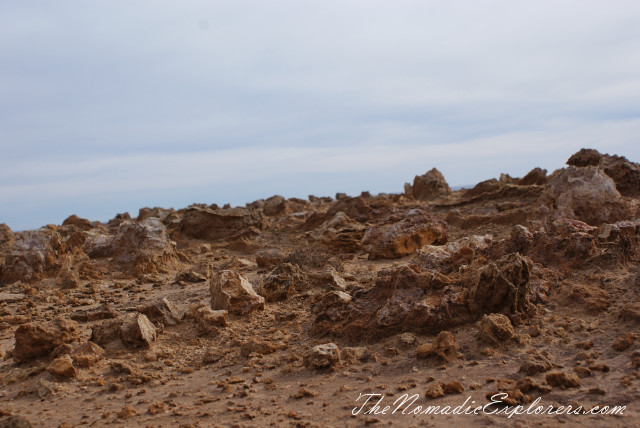 We went back to the Blowholes, and followed red markers. They lead us north for 2 km past spectacular lookout points to a green marker which denotes the spot of the 'watering place' or 'Freshwater Springs'.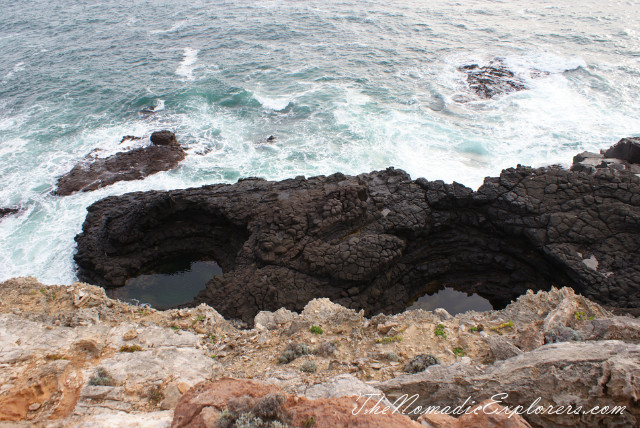 In the 19th century, when fresh water was scarce, cattlemen herded their stock out to the cliffs and down a specially constructed ramp at this spot to freshwater pools which had been created by subterranean springs spilling out onto the rock platforms.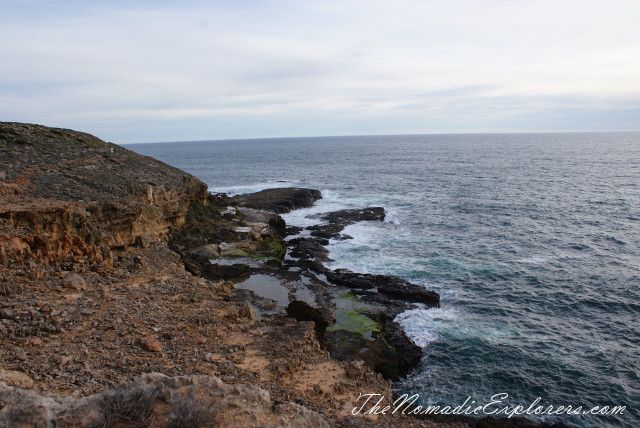 It might be seen that the water in the platforms is a salted ocean water, but it is not. The water goes through the limestone to the stone layer and then to the platforms.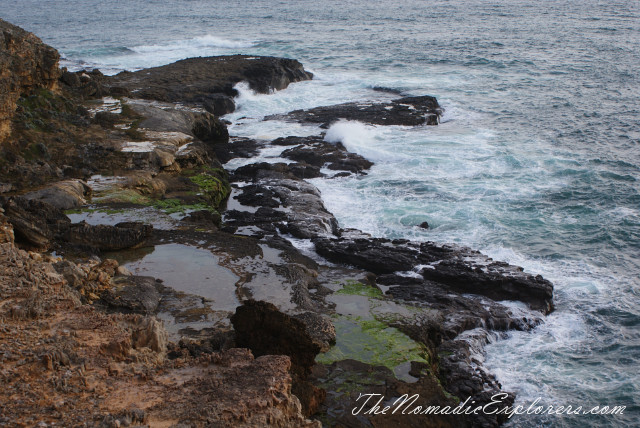 It was late and we headed back to the carpark, stopping to make photos at some spectacular rocks.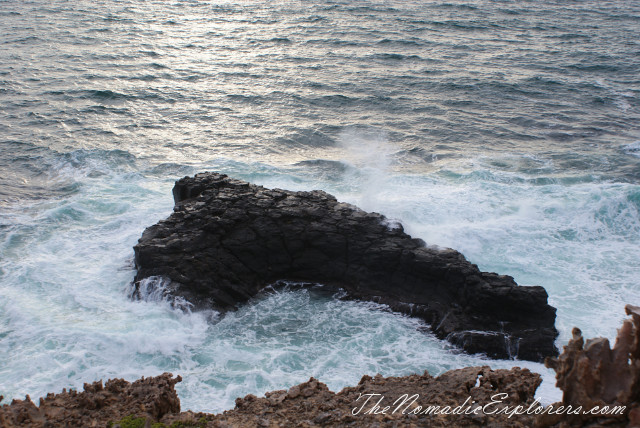 Wind Farm: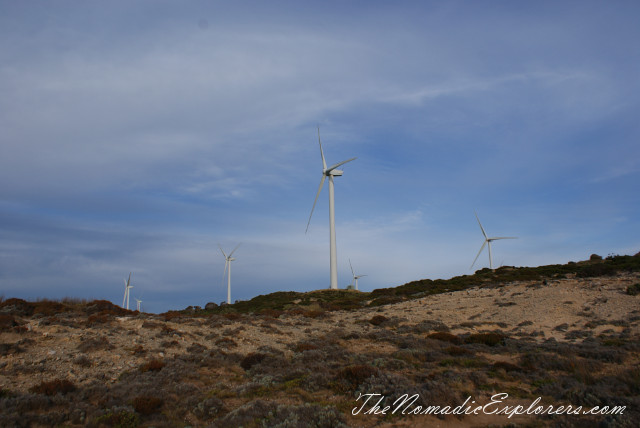 Limestone:
It was a real gift from the nature to show us a halo. We saw it 2 or 3 years ago when we lived in Astana. I could not even imagined that I will see it again in Australia!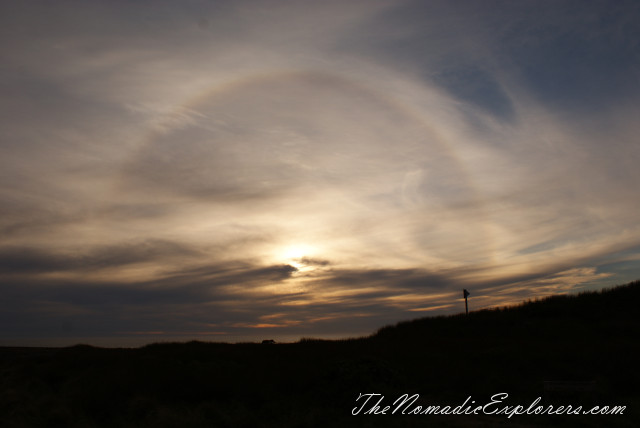 Wind Farm at sunset: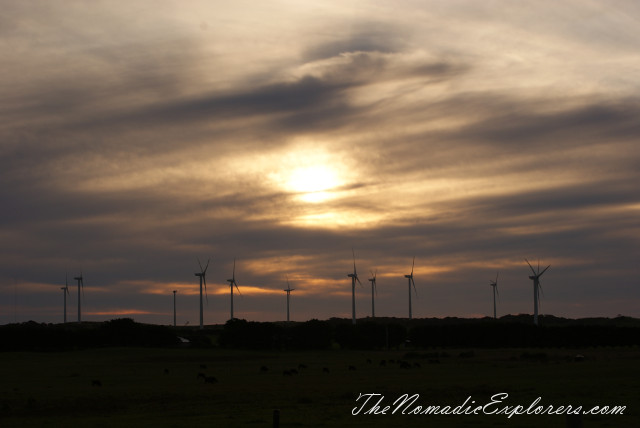 Please note that you can also walk south-east along the coastline from the Blowholes to the seal-viewing platform. This route is about three hours return and it takes in the highest coastal cliffs in Victoria (130 metres). Again, you can reach seal-viewing platform from another carpark near Cape Nelson.
We went further to Mt Gambier, where we've already booked a motel for two nights. The sunset was stunning and I wish I could look at it for more time. Instead, as we were afraid of kangaroos and other animals who love to jump on the roan when you are driving at night, we didn't make any stops until we reached the border between Victoria and South Australia.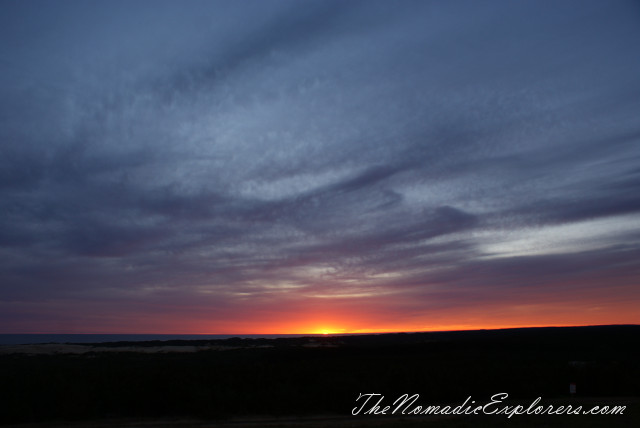 We have to throw away some mandarin peels into the bins, as there are quarantine rules between two states and you are not allowed to bring any fruits or vegetables from Victoria to South Australia. It was almost 9pm when we arrived to Mt Gambier. Please see our next posts to read more about things we saw and did there.
Stay tuned!